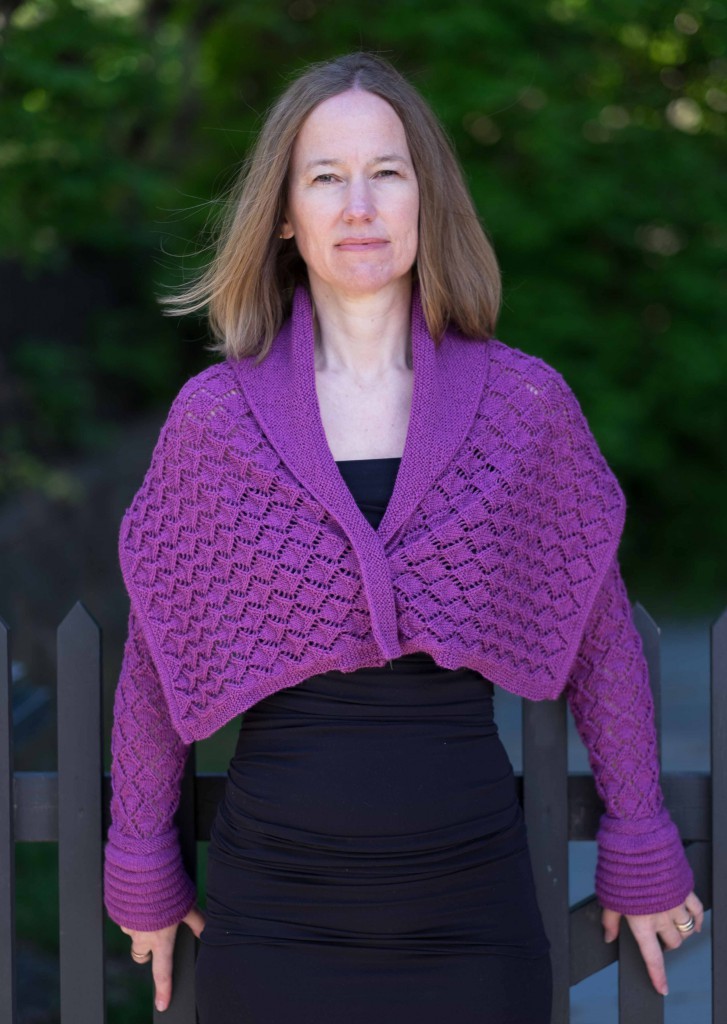 Jaggeryarn Zephyr Lace 2/18 is a divine mixture of 50% merino and 50% tussah silk, I love. This time, I chose the shade Mulberry, held it double and designed a shawl with collar, a continuation of the design Bech, this time a wider shawl but with similar long loose sleeves. Hertha in old Norse means a powerful woman, ideal for this modern shawl with a shawl collar, that can be worn as a scarf around the neck, a shawl around the shoulders, or as a top; if worn upside down and pinned together with a shawl pin. A traditional lace pattern with shadow triangles in half stocking stitch and half garter stitch. Here you see me wearing Hertha, photographed by my husband. The Norwegian pattern will be published in the separat issue "Småstrikk" by Familien this autumn, while the English pattern will be published on Ravelry.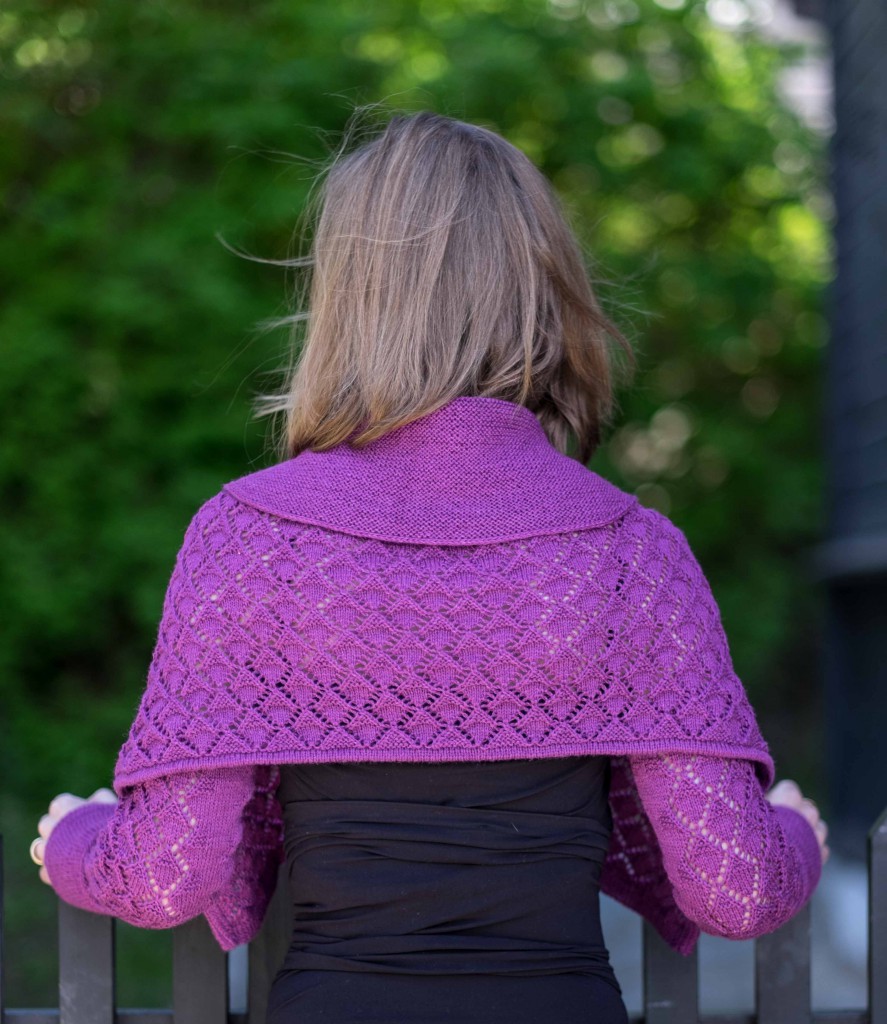 The loose sleeves have elastic inserted into the top hem to keep them in place. They are knitted in the round unlike the shawl. The collar on the shawl is shaped by short rows, and ends in an i-cord bind off. The hem and tucks are all knitted with 2 circular needles held parallel. When you wear the shawl around your shoulders together with the loose sleeves it looks like a bolero since you can not see the top of the loose sleeves.
Here you see the shawl worn around the body as a top, held together with a shawl pin. It is not my favorite way of wearing it, but it is an option. If you prefer to wear it this way, I would make it so it fits both in length and width by adjusting the number of pattern repeats. You can however easily see how the loose sleeve ends, with elastic inserted into the top hem.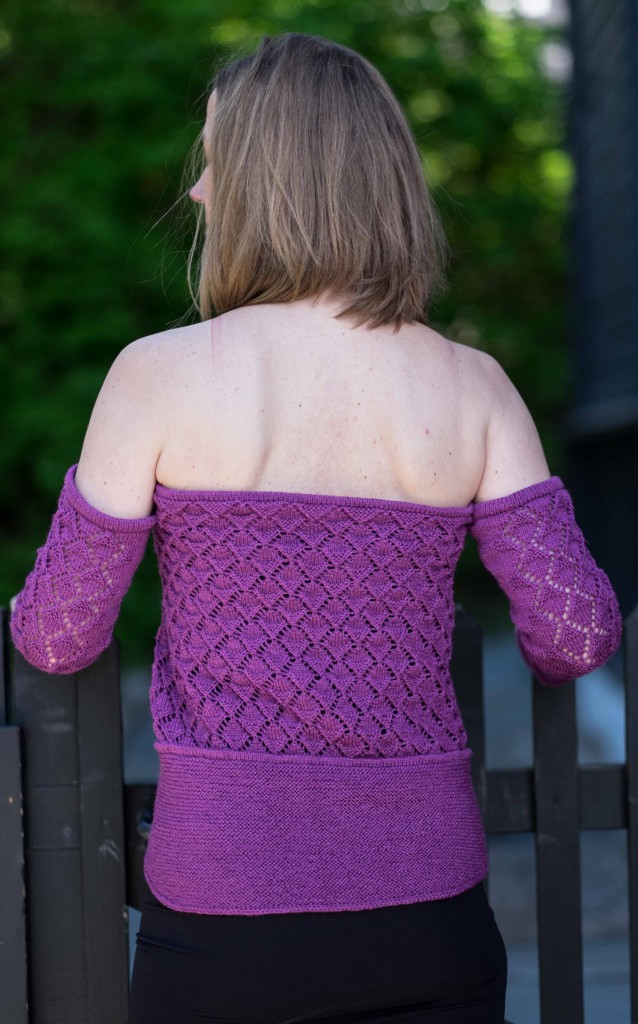 From the back you see the slight curve of the collar when it is worn upside down along the bottom instead of the top. The lace pattern creates an easy pattern to memorize. I decided to use a 3 mm/US 2.5 circular needle on the lace pattern on the shawl and a 3.5 mm/US 4 on the lace pattern on the sleeves merely because I tend to knit tighter when working in the round.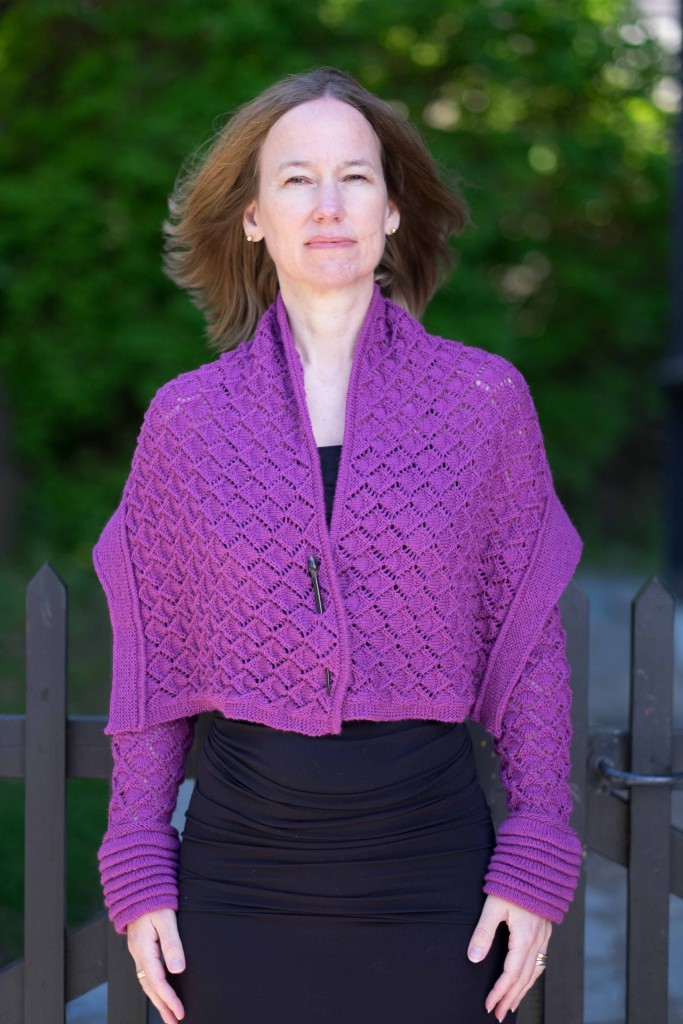 Or how about this option with the collar down, showing a slight curve at the back. The set is ideal for party outfit in my mind, so I asked dress designer Judith Bech if I please could borrow her marvelous fringe skirt for the photo shoot. She said yes, so I can promise you a stunning set of photos taken by professional photographer Eivind Røhne of model Anne Dorthe/Team Models to come.