Every Christmas I admire the Snow Palace at display at the Norway Designs store, close to the National Theatre in Oslo. It is always an amazing exhibition of decorative items for sale as well as numerous dishes of sweets to energise customers. This year the palace is hosting a gingerbread house competition and you can see entry number one – a modern and exciting twist – in the left hand side corner and below by architecture student Victoria Amundsen. I just adore the crystal pine tree placed inside it and would like a small series in different sizes to decorate my Christmas table.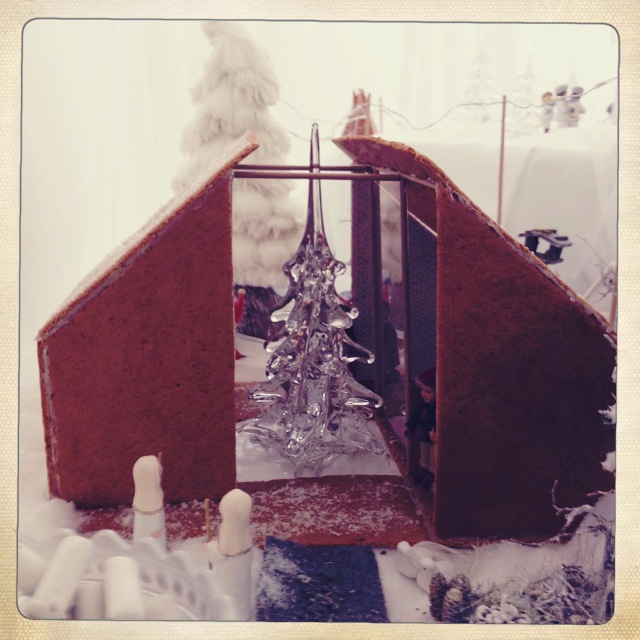 Below is the winner of the competition held together with the Architectural School in Oslo AHO, where Marios Petrongonas, from Greece, is studying this term. Read more about him at Norway Designs' website: "I was sure that Oslo would meet my expectations for living  in a beautiful city, where I can enjoy my studies in architecture, while also extend my horizons in the way of architectural design." He adds: "I said yes to the project at once, because I always like to support and participate in creative and fun projects that get me out of my routine. It was a great chance for me to be a part of the Christmas spirit." Read more on norwaydesigns
The store has an impressive paper department – the best in Oslo, in my opinion – a jewellery department, a kitchen department, a small but exquisite clothes department, a gifts department including baby & children's clothing. Not all the designs are Norwegian but a majority are, but you will also find numerous other well known brands there. It is a constant source of inspiration, both inside and their window displays are perfect for window shopping. I recommend you visit when in Oslo, or let their website inspire you: norwaydesigns.