I have finally completed my design and have sold it to the Norwegian magazine Familien/The Family, where it will be published in issue no 26, on sale from 17.th of December. My husband has photographed me wearing it, here, so as you can imagine I cannot wait to see it worn by a professional model and photographed by a professional photographer. The pattern will be released after a year and I will then make it available for sale as a downloadable pdf in Norwegian and English on my pattern page and on Ravelry. Here are photographs of the swatch, see my post: new-design-soon-finished
The Check Cable Cardigan is knitted in a simple yet decorative stitch pattern which is reversible combined with a wide collar in a ribbed cable pattern. It has a generous fit and designed to make you feel comfortable yet smart. The cardigan is knitted in Dale Yarns' Lerke a mixture of wool and cotton with an optimal stitch definition on needle no 4 mm/US 6.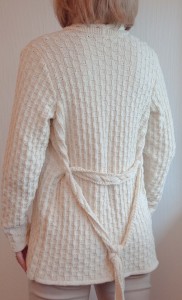 I have knitted two different belts to go with it. The first version, seemed like a brilliant idea at the time using the reversible cable pattern but it does not look as sophisticated as I wanted it to look so the second version is in stockinette stitch knitted sideways and together like a hem. I also tested out a few more versions in between: a 1 by 1 rib which looked way too uneven and I-cord which looked floppy. Hence I preferred to use my favourite hem edging as belt and added a folding row where I knit on the wrong side. The magazine has kept both to test out on the photo shoot, while the first version is in these photograph. I will publish the professional photos when they are available.