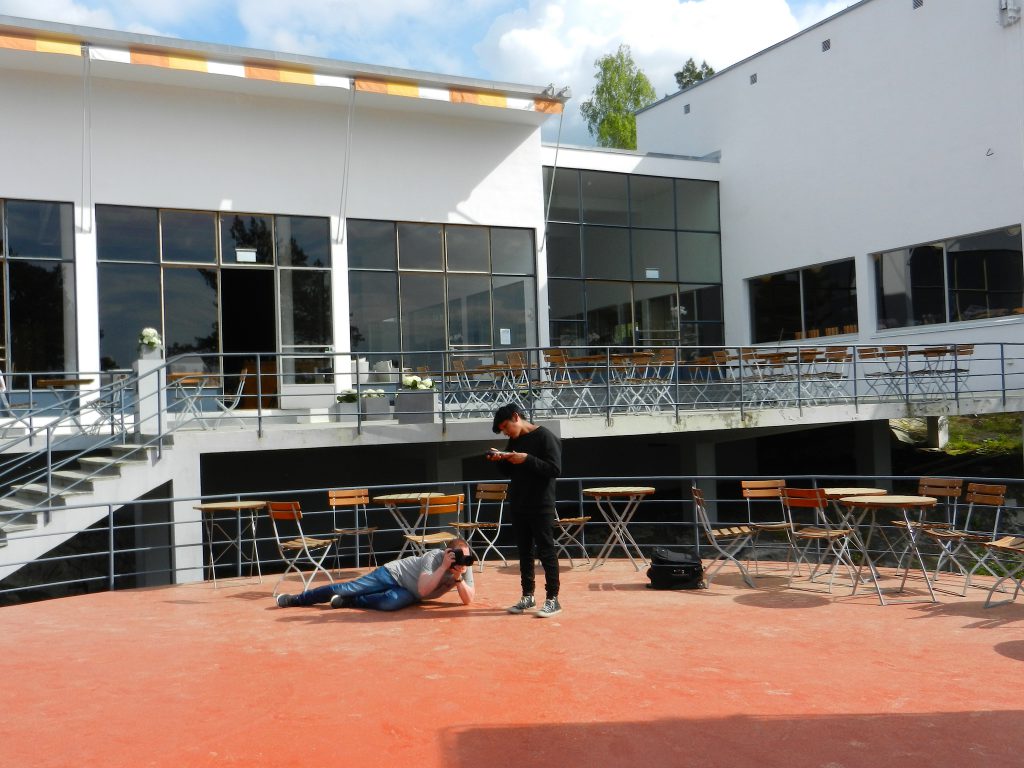 On Monday I had a photoshoot at Ingierstrand Bad, just outside of Oslo, with an amazing crew. The weather was perfect; warm and sunny. The restaurant, open for private parties during the weekdays and for the public at the weekends, is a popular spot for weddings due to its location next to one of the most popular beaches with a diving tower in Oslo. In fact jewellery designer Kaja Gjedebo, who came to join us, had her wedding party here 11 years ago and this was the first time she was back. You can find a video she made at Instagram. While Jens J. Wiker worked on gorgeous model Alexandria Eissinger's hair & make up, photographer Eivind Røhne, second photographer/roadie/technical manager Michael Marveng-Puckett looked at possible back drops. As always it was a day filled with laughter and breath taking results. Eivind always gives everything, above you see how him delivering on his promise to make Alex taller. Jens, next to him is checking his mobile.
Here you see Kaja and Eivind sharing Instagram tips. It was marvellous to have the whole place to ourselves. On the to do list was taking photographs of a total of 10 designs where 5 are new designs; 4 for yarn kits for Hillesvåg Ullvarefabrikk and 1 secret design; 3 designs returned from Interweave Knits and knit.wear in the US and 2 designs only photographed by the Norwegian magazine Familien previously. Judith Bech had as usual sent me a selection of dresses and skirts to choose from. One day I hope she will be able to fly from Northern Norway to join us. I find her dresses magical, hence I am spellbound and ask for more than I need so that I can see how they look together with the knitted garments. Just as with my ideas, some work better in my head than in real life. I ended up using only 2 of those.
Eivind and I are talking strategy, while Alex with Jens' assistance is ready for action. We speak partly in Norwegian and partly in English all day, even though Alex speaks Danish and Michael Norwegian, they both prefer English. But Alex knows me very well and know that I want front, back and side photographed. Eivind is living in the hope that I will not demand full length photos of all designs, but I rarely give in. Alex is ready for photography of the back of Kathe Cardigan, made for Interweave Knits Fall 2016.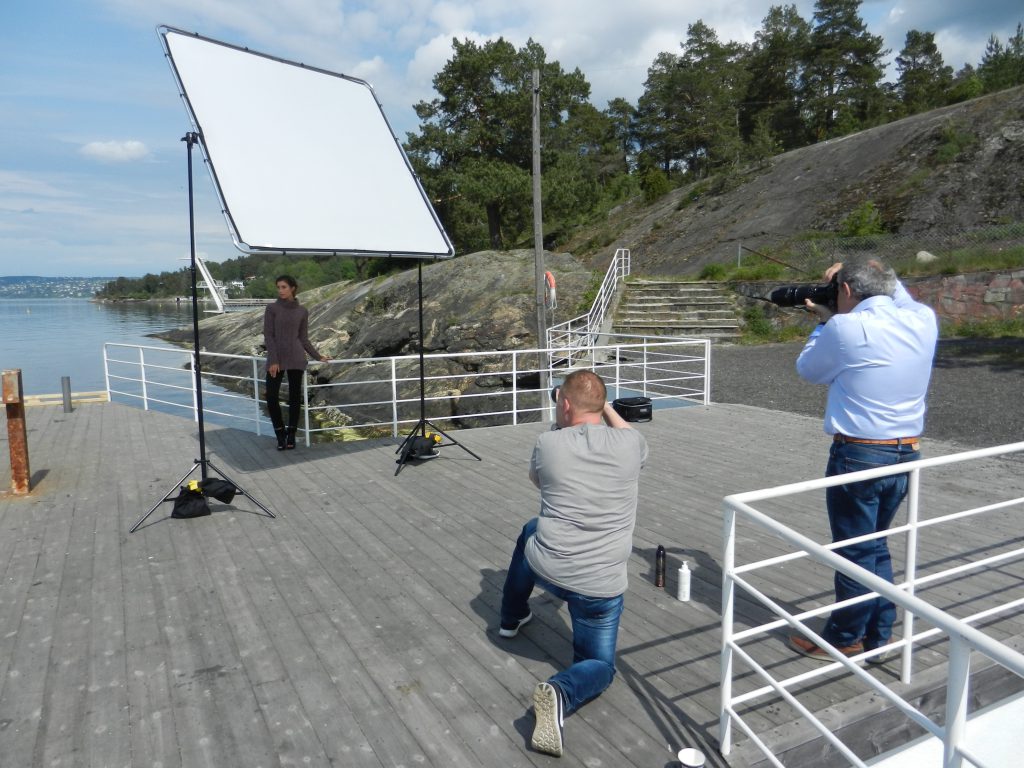 Alex heard a double set of camera clicks as Michael joined Eivind and photographed as well. Thankfully, neither Eivind nor Alex had any issues with that and knew that the Eivind was indeed the photographer of the day. Even Alex joined in and took a selfie, here she is, captured by Michael. Above she is wearing Aki, a new pullover designed for Hillesvåg and below wearing an old design Patent Poncho. Despite the heat, Alex managed to look incredibly cool and only suffered for a brief time when I added 3 cowls on top of each other. Yes, that would only be useful on a very cold day and not on a hot day, with women in bikinis nearby. Kaja wished that she had brought her swimwear.
Unlike me, Alex is always in control of her face when she is being photographed and do enjoy pulling some faces. I have reached the age where I tend to do so unwillingly so much of the time. That is why the back of my head as well as the side feature so much in the photos Michael take of me.
Take a look at the photo above and you understand the tone we have during the day as well as the fun! It took a few second before I saw her face! Alex is wearing Wa, a shawl vest as well as Kaja's Abelia earring with pearls and Abelia necklace. I saw a number of Eivind's photos during the day and know it will as usual be extremely difficult to choose photos from the hundreds of magical moments he has captured. Yet, I cannot wait to see them all!