Bornholm Art Museum, located outside of Gudhjem – which literally translates to God's Home – was bound to be spectacular. The building itself certainly was with its play of light inside, with its unexpected window placements, making it a spiritual experience, and that is before we even consider the art exhibited, the viewing tower, the walking bride. "The museum building was built in 1993 and expanded in 2003 and is regarded – even by someone other than ourselves – for some of the best in modern Danish architecture." The architectural firm is Fogh & Følner, who wanted to create a building with a series of view points to the magnificent landscape outside as well as to the wide angle ocean view. Do take a look at the stunning architecture gallery photos: bornholms-kunstmuseum.dk. The art museum is located by the sea without any other buildings in sight, so it is hard to miss it arriving by car or by – the preferred means of transport at Bornholm – bicycle.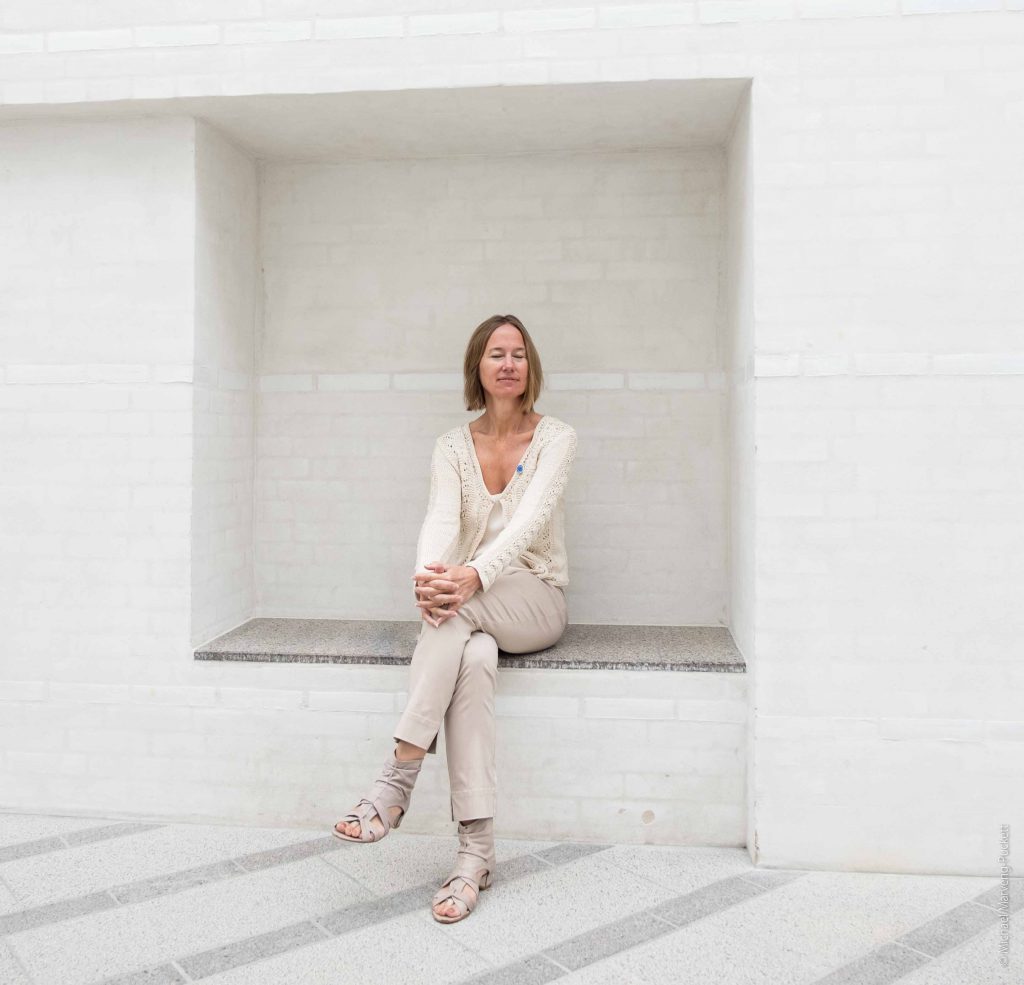 I was wearing light colors, despite the rain, and fitted well into the interior. If you are a knitter you might be able to spot that I am wearing Adoe knitted in the lush Rowan Truesilk. The two brilliant photos above are taken by my husband. There were many visitors equipped with cameras on our visit. As for the art collection, it ranges from the early 1800s to the present day with emphasis on the Bornholm painters, a group of artists who worked on the island in the first half of the 1900s. Their works give a full impression of Modernism in art. Not only in painting but also in sculpture. You can take a virtual tour here: www.google.com.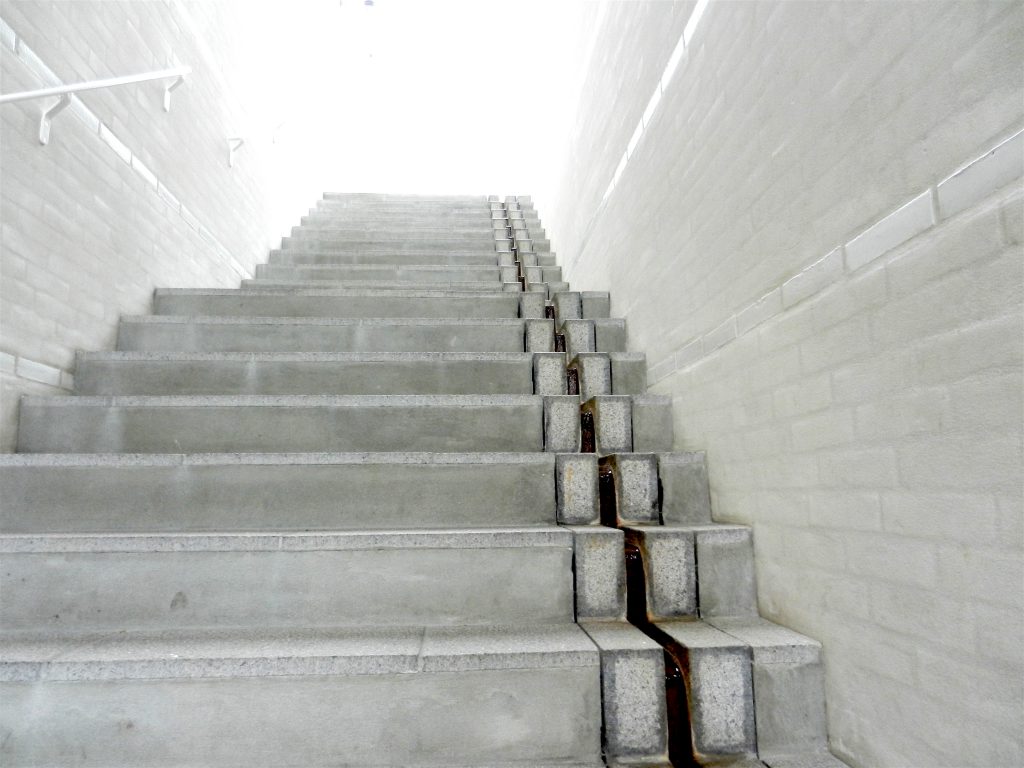 A water well began at the entrance and ran through the amazing central hallway or Museum Street as it is called like a spine down 3 levels to the exit to the walking bridge and ending in a wishing well. Above you see it running down the last set of stairs.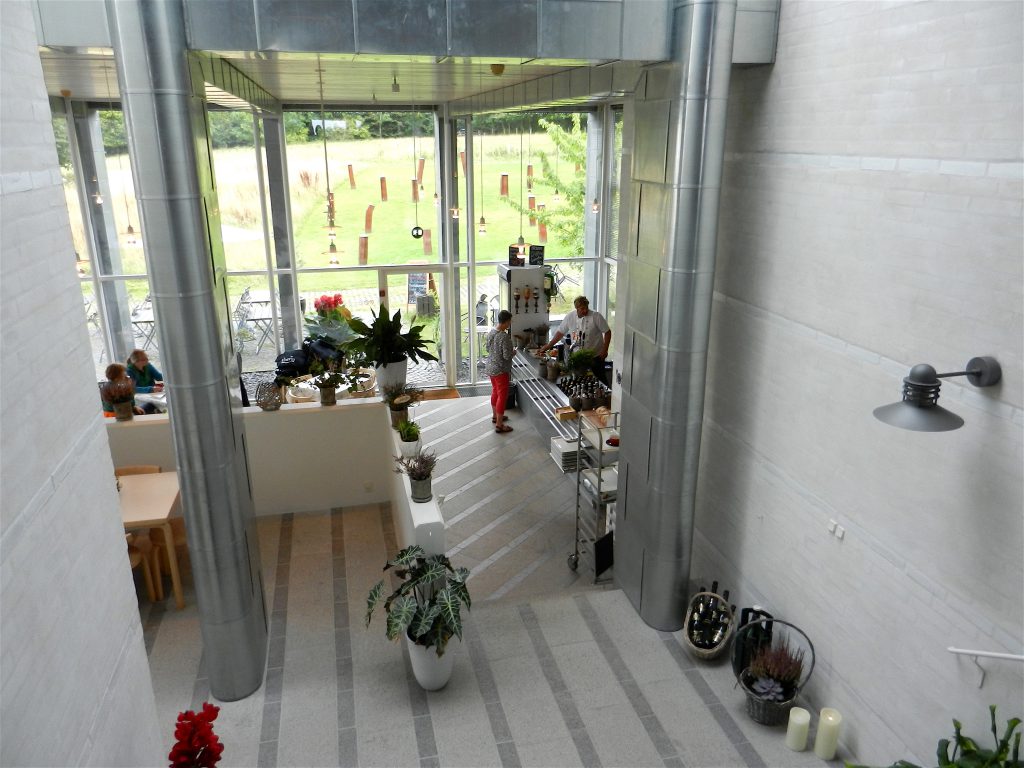 We did need a break after touring this museum and located the café. Yes, it did have delicious cakes as well as lunch offerings. A perfect place for a meeting, in my opinion. Here you see it from the museum street and looking down into it, with the sculpture park outside. Do not miss  Bornholm Art Museum if you go to Bornholm, that is my advice.