It has taken awhile to mentally land after attending Vienna Wool & Design Festival. I look forward to seeing the official photos taken with all of us teaching present on the stage. In the meantime I can show you one with four of us, taken Sunday afternoon before my last workshop: Italian designer Valentina Cosciani, standing next to me, in front of her American designer – living in the Netherlands – Nancy Marchant and Polish designer Hanna Maciejewska. Photographing are Daniel, Hanna's husband and my husband with extra cameras. Valentina has her own YouTube Channel and she has made an excellent video from the festival where she walks through the workshop rooms and all the 23 stalls in the market hall. Yes, it is in Italian but it does make you feel like you are there: youtube.com.
I also wanted to share my haul from the festival: Gorgeous mini-skeins and a full skein of British Gotland 4ply in addition to their two magazines called Sticka, all given to me by The Little Grey Sheep so I can play with their yarns. Take a look at the previous blog post to see how I am holding onto the skeins as if my life depended on it. 5 lovely balls of Lalland Lambswool by Di Gilpin, I could not decide which colour I wanted to test and when Sheila – Di's assistant talked about how to work with two or three strands at a time, my mind exploded. I did not really want to let go of any of the colours and Di let me keep them all to test. My friend, test knitter and organiser Uschi, was so kind and ordered the two German magazines "Neu Strick Mode" for me – they are German versions of the two latest American knit.wear magazines. Uschi also gave me the rest of her Doulton Flock Border Leicester Yarn DK she used to knit my design Helka for me to try out. Suncica gave me a copy of the festival magazine: wool 2 go – a large glossy magazine with 12 patterns in English and German from 9 participating designers, including yours truly. The pink flyer at the back is the floor plan of the market hall.
Susanne, aka shannara13 on Ravelry, assisted at Suncica's first stand, Wollsalon and showed off her test knitted version of my design Idunn sweater, knitted in String Theory Hand Dyed Yarn Merino DK in a pale grey called Pewter. Thank you, Susanne! I was so happy to meet knitters, test knitters and designers, some I had only meet online before, in person!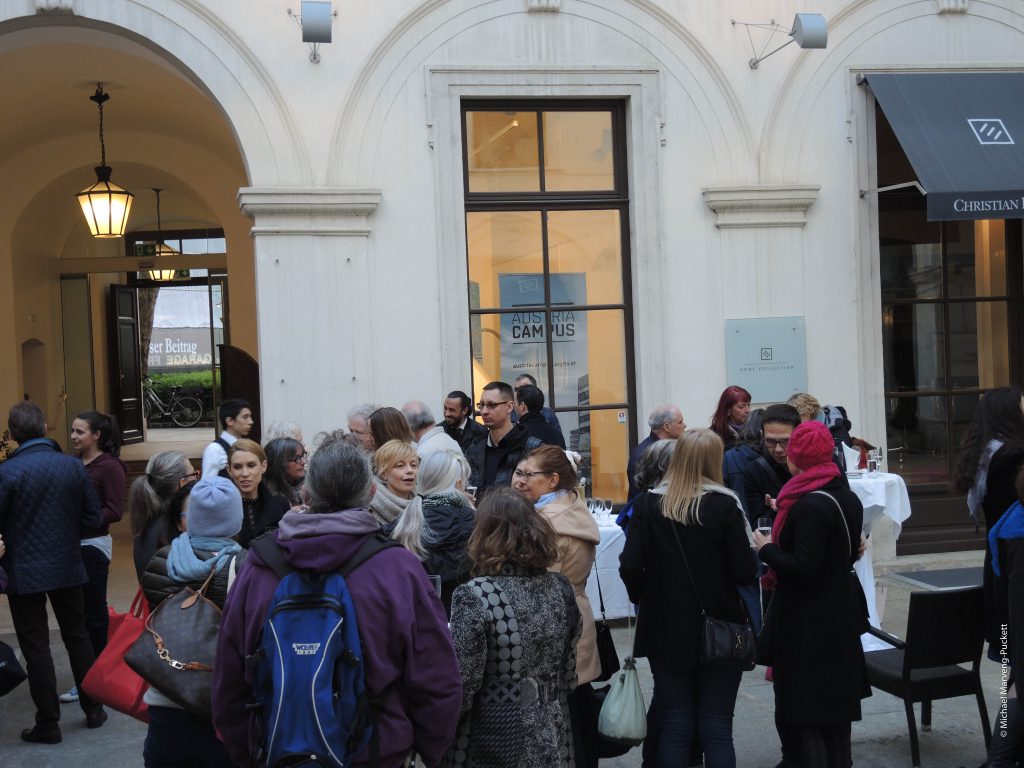 On Saturday evening there was a Galla Dinner, so I brought a long silk skirt and a silk top. I claimed a large part of Michael's suitcase in addition to the one I had already filled with workshop materials and my designs to show off before we left. Michael was hoping that the suitcases would be lighter coming back, but he was wrong. Yes, I did give away a lot of workshop papers but with the extra yarn and magazines, we traveled home with even heavier suitcases. But I digress. Seven of us met in the reception and walked to the Italian Restaurant, Trattoria Martinelli at the Palais Harrach: British designer Anna Maltz led the way – assisted by Michael – for German designer Isabell Kraemer, Nancy Marchant, Hanna & Daniel Maciejewska and me. When I realised I was the only one of the designers who had not brought my knitting, everyone stopped abruptly – knowing the scale of this disaster – and offered to go back. I decided that I could manage without it, but loved the shared feeling & laughter as we walked on. Of course we arrived late, but it was a very pleasant stroll through the streets of Vienna.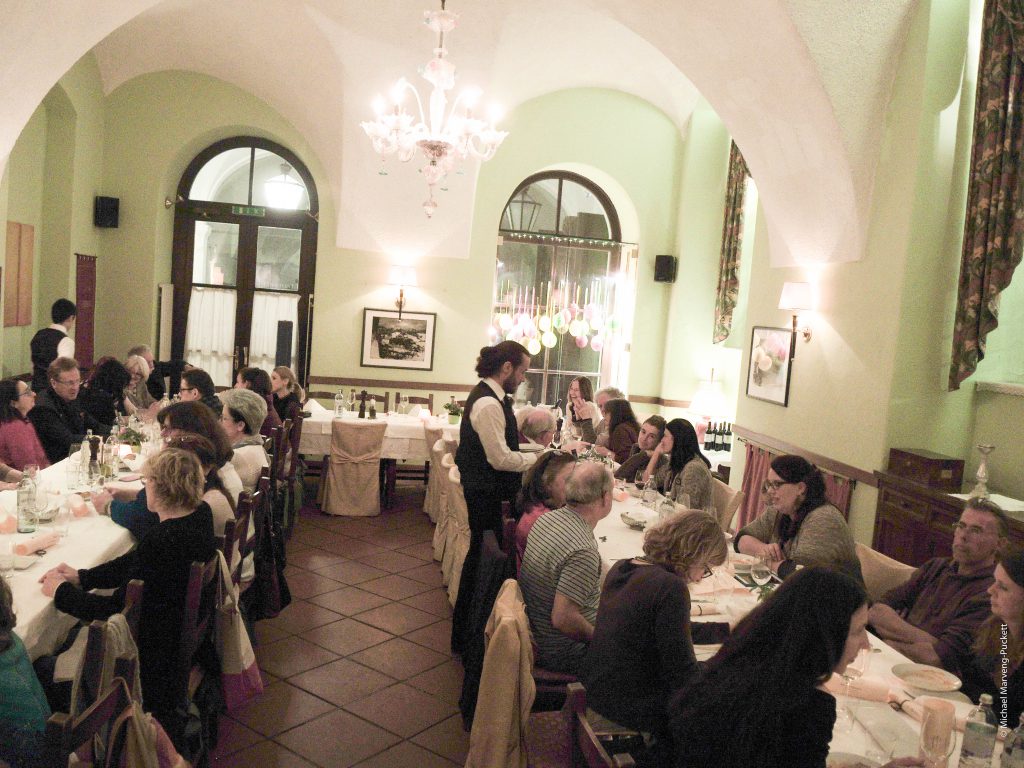 At the palace we talked and Suncica introduced the team behind the magazine; graphic designer, stylist and photographer. You can spot the top of my head, behind Isabell Kraemer, talking to Di Gilpin. We had champagne and canapés before we went inside and had another 4 amazing courses. I sat next to Di's husband and across from Hanna at the end of second table. The six of us at the end of the table had not finished talking at 23.00 when most of the party had left and decided to have a last drink in the bar at the hotel. It was a marvellous evening and late one before I went to bed!
On Monday, our last day in Vienna, we said goodbye to Nancy, had a late breakfast with Hanna & Daniel pluss Isabella and her partner. That was yet another highlight from Vienna and all for this time.  Thank you to everyone I met in Vienna!