My design Oydis Sweater together with the Cowl is published in the Norwegian magazine Familien issue number 20 which has 40 pages of knit. The design is not featured on the cover but on the introduction to the Handicraft section together with a photo of the handicraft editor: Åse Myhrvold Egeland. She writes: "Those who predicted that the knitting wave that hit the country a few years back would dribble out after awhile, were wrong, very wrong. The yarn producers increase their turnover every year, and magazines and books with pattern are torn off the shelves. Many begin to knit when they are expecting a baby, there are so much wonderful baby wear. In this issue you will find 40 pages of knitting patterns, so there should be something for every taste, whether you knit for yourself, your spouse, child or grandchild."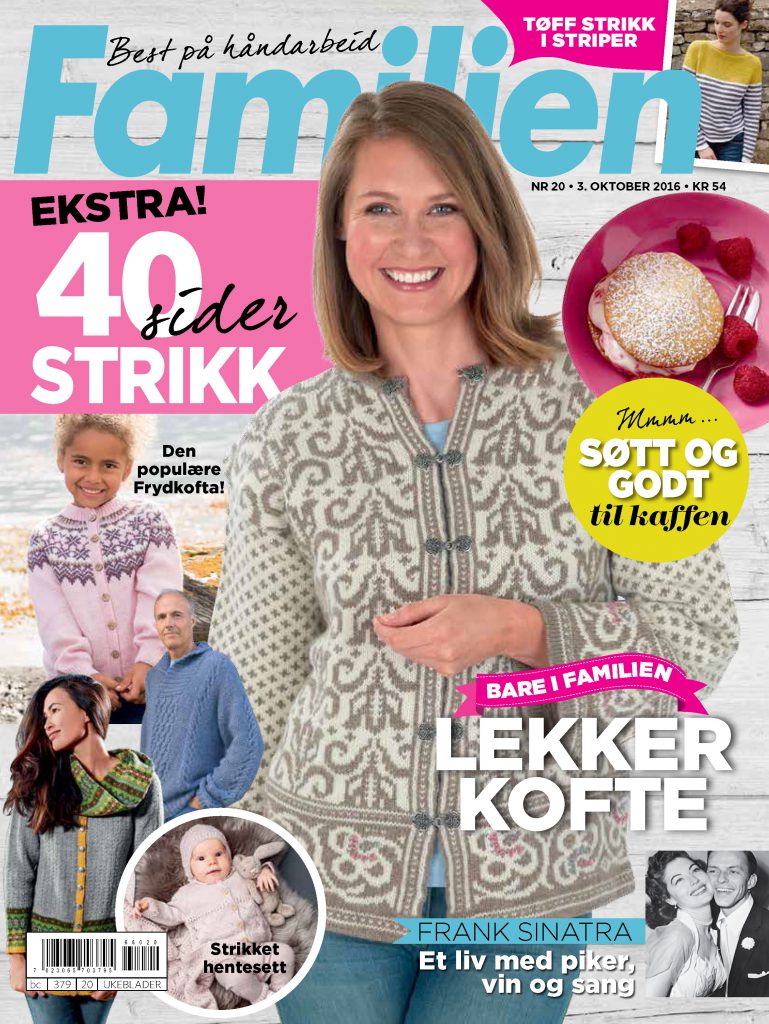 Here is my introduction to the Oydis Sweater: A shadow diamond cable dominates this a-line sweater with a curved flattering hem. I-cord bands frame the bottom of the sweater, while garter stitches mark the sides and the round neckband. The sweater, with or without the cowl to dress it up, make the outfit ideal for the Goddess of good luck; Oydis. The body of the sweater is knitted flat, while the sleeves and the cowl, are knitted in the round. A fine tweed yarn is held together with an alpaca lace yarn, with a chain construction, to create a fabric with a beautiful stitch definition and a slight halo.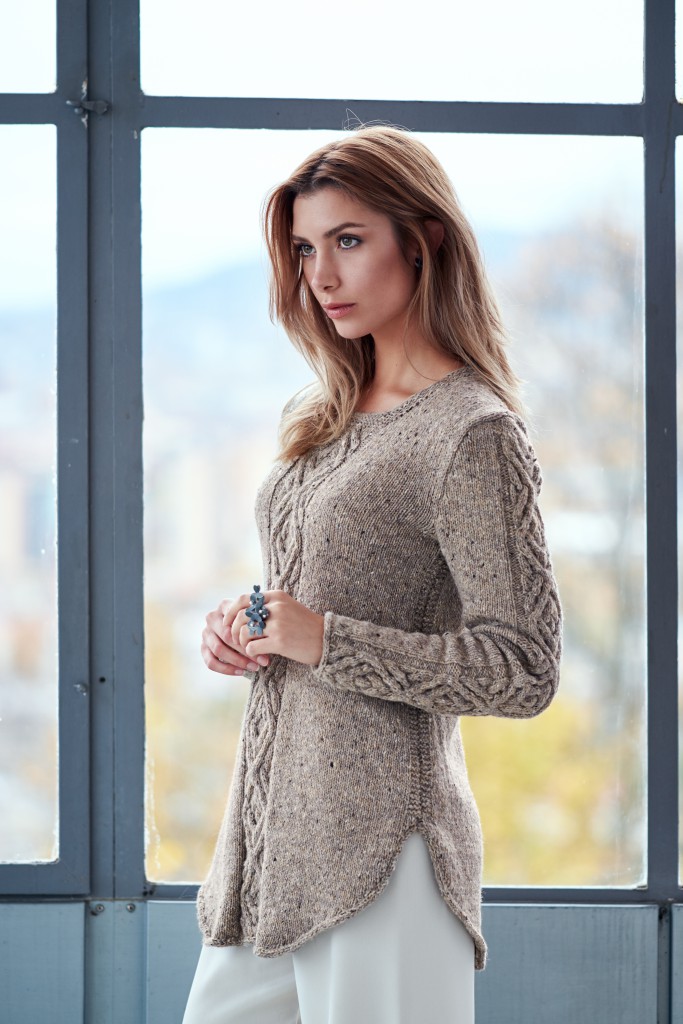 The Oydis Sweater and Cowl is knitted in Du Store Alpakka Dreamline Soul held together with Pickles Merino Tweed using a 4 mm/US 6 needle with a gauge of 20 stitches and 30 rows in Stocking stitch measures 10 cm/4″ square. The sweater is available in sizes XS to 2XL with a bust circumference of 84 to 126 cm/33 to 49.5″. The cowl can be worn both hanging loose or twice around the neck.
It was gorgeously modeled by Alexandria Eissinger with hair & make up by Sissel Fylling and jewelry by Kaja Gjedebo Design, all brilliantly captured by Eivind Røhne. The English pattern for both sweater and loop has been test knitted and is available as part of the Norse Goddess Collection e-book with 7 patterns or as individual patterns on Ravelry and on Loveknitting.