My design Freja, worn by model Alexandria Eissinger at Pholk looking like a goddess, with a stunning fringe skirt with a train by Judith Bech, beautiful hair and make-up by Sissel Fylling, and captured by Eivind Røhne. No wonder it was chosen as the introduction to our Nordic Vintage series in the recent Norwegian magazine Familien Trend. Freja, named after the goddess of love with the added meaning of like a lady, is knitted with a longer back shaped at the bottom. Three Lace panels adorn the sleeveless top with garter stitch bands and vents in the side. A fine tweed yarn is held together with an alpaca lace yarn, with a chain construction, to create a fabric with beautiful stitch definition and a slight halo.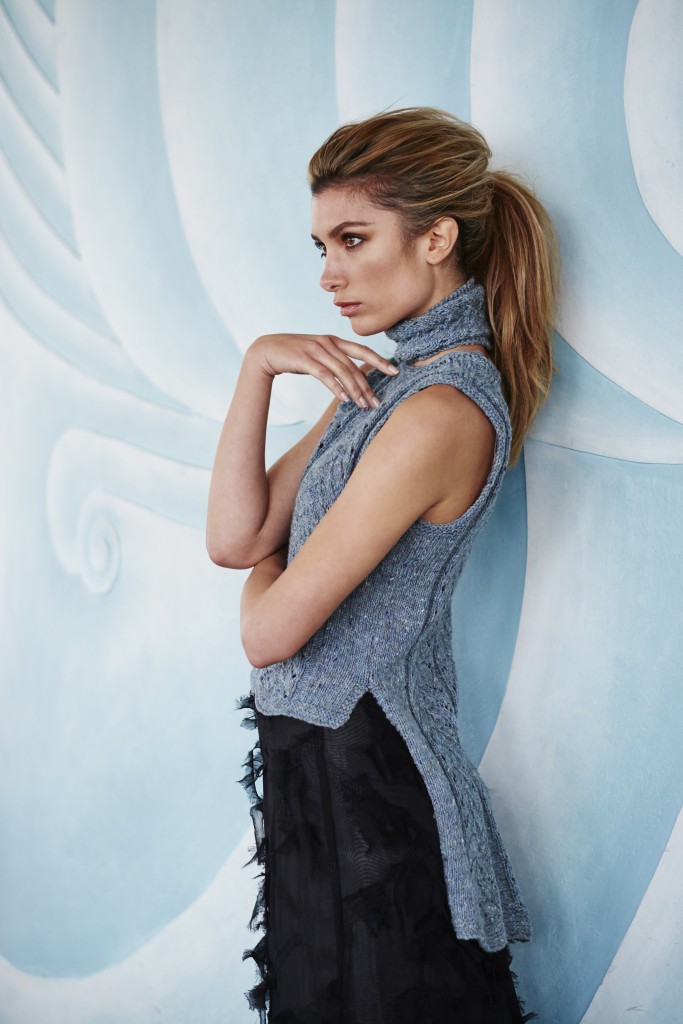 I was enchanted with the result of combining Dreamline Soul, a fine lace weight alpaca mix in tonal colors from Du Store Alpakka with Merino Tweed, a fingering/4-ply yarn from Pickles in the same range of shades of light turquoise. Using a 4 mm/US 6, I got a gauge similar to a thick DK with 20 sts and 30 rows in stockinette stitch measuring 10 cm/4″ square. The top is knitted flat in two pieces, while the armhole and neck band are worked in the round. The bottom of the back is shaped by short rows in garter stitch before the decreases are worked in between the lace panels. Both parts have edge stitches in garter stitch at the bottom for the vents.
I made a chocker to go with the top using one lace panel with garter stitch all around. 3 snap fasteners where sewed onto the chocker for closure. The chocker is one size but can easily be adjusted by adding or removing garter stitch rows as well as pattern repeats. The top is made in size XS to 2XL with a finished bust circumference of 84 to 126 cm/33 to 49.5″.
Above is another gorgeous photo Eivind took, I could not resist! Why? Because, here you see the train on the skirt, and how the back of the top mimics it, at least it does in my imagination. I would like to have the English pattern test knitted before it is released in my Ravelry store. In the meantime I will show you some more of the fantastic photos Eivind took.