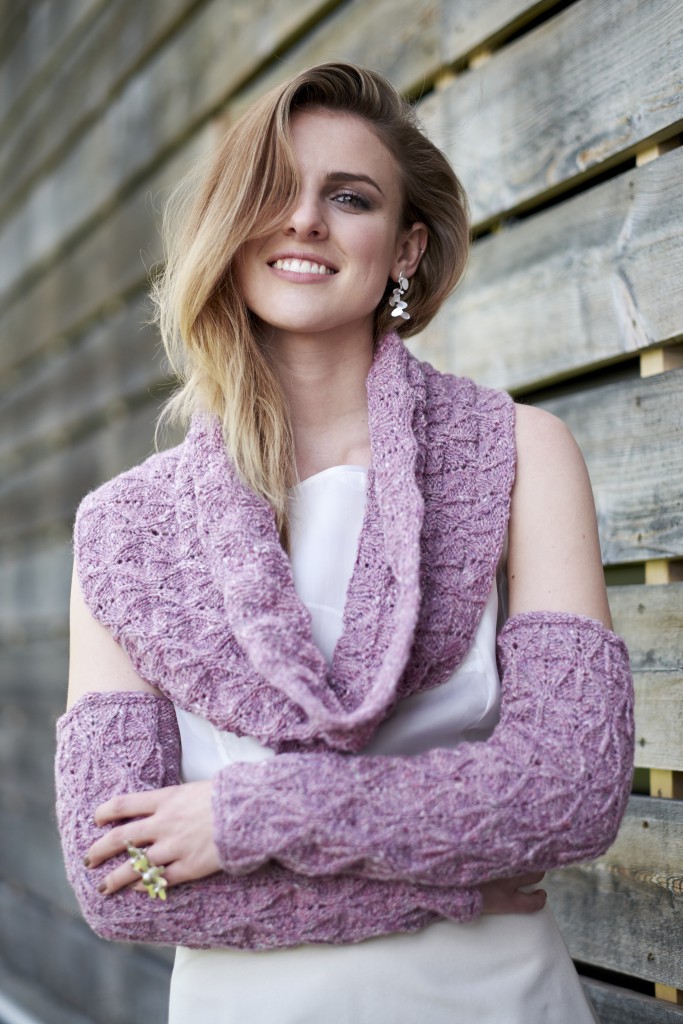 Syndra, another design of mine professionally photographed by the brilliant Eivind Røhne for the Norwegian magazine Familien Småstrikk – a special issue out in November. The gorgeous model is Anne Dorthe/Team Models with stunning hair & make up by Sissel Fylling and wonderful statement jewelry by Kaja Gjedebo. Here is my introduction to the design: Named after Syndra with her immense magical potential, is this cowl to warm your shoulders and the matching loose sleeves. Both the cowl and the loose sleeves are knitted in the round using a beautiful reversible stitch pattern called Reverse Fern Stitch with a lush texture and I-cord bands. Make your own perfect yarn by combining a lace weight yarn like the luscious Dreamline Soul from Du Store Alpakka with a fingering yarn like Merino Tweed from Pickles.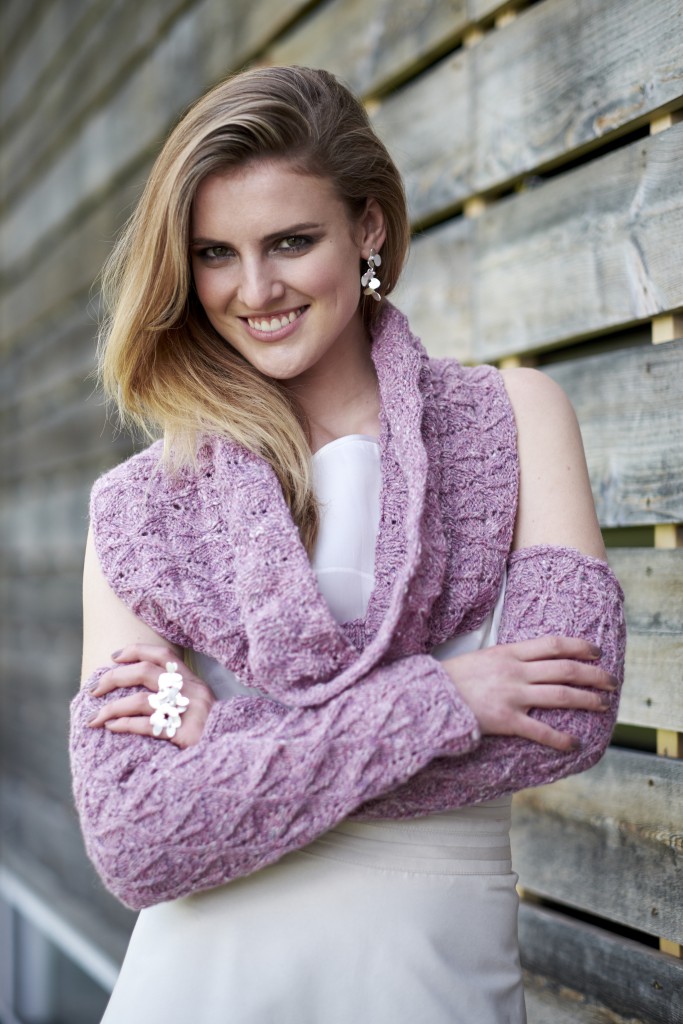 The set is knitted using 4 mm/US 6 needles and the cowl available in one size, while the loose sleeves are available in sizes: S/M (L/XL, 2XL). The cowl is knitted sideways and in the round. You can adjust the length by removing or adding pattern repeats of 10 sts. If you want to wear it twice around your neck, add 2 pattern repeats. The loose sleeves are knitted in the round to the end. An elastic band is threaded through the stitches on the wrong side of the top of each sleeve. Use knit-in elastic if you prefer. The Dreamline Soul yarn was kindly sponsored by Du Store Alpakka.
The stitch pattern gives a lovely texture, and I discovered how neat it looked increasing into reverse stocking stitch instead of beginning to add stitch patterns, see the photo above. If you wanted to shape the cowl, you could easily apply the same idea and decrease towards a narrower neck instead of making it straight. Dorthe is wearing Ivy hanging earrings and Caprifol wide ring both with fresh water pearls, all in silver. I am delighted that I have even more photos to show you from this photoshoot at Henie Onstad Kunstsenter! To be continued.