Why not try the newly discovered cables in a thinner cotton yarn, I thought. The tape yarn Bonnie from Permin, with a generous 220 m/240 yds on a 50 g skein as well as a  recommended 4 mm/US 6 needle, was irresistible. First I chose the color Wine but it was out of stock, so I had to find another and went for Pale Blue, which looked more Sea Green online. The result was a greyish pale blue shade, that grew on me. I am pleased to present Oili: Playful cables are the focus of this classic straight top, knitted in the round with each side marked by garter stitches. Narrow bands of garter stitch band frame the armholes, neckline and bottom edge. The top has a matching cowl, with cables all around. The set is knitted in a soft cotton tape yarn by Permin, called Bonnie, to make you feel like a divine woman – the meaning of the name Oili. The sample is knitted in sponsored yarn by the talented, super speedy, Grete Jenssen, aka ma9 on Ravelry. The Norwegian pattern will be published in the special issue Familien Strikk out at the end of August, while the English pattern will be test knitted in my group on Ravelry and then released.
The top is worked in the round to the armholes, then separated. I wanted to create a visible fake side seam and a divider between the parts. A few stitches in garter stitch and one in a reverse stocking stitch made the look I wanted. The cowl is worked in the round as a long tube, and then the ends are joined together. The armhole band and the neck band are worked in the round on a smaller needle; 3.5 mm/US 4.
I decided to make a similar divider and folding point on the cowl. But the cotton is lovely and soft so it does not fold as neatly as expected. As you can see in the photo above. They are all taken by my husband a few days ahead of the professional photoshoot at Henie Onstad Kunstsenter.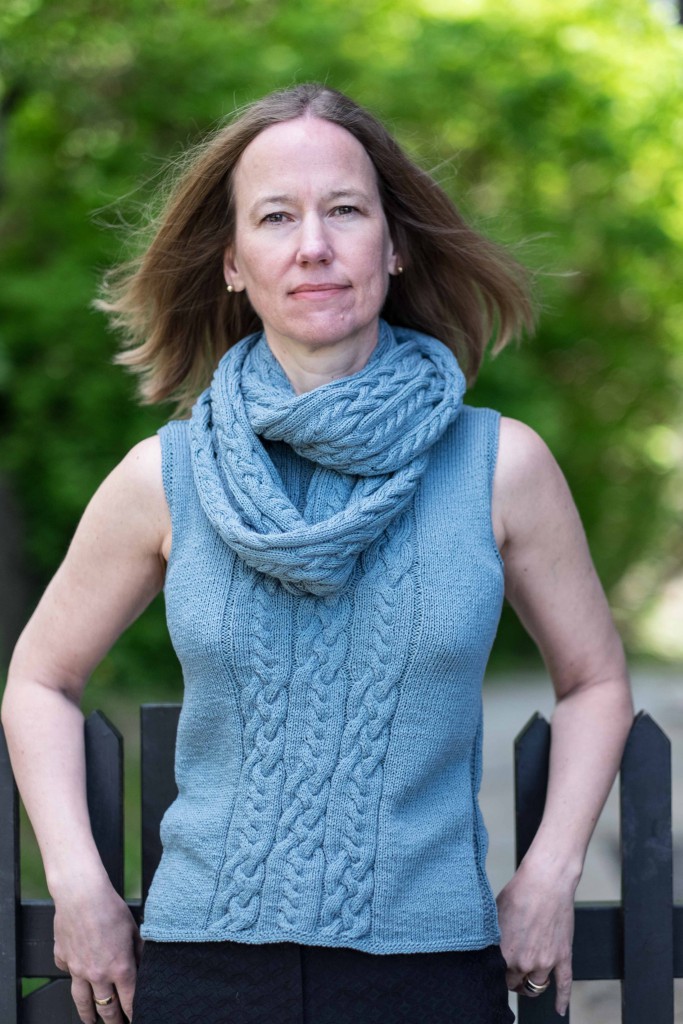 The cowl can be folded twice around the neck, see above. Just like the top the cowl has 3 cables on each side. You can look forward to seeing how marvelous it looks on Anne Dorthe!