I am far behind when it comes to showing off all the marvelous garments knitters have made from my patterns. Grete Jenssen, an avid knitter who designs for her own use, took part in the test knit of the Tyrol Jacket last winter, and made not one but three (yes: 3 – it is called Turbo Testing) during the testing period! All because the first one was tight around the waist (hence given to a friend) and the other two were adjusted to fit her waist and in different lengths, all equally beautiful in size medium! Here, I am proud to show the latter two, modeled by Grete (aka ma9 on Ravelry) with one of her cats, who take part in cat shows, with a lot of snow in the background and 10 degrees celsius below zero/= 14 degrees Fahrenheit at her home in Storsteinnes, Northern Norway. Brilliantly photographed by her husband: Jan Sverre Jenssen. The stunning lime green version is knitted in 7 Veljestä from Novita bought at her mums yarnshop: Bestemors Hjørne and so is the blue version further below. First the back.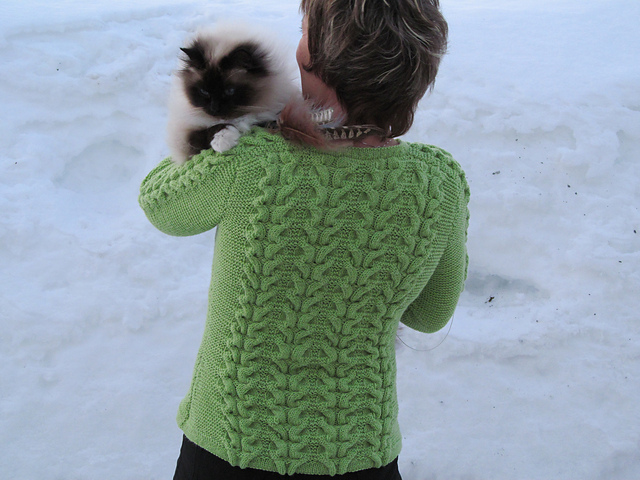 The sleeve width was adjusted to a slimmer fit, than I had first calculated showing how useful these test knits are. I also decided to include one of Grete's photos of how to gather or nip in the cables at the hems in the pdf pattern. Below is her final version of the Tyrol Jacket in a bright blue, in my Ravelry group we have call the color Grete Blue since it is a trademark of hers and so close to the color of her eyes as well as those of her cat. Thank you, Grete!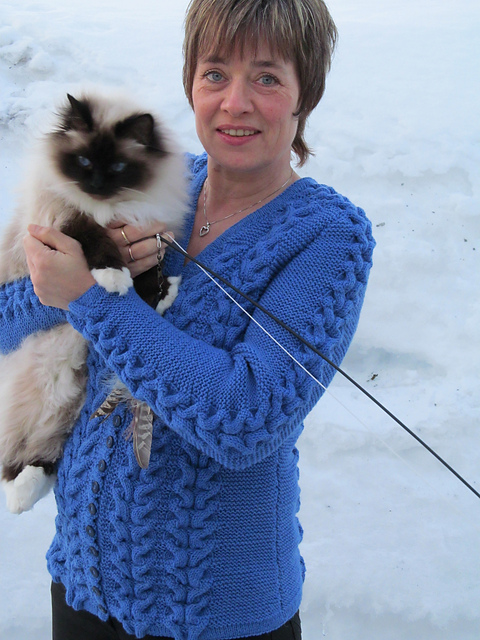 The Tyrol Jacket sample was knitted in the American hand dyed Tosh dk using 4 mm/US 6 in two different dye lots, the darker pink version chosen for the sleeves, ordered from Eat.Sleep.Knit, since it was first but unsuccessfully submitted to the American digital magazine Twist Collective. The pattern was first published in Norwegian in the special issue called Håndarbeid/Handicraft published by Familien in March last year, it is available in English from my Ravelry Store and will shortly be available in Norwegian. I will keep you posted.