At the end of last year, I was delighted to have my design accepted for the Knits Fall 2016 issue, and the magazine is now finally released. I choose the theme Industrial Harvest, described as "Sculpted from tradition, cast with an edge" by editor Meghan Babin, and submitted a straight cardigan with a scarf collar, enhanced with an elegant textural lace pattern. The Reverse Fern pattern adorns the body and sleeves while the collar is divided from it by a tuck and knitted in moss stitch. You can wear the collar flat – overlapping – and pinned together or folded. I choose SweetGeorgia Yarns Superwash Sport (100% superwash merino wool, 300 meters/328 yards on each 100 gram skeins and suggested the hand-dyed taupe color called Tumbled Stone. On the cover is Harvey Pullover by Hannah Baker, now the Editor of Knitscene but formerly Assisting Editor of Knits.
I choose SweetGeorgia Yarns Superwash Sport because of its crisp stitch definition, its beautiful color range and because it takes my favorite needle size 3 mm/US 2.5. The gauge is 24 stitches and 36 rows in Stockinette stitch measures 10 cm/4″. The body is worked from the bottom and up in pieces. The sleeves on the sample are worked in the round, but the pattern has been changed by the technical editors to be worked flat.
All parts are cast on using a provisional cast-on, which is later removed and the stitches are bound off using the I-cord bind off method. The same bind off method is used for the collar. This is how the Cardigan is introduced in the magazine: "The Kathe Cardigan is an elegant and feminine modern classic. The leaf lace panels pair with the luscious open collar to make a stunning garment. This comfortable knit can be worn with a skirt and heels to the office or dressed down for the weekend."
Above you see the back, with stockinette sides for decreasing in. All the photos are taken by Harper Point Photography. Below you see some other pictures that editor Meghan Babin, aka meggospurls on Instagram, posted as a preview a few weeks back. Yes, that was yet another reason for me to join Instagram. The pattern is available as a single pattern digital download here: Kathe Cardigan, or why not buy the whole magazine either as a digital download or in print.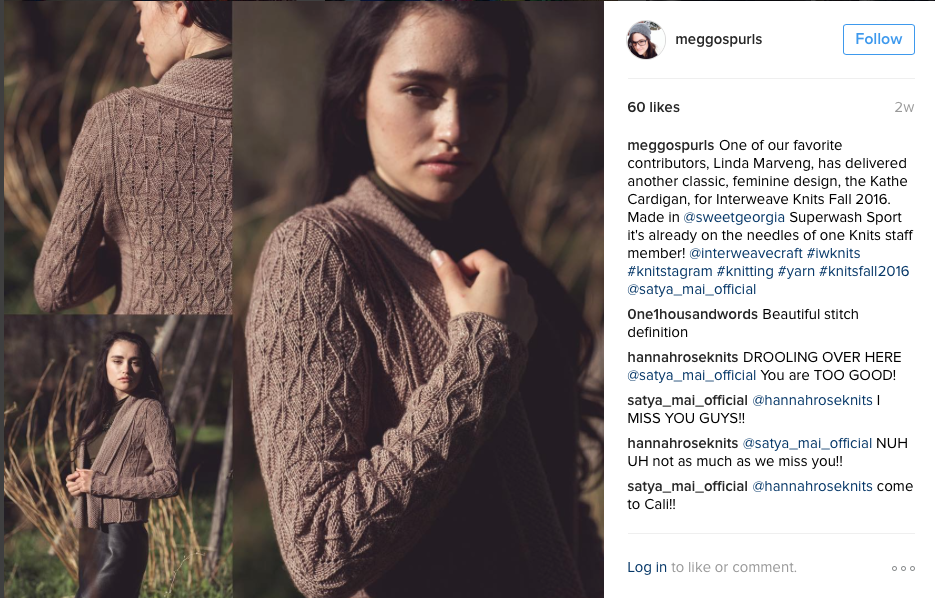 This Fall issue has 20 classic patterns, articles and a Master Class on Steeking by Mary Jane Mucklestone plus more. You will find a great overview of all patterns on Ravelry: Interweave Knits Fall 2016. The contributing Star Designers are: Michele Wang, Pam Allen, Kate Gagnon Osborn, Kathy Zimmerman, Mary Jane Mucklestone and Susanna IC. I fell honored to be in their company!