I am delighted to show you the photos of the gorgeous Alexandria Eissinger/Nordic Model Agency, with hair & make up by Jens J. Wiker, statement jewelry by Kaja Gjedebo Design and boots by Monica Stålvang Shoes, wearing Shalana, brilliantly captured by Eivind Røhne at Villa Malla on a sweltering day in June. Here is my introduction to Shalana: Sand Cables that travel from the center towards each shoulder dominate this fitted sweater with a rounded  boat neck. The center panel of double seed stitch is framed and increases in size with the cable move. On the long sleeves the cables dominate. Named after the most powerful spirit Shalana. The Norwegian pattern will be published in the special magazine Familien Strikkebok which is out on the 22. August, while the English pattern will be published on Ravelry after test knitting set to begin 19th September. The sample with these magnificent photos will be exhibited at Strikke 2016 at Hadeland Glassverk, from 3. September to 30. October.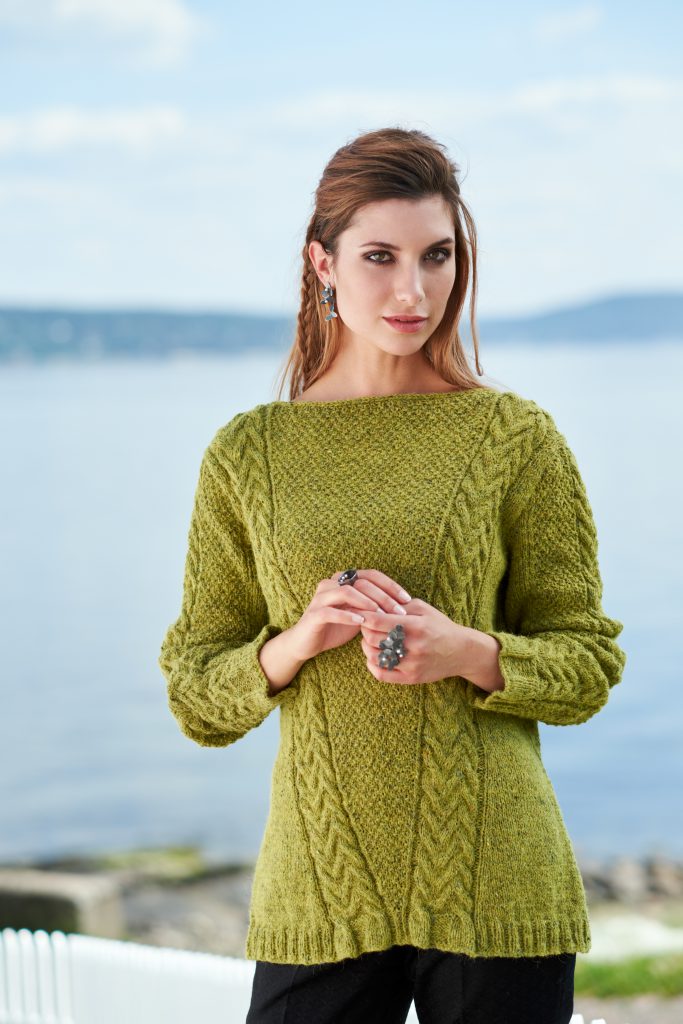 Shalana is knitted in the divine Rowan Felted Tweed DK made of 50% merino wool, 25% Alpaca, 25% Rayon, each 50 gram skein has 175 meters/191 yards. The sample is knitted in Avocado 161. The pullover knits to a gauge of 24 stitches and 32 rows in stockinette stitch measures 10 cm/4″ square using a 3.5 mm/US 4 needle. The sample is knitted in size S but with a gauge of 20 stitches, hence it has the measurements of the size Large. Shalana is available in sizes XS to 2XL.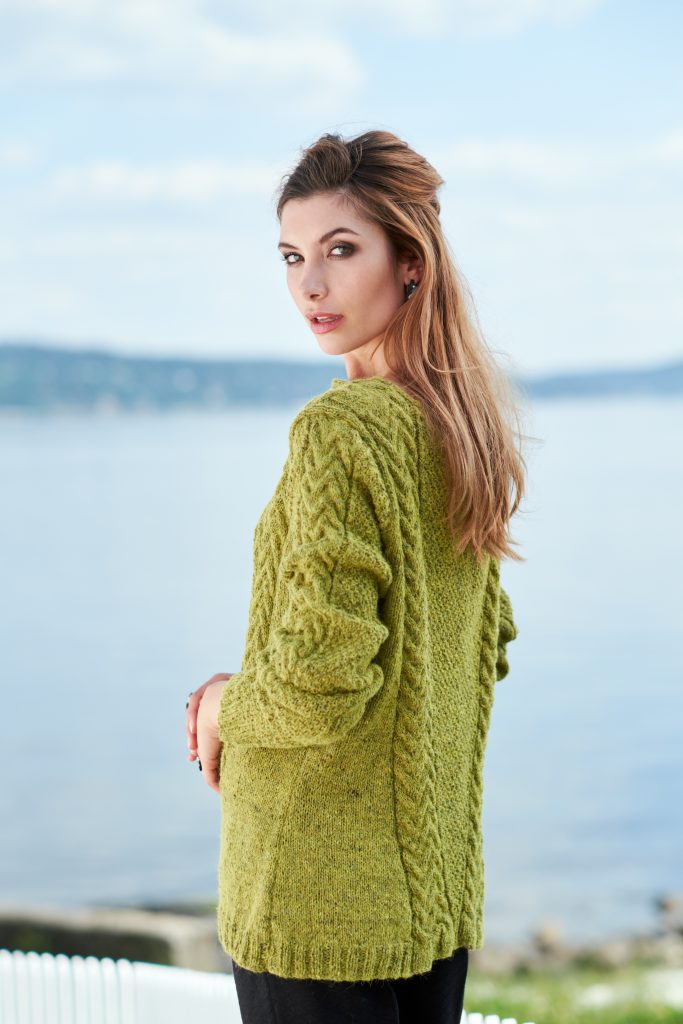 All parts are worked flat. The sand cables move from their center position on the body towards the shoulder by increasing into center Double Seed st panel and decreasing into st st at the side. The neckband is an I-cord bind off, which is grafted together at the end. The pullover is seamed together at the end.
Above you see the back which is identical to the front. You increase in each side of the center double seed stitch panel and decrease in the stockinette stitch in the sides on the other side of the Sand cable. The traveling cables create long lines and a central v-shaped center panel. The double seed stitch panel also frames each side of the Sand cable on the sleeves. This has been the most popular of my new designs so far, and I am excited to see whether that will change or not.