Next series of photos I am thrilled to show you are the designs I have made for Hillesvåg Ullvarefabrikk for their yarn kits. First out is Halli, which light color light jeans blue suits gorgeous model Alexandria Eissinger so well! Her beautiful hair & make up is by Jens J. Wiker, the statement jewelry is by Kaja Gjedebo Design and the boots by Monica Stålvang Shoes, all brilliantly captured by Eivind Røhne at Villa Malla by the Oslo fjord in June. Here is my introduction to the pattern: A sideways cardigan with a reverse textural pattern, and deep waterfall fronts. Each front and sleeve has two tucks at the end; one in reverse stockinette stitch and one in stockinette stitch. Choose if you prefer to leave the fronts hanging loose, pinned loosely together or draped across each other. Halli, comes from Old Norse and means rock. Perfect for the stitch pattern and symbolicly for becoming the rock in your wardrobe. The sample is knitted in the new finer pelt wool yarn with a radiance called Hifa Sølje with 350 meters/382 yards on each 100 gram skein. The Norwegian pattern will only be available in the yarn kit, while the English pattern will be test knitted in my Ravelry group in February before it will be released. The yarn kits will be launched at the Oslo Design Fair from 1. to 4. September.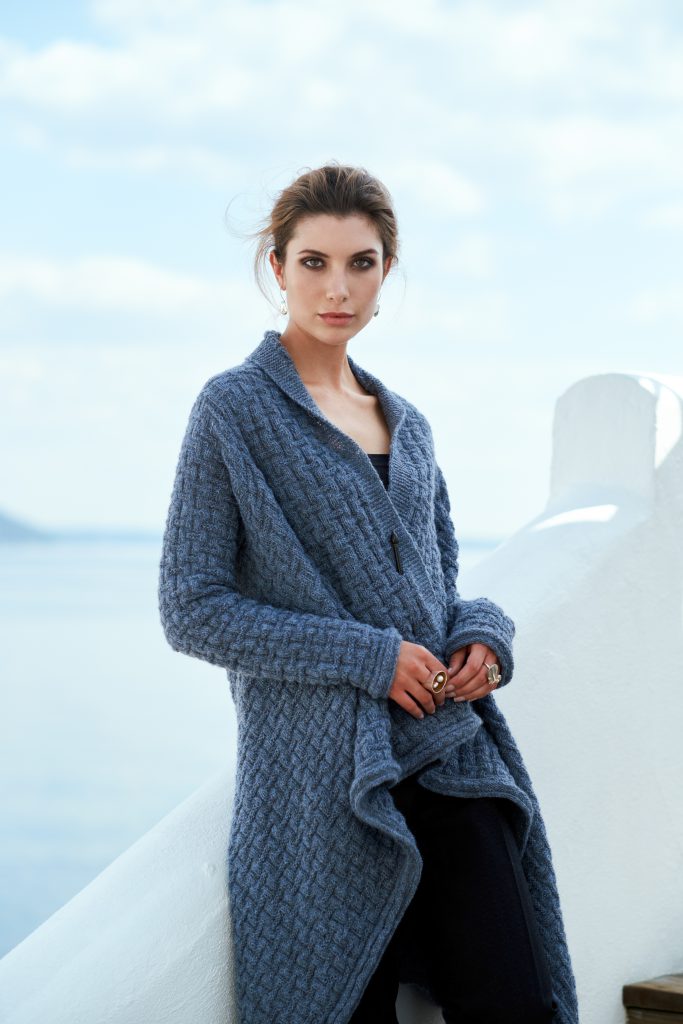 Halli is knitted using 3 mm/US 2.5 circular needle with a gauge of 24 stitches and 32 rows in stockinette stitch measures 10 cm/4″ square. The body is knitted sideways in one piece, from right front to first armhole, where it is split and worked in two parts until armhole is complete, and back is worked to second armhole, and finally left front. Right front begins with a provisional cast-on, which is later removed and replaced by an I-cord bind-off, while left front ends in an I-cord bind-off. The sleeve is knitted in the round to the armhole, then flat to final bind off. The fronts and the sleeves have two tucks; one in reverse stocking stitch and one in stocking stitch after each other at the beginning. The tucks are worked with 2 sets of circular needles held together, and with the magic loop method on the sleeves.
The cardigan is intended to be worn with extra ease at the front to create the waterfall effect. If you want less fabric to drape at the front, work a shorter front before the armhole on right front and after armhole on left front. If you prefer a shorter length on the body choose a smaller size when casting on, but work to the lengths given and the armhole for your correct size. Alexandria is wearing size S and is a clothes size European 34/UK 6/US 2.
Again; a light color that worked so well with the backdrop, in addition to looking stunning on Alexandria that is, so I had a hard time choosing photos as you can see! These photos were photographed at the upper terrace at Villa Malla, next to the large curving staircase leading to the lower terrace.
I chose to style these four designs for Hillesvåg Ullvarefabrikk with slim black trousers and a tube top, to let the textures of the knits show. The lustrous pelt wool has a grey base tone which gives an extra dimension to the colors. This new thickness of the pelt wool and Norsk Pelsull which will change name to Tinde will be available in 30 colors from September. I am trying to be patient will I wait for the new shade cards to appear in my mail box.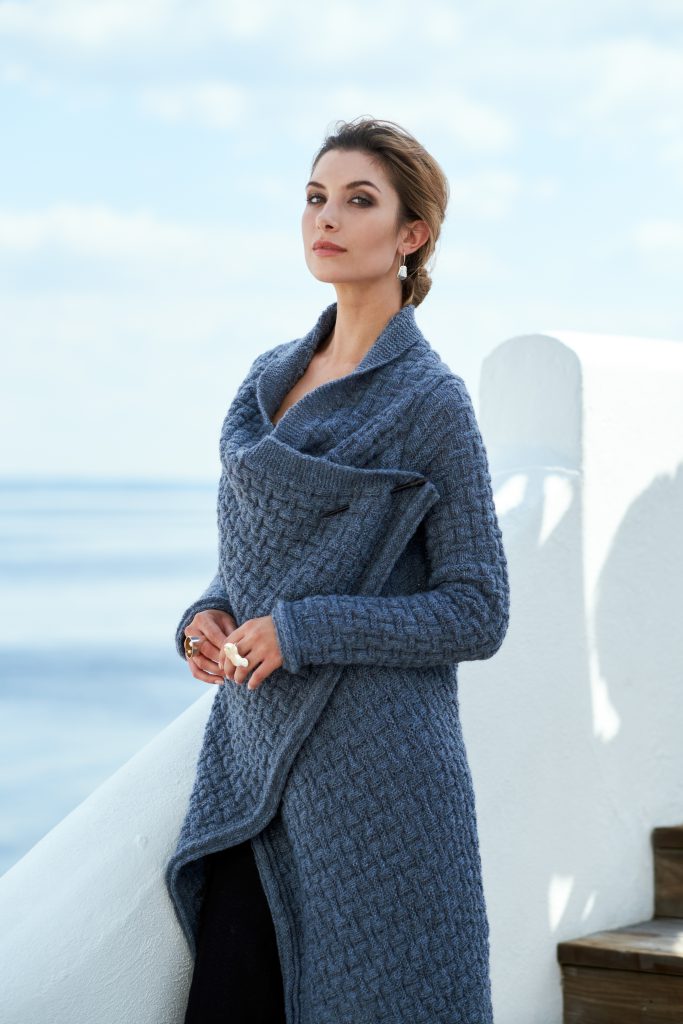 The fronts are long because I wanted to be able to let them drape across the front in a casual manner. I realized this might not be suitable for all knitters hence I added the size & ease note above.
Last photo selected is this side view with the front draped across. The yarn kit will be available to order from selected yarn stores and online from Hillesvåg Ullvarefabrikk here: Eksklusiv Gjestedesign. Next design coming up is the professionally photographed pullover Idunn.