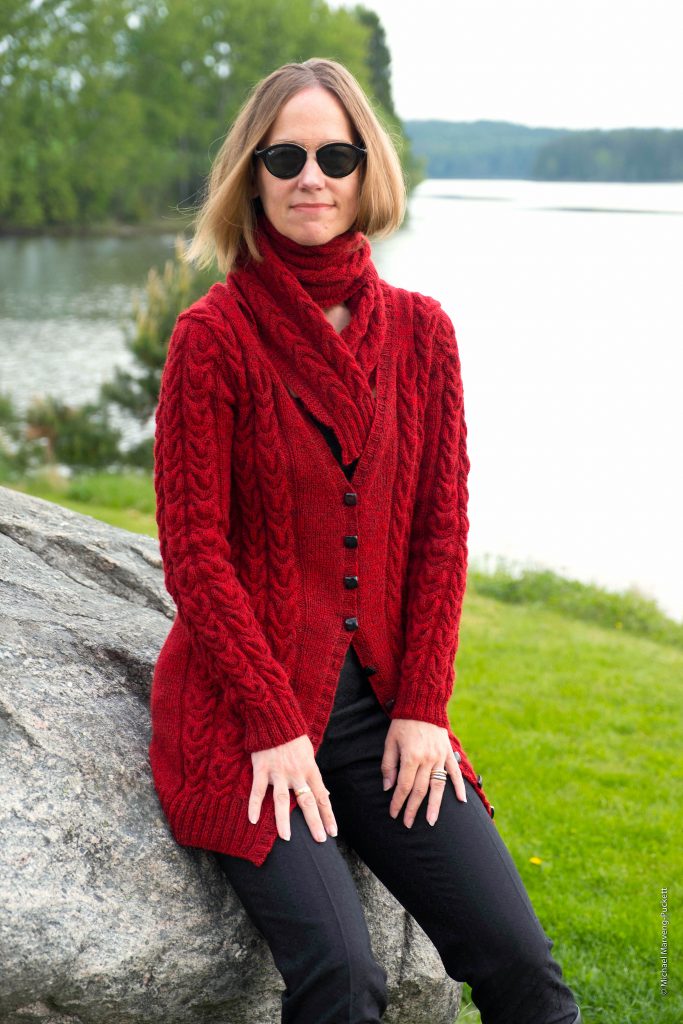 Who is Wilma Lind, you ask? If you are Norwegian and have read the crime books by Hanne Kristin Rohde, you will know that she is a fictitious Police Inspector in Oslo. Author Hanne Kristin had the real job for many years, before she began writing crime and holding talks on improving business management. I recognised Hanne Kristin's name from the Norwegian television news (lately also seen in a series called Åsted Norge/Crime Scene Norway) and her crime books, when she approached me several months back with the idea of designing a long jacket for Wilma Lind. That was the beginning of our collaboration. And yes, she does knit but have not done so for awhile since her writing take up most of her time. A strong red colour was chosen since Wilma is brave and daring.
A long a-line jacket with cables covering the back, and moving cables on the front. Instead of a shawl collar the jacket was given a deep v-neck and a loose shawl to use as a collar. The body is worked in pieces while the sleeves are worked in the round after the rib to the underarm. It is knitted in the in the lustrous pelt yarn with a mohair feel, Sølje from Hillesvåg Ullvarefabrikk.
The cables are the same I used in both the sweater Idunn and Elfa, both designed for yarn kits for Hillesvåg Ullvarefabrikk. But this jacket has a rib at the bottom and a button band unlike Elfa (currently being test knitted in my Ravelry group). I liked the idea of the moving the cables towards the shoulder on the front, while working them straight on the back and on the sleeves.
The jacket is beautifully knitted in size S on 3 mm/US 2.5 needles by Nadia Bresky, aka 77stricknadel on Ravelry while I was finishing off another design for Interweave's knit.wear magazine. I finished in time to knit the accompanying shawl. Worn twice around the neck in the top photo and as a shawl collar in the photo above.
The shawl has 3 cables in the center and ends in a rib. It is shaped in the reverse stocking stitch panels in between the cables. All the photos are taken by my husband, a short walk from our house in Ørje by the Rødenessjøen in late May, just before the rain. Also before the photoshoot we had 29th of May at Ingierstrand Bad. I have finally been able to select the photos I want from Eivind Røhne's contact sheet and look forward to showing you those. The Norwegian pattern will be sold digitally on www.wilmalind.no from late August/September, while the English pattern will be released after test knitting in my Ravelry Group set to begin 26th June. Hanne Kristin is a blogger too, so expect to see a lot more of this jacket…
SaveSaveSaveSave
SaveSave
SaveSave
SaveSave
SaveSave
SaveSave
SaveSave
SaveSave