Yes, we are well settled in our new house. Michael has just finished the last building the last bookshelf and has moved onto the next project; extending the front terrace. I am working in my new studio – still at our dining table but it is not our dining table any more and it will eventually become my working & meeting table. Most of the boxes are unpacked, even though there are plenty of tidying and sorting of drawers to be done. We have even met a few of the neighbours and discovered that this is indeed a small place. A few shop owners in our local town knew we were moving in and exactly which house we have moved into. The previous owners are well known in Ørje, and so will we be, by the sounds of it.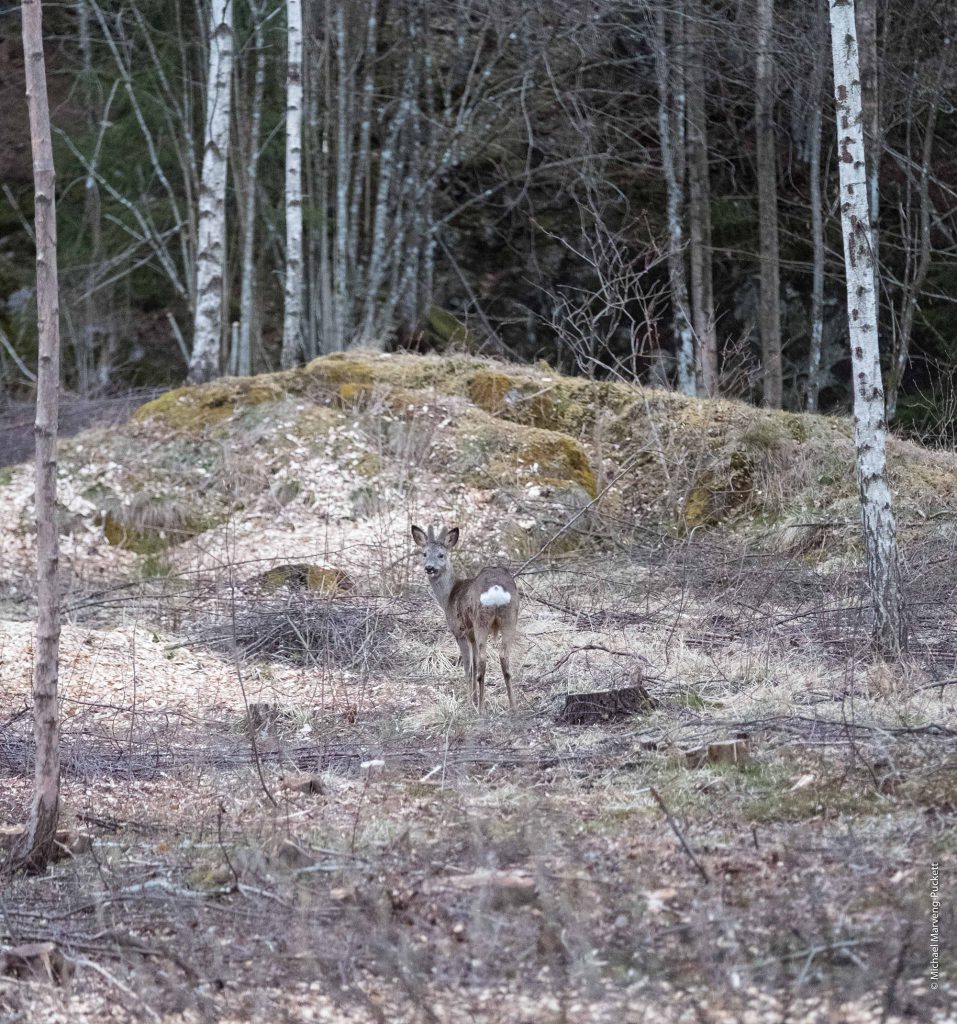 Now even our mailbox is in the right place across the road now – the first few days we did not have one and missed having one. Even the mail redirection service works well, I am pleased to say. There are deer out in the forest close to our kitchen window in the early mornings. Above you can spot one of them. All we can hear are the birds and a bit of traffic, so my shoulders seemed to have moved down several centimeters since we moved.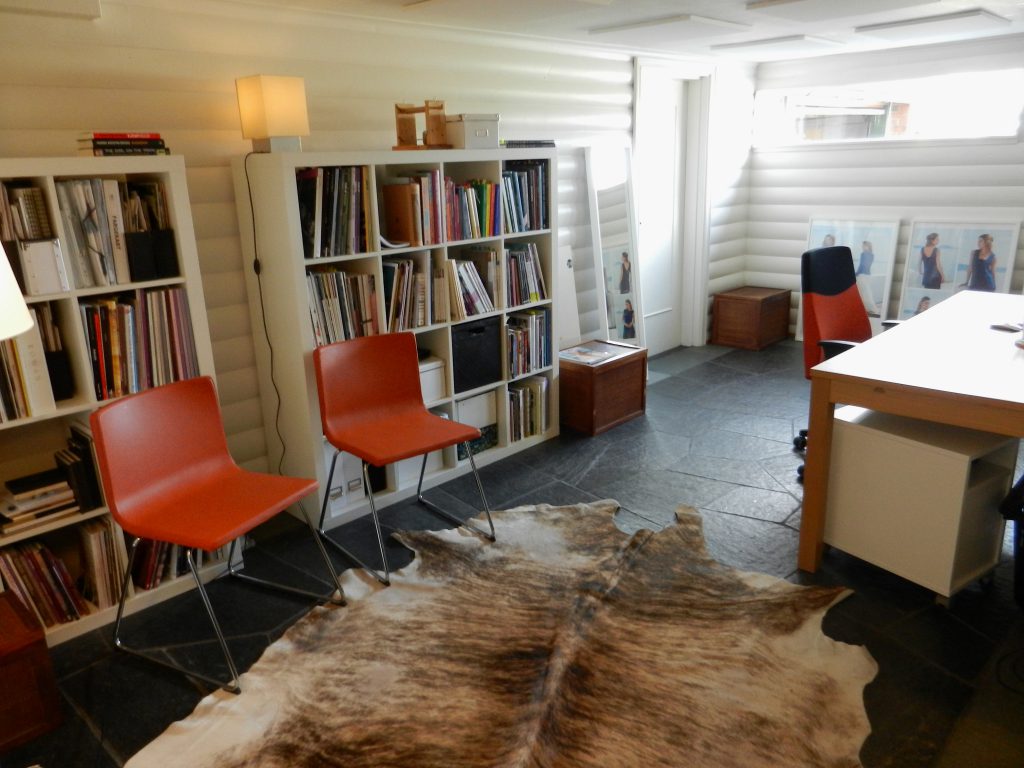 My studio, originally the garage then a "peisestue" (read second living room usually with a fireplace – here a gas heater), will be refurbished beginning this summer when we are planning to replace the small basement windows with floor-to-ceiling windows. The gas heater will be removed, since there is floor heating installed beneath the slate floor tiles. A number of my folders, samples, yarn and workshop materials are still in boxes and I need to sort out the ones that will be kept stored in boxes in the next door storage room. My new orange leather chairs are from IKEA, while I have inherited the bookshelves we used to have in our old living room, in addition to the cow skin. As you can guess, I wanted to add some colour to my studio and it was an easy choice for me. My sister-in-law and niece have already tested them and approved of my choice.
On the short wall you can see two of the five photos exhibited at the Strikke 2016 at Hadeland Glassverk last autumn. There is a third one in the corner and two on the opposite short wall. I do love having so much space and living for years in London does make me appreciate it even more. If you find my desk extremely tidy, it is not because I do not have any work on, but because I cleared it especially for this photo. As usual I am working to keep my deadlines. A new place to photograph has been found and it has already been tested; it is a nearby beach. All we need now, is for warmer weather to arrive since it has been colder than usual for April. However, I am busy preparing for the upcoming Vienna Wool & Design Festival as well as writing patterns, so it does not matter that much.