Estonian test knitter Siret took these gorgeous photos of her daughter wearing Devona, knitted in the original Hillesvåg Ullvarefabrikk, Sølje pelsullgarn/pelt wool yarn in 2118 Olivengrønn. On her Ravelry project page Siret, aka kollane, writes: "Sølje yarn from Hillesvåg Ullvarefabrikk was once again an excellent choice for knitting and I was not disappointed". This is actually the first vest that Siret has knitted; "Devona is an amazing vest with two different patterns that divide it into two exciting knitting parts. The Honeycomb pattern is a little time consuming but definitely worth it". Siret lives with her family at Saaremaa, the largest island in Estonia, in the Baltic Sea. She and her model daughter …"chose an old forge as the backdrop for shooting, because the vest reminds me of old times when the vest was worn much often".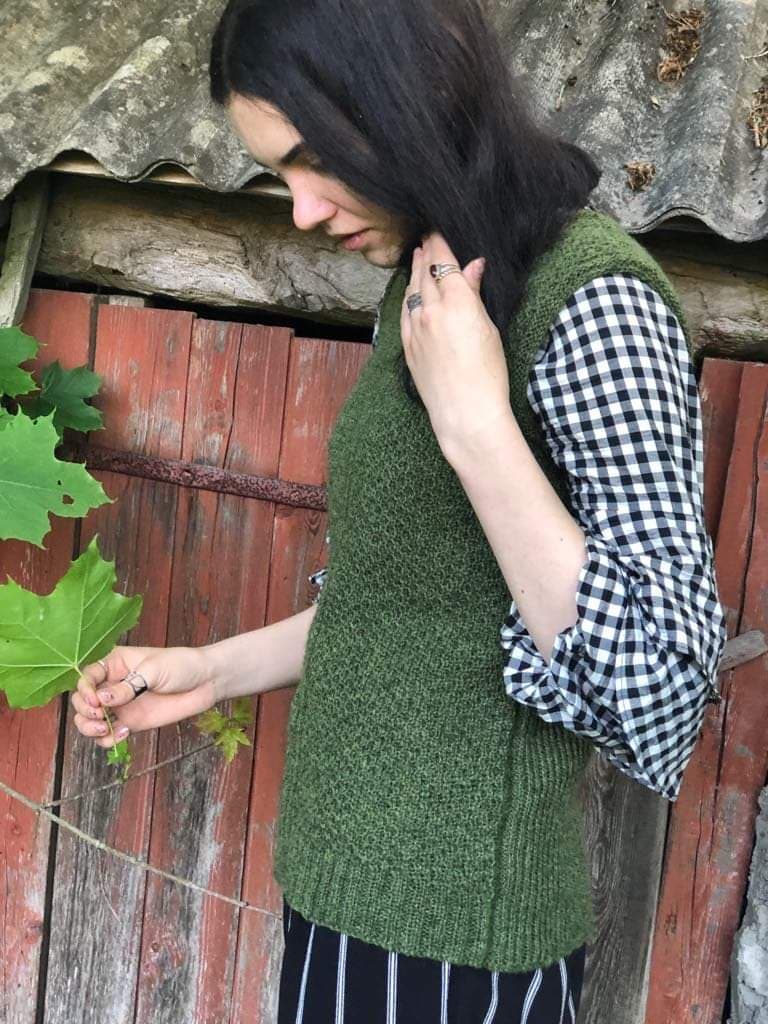 Siret made the vest for herself in size Medium with a bust measurement of 98 cm/38.5″. The only modification she made was work "5 sets of short rows on both pieces – I finished Honeycomb pattern and wraped and turned after two sts". I have included an advice on short rows in the pattern. You can also find Siret on Instagram as siretsini, where you can see more of her stunning projects and photos! Thank you ever so much for test knitting and these amazing photos, Siret & daughter!
Named after the Goddess of the Rivers of Devon is this vest with textures running into each other at the center. One half is in a twisted rib while the other is honeycomb, divided by a spine of rib. The vest ends in garter stitch bands topped with a soft I-cord bind off. Devona is knitted in the bouncy Sølje Pelsull from Hillesvåg Ullvarefabrikk with a 24 stitches and 32 rows gauge in stockinette stitch using a 3 mm/US 2.5 needle over 10 cm/4″ square.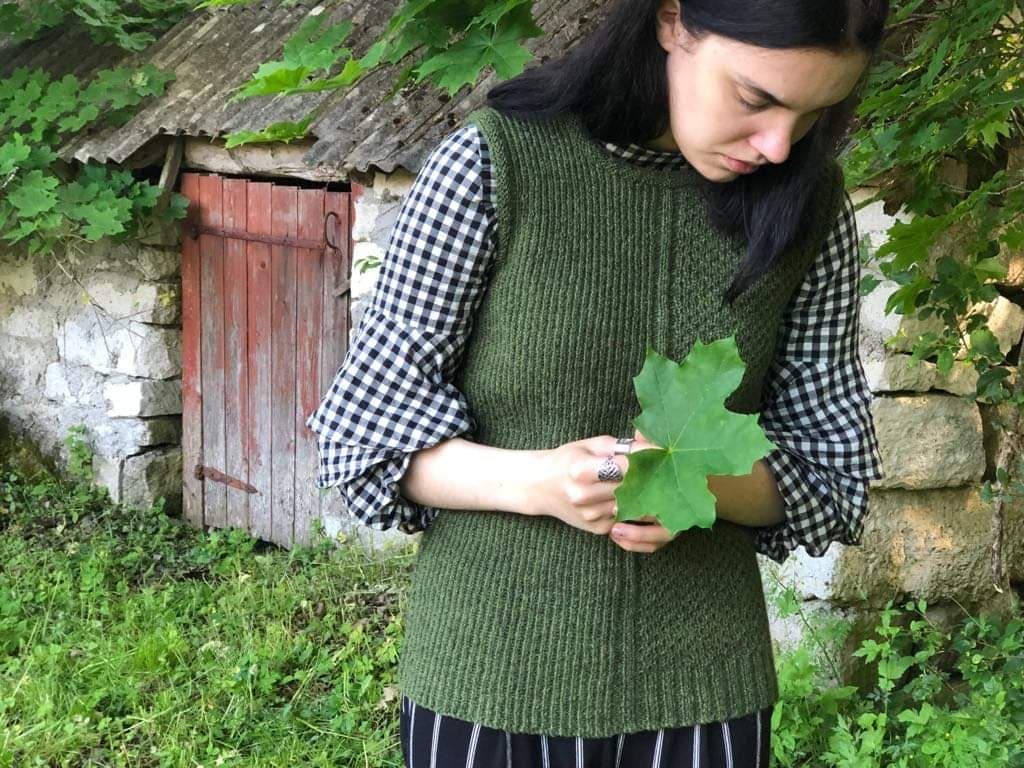 The vest or sleeveless sweater or shell if you like, comes in sizes XS to 2XL with a bust measurement of 86 to 125 cm/33.75 to 49.25″. You can order a yarn kit with the pattern in English or Norwegian from Hillesvåg Ullvarefabrikk. The Norwegian and English pattern are both available from my Ravelry Store and on LoveCrafts.