I am delighted to show you my last of the four designs for Hillesvåg Ullvarefabrikk in the Spring 2019 Collection. The yarn kit with Norwegian pattern will be launched at Fagstrikk trade fair in April in Oslo, while the English pattern will be test knitted in my Ravelry group, beginning 20th of May, before its release. Here is my introduction to Devona: Named after the Goddess of the Rivers of Devon is this vest with textures running into each other at the center. One half is in a twisted rib while the other is honeycomb. They are divided by a spine of rib and ends in garter stitch bands with a soft I-cord bind off to finish them off. Devona is knitted in the bouncy Sølje Pelt wool from Hillesvåg Ullvarefabrikk.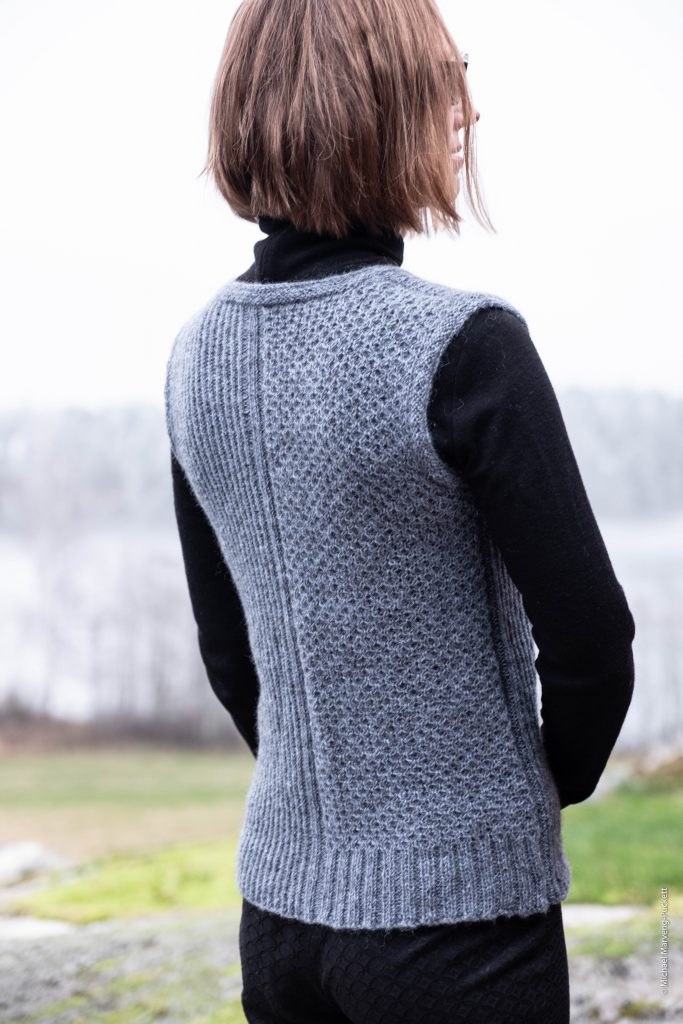 I wanted to design a vest that you could wear either over a shirt or a pullover or next to your skin and with two contrasting patterns meeting in the center of each part. I decided to work the vest in pieces and seam it together at the end. Then work both the neck band and the armhole band in the round at the end. In these photos that Michael took on our front terrace in November, I am wearing a black turtle neck pullover under because of the cold weather in Ørje. When we photographed it at the Vigeland Museum in Oslo, I decided that Em should wear it with bare arms. Hence you can see the two options.
The colour I chose is an old favourite, Light Jeansblue which I used in the first collection for Halli. The vest only took 805 meter/880 yards to knit in size Small, that is 2.3 skeins of a 100 gram. So it feels as light as a feather. I have graded Devona in sizes XS to 2XL with a finished bust circumference of 86 to 125 cm/17 to 26″. The vest is knitted using 3 mm/US 2.5 needle with a gauge of 24 stitches and 32 rows in stockinette stitch measures 10 cm/4″ square. This is the last new design for awhile, so next I will show you more of the fantastic photos we took at the Vigeland Museum.