Talila was also photographed at the end of May, worn by the gorgeous Anne Dorthe/Team Models with beautiful hair and make up by Sissel Fylling, fantastic statement jewelry by Kaja Gjedebo and stunning Carmen boots by Monica Stålvang, all brilliantly captured by Eivind Røhne. The pattern is recently published in the new digital magazine called På Pinnen/On the Needles for members of Norsk Strikkeforening/Norwegian Knitting Association, and will be released shortly in English on Ravelry. Here is my introduction to Talila: Just as the morning dew, they are named after, these cables move from one end to another across wrist warmers and all over a divine large cowl, with a matching clutch. The warm accessories are knitted in the beautiful Norwegian pelt yarn – Norsk Pelsull – from Hifa to make the cables soft and the background texture pulsating. The set is knitted in the round but can easily be adjusted by adding a pattern repeat or stitches in garter stitch. The clutch is reinforced and has magnetic bag closures.
The set is knitted using 3.5 mm/US 4 and 3 mm/US 2.5, and comes in one size. The cowl and the wrist warmers can easily be adjusted in size. I began knitting a swatch in the round in this lovely burgundy yarn and discovered I might as well make it straight into a wrist warmer. Hence I did make a second before I asked Grete Jenssen, aka ma9 on Ravelry to assist me and knit the cowl. It was Grete's marvelous idea to also make a clutch to go with the set and used a firm placemat, cut to size, to reinforce it. I did not need a lot of convincing, and loved the finished set! The yarn is generously sponsored by Hillesvåg Ullvarefabrikk.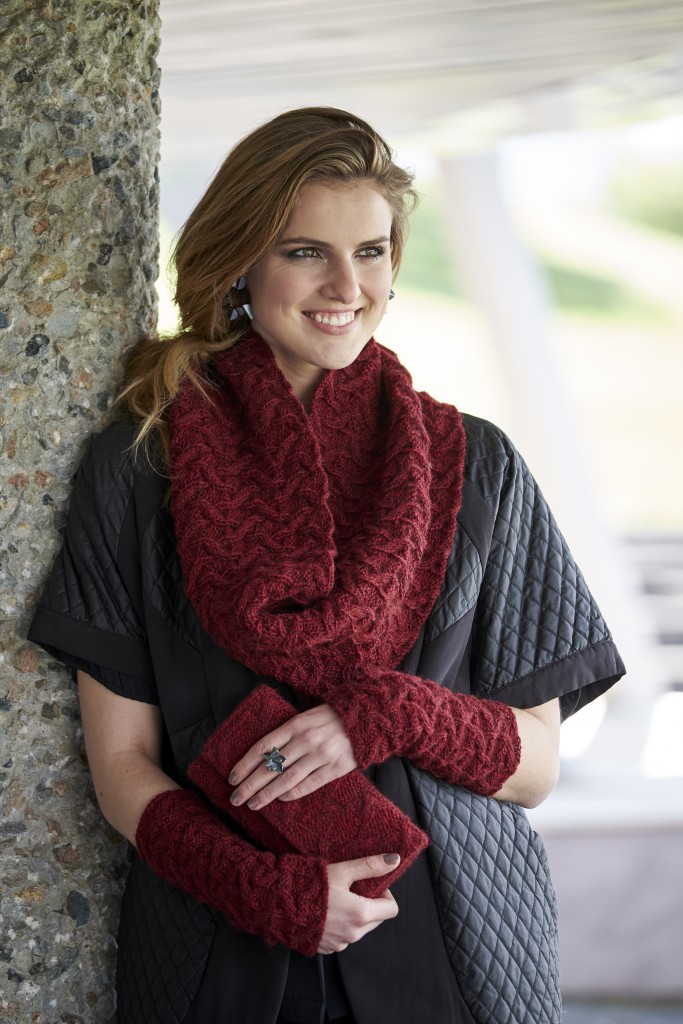 The cowl is knitted sideways, in the round as the wrist warmers, both with centering stitches making a ladder to frame the pattern. Adjust the width by adding pattern repeats of 10 sts or an equal number of garter sts in each end of the round. The clutch is knitted in 2 parts; a main part knitted in the round in pattern and st st for lining and divider. Reinforce it with e.g. a firm place mat which is put inside the main part. The divider is folded and attached in the sides, the bottom and then a pocket is made by sewing seams on the inside. See the detailed photos below.
Dorthe is wearing the amazing Karakoram large earrings and Hekla ring, both in oxidized silver, which fitted so well to the geometry in the stitch pattern as well as the melange yarn.
The Norwegian pattern will also become available on Ravelry when the rights revert to me in 6 months time. But in the meantime the board of the Norsk Strikkeforening will also discuss to make the digital magazine available for non-members and I will keep you posted.