I am thrilled to show you some of my favorite photos of gorgeous model Anne Dorthe/Team Models from our photo shoot at Henie Onstad Kunstsenter. Here she is wearing the top Oili, with beautiful make up & hair by  Sissel Fylling, Benedetta boots by Monica Stålvang and stunning jewelry by Kaja Gjedebo, all brilliantly captured by Eivind Røhne. Despite all the clouds on the sky on the day, the strong sunshine persisted with its presence so only a few quick photos from the amphi theatre was all we were allowed by nature. Above is one of them and a favorite of mine, illustrating so well the softness of the pure cotton: Bonnie by Permin with an astonishing 220 m/240 yds on a 50 g skein and a recommended needle size of 4 mm/US 6. The Norwegian pattern, including a matching loop, will be published in the separate issue Familien Strikk out on Monday 24th of August. The English pattern will be test knitted in my Ravelry group before its release.
Playful cables are the focus of this classic straight top, knitted in the round with each side marked by garter stitches. Narrow bands of garter stitch band frame the armholes, neckline and bottom edge. The top has a matching cowl, with cables all around. The set is knitted in a soft cotton tape yarn by Permin, called Bonnie, to make you feel like a divine woman – the meaning of the name Oili.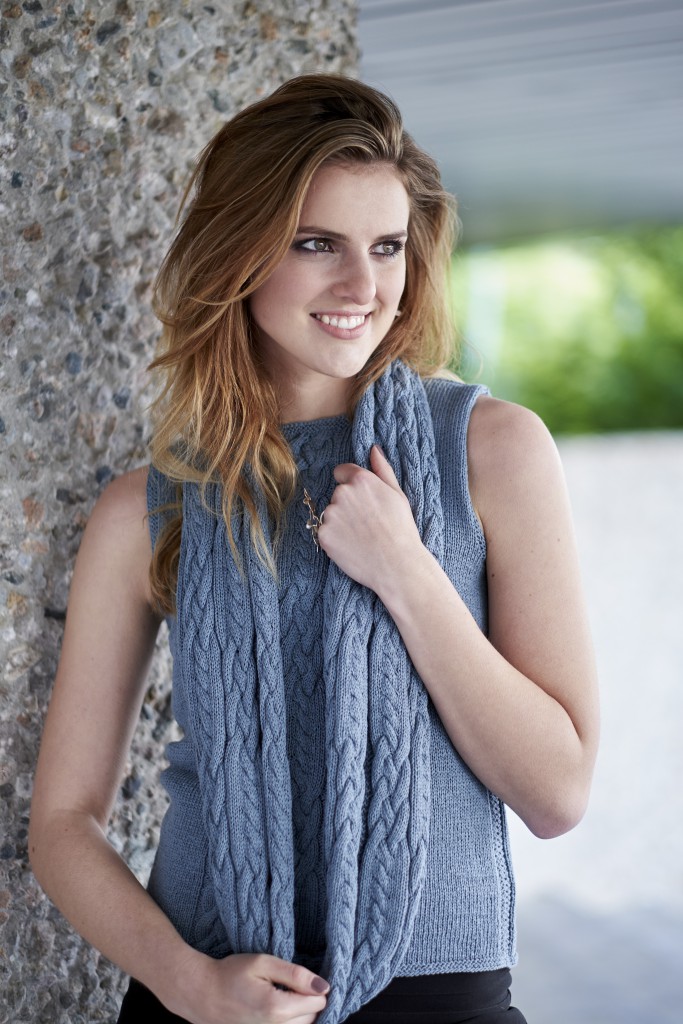 The top is worked in the round to the armholes, then separated. The cowl is worked in the round as a long tube, and then the ends are joined together. I choose to work a fake side seam in garter stitch on both top and on cowl. Bands are worked in the same garter stitch in the round. Above the cowl is worn hanging loose, but it can also be worn twice around the neck, see below.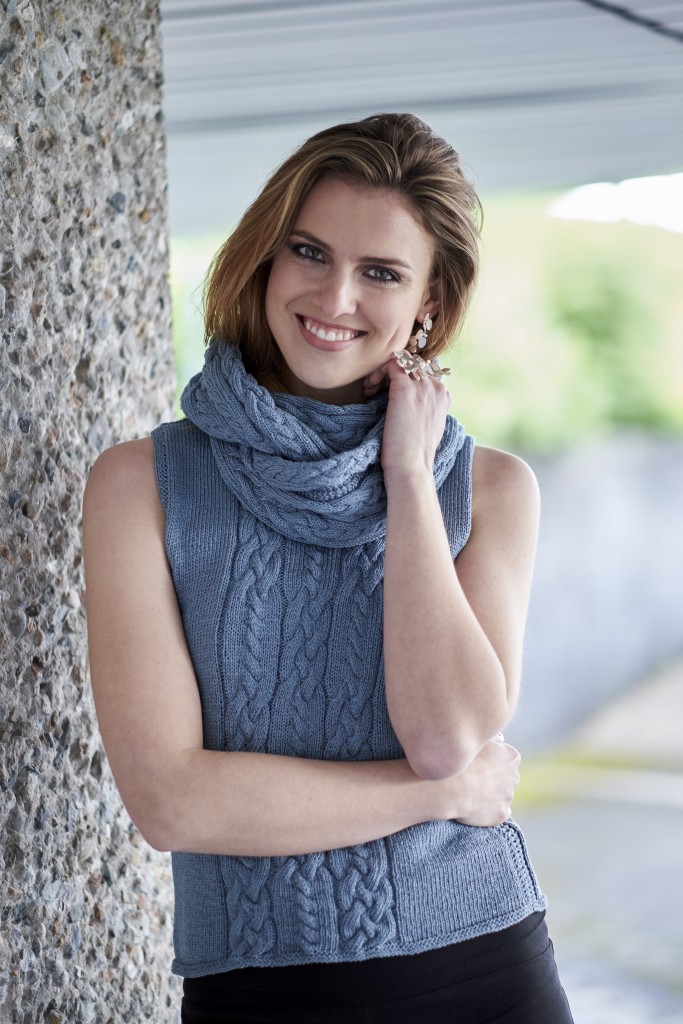 The yarn was kindly sponsored by Permin and I was lucky to have Grete Jenssen, aka ma9 on Ravelry, knit this set for me in no time. The cowl actually took her more than a week to knit (read: yes, it does have cables all the way around), just to give you an indication on her incredibly speed – perfect for a sample knitter in my opinion. Yes, she is already working on my next series and I made sure I booked her early.
The amazing wide ring with 3 pearls is made of silver and called Caprifol, while the matching earrings also with fresh water pearls in matted silver are called Ivy, all designed by Kaja Gjedebo. To be continued.