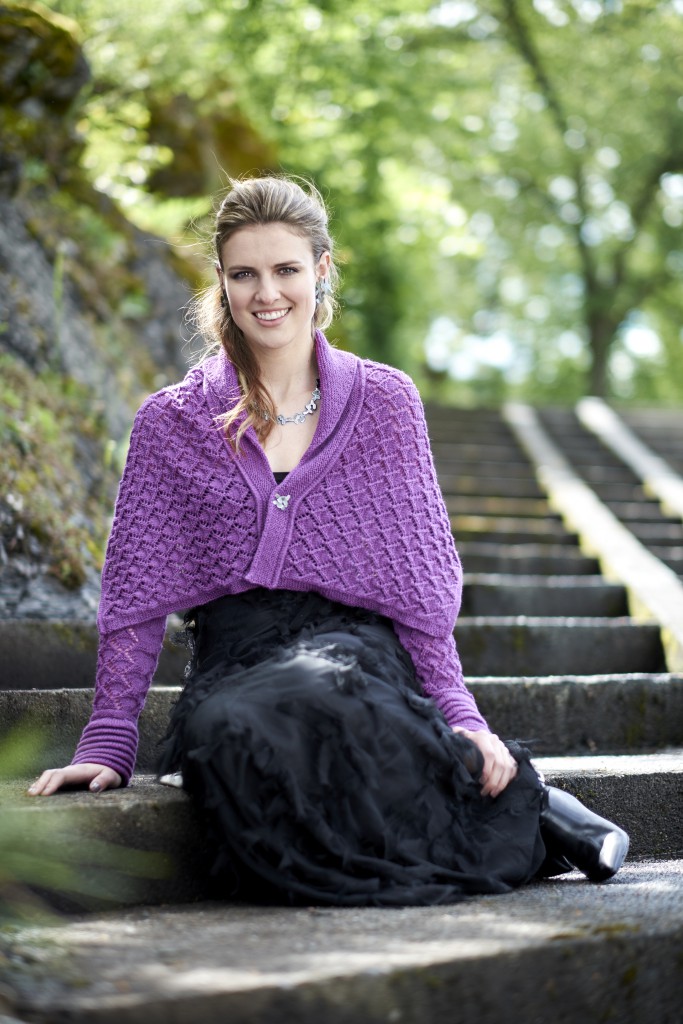 I just had to borrow Judith Bech's magical skirt, Monica Stålvang's fantastic boots and Kaja Gjedebo's statement jewelry for gorgeous Anne Dorthe/Team Models to wear together with my Hertha Shawl and loose sleeves at the photoshoot at Henie Onstad Kunstsenter. Sissel Fylling was in charge of hair & make up (read: and much else) while photographer Eivind Røhne, who brilliantly captured it all, was assisted both by former Made by Me editor Mary-Ann Astrup and my husband. Hertha in old Norse means a powerful woman, ideal for this modern shawl with a shawl collar, that can be worn as a scarf around the neck, a shawl around the shoulders, or as a top; if worn upside down and pinned together with a shawl pin. A traditional lace pattern with shadow triangles in half stocking stitch and half garter stitch, knitted in the divine Jaggerspun Zephyr Lace held double. The Norwegian pattern will be published in the separate magazine Familien Småstrikk out in November, while the English pattern will be test knitted in my Ravelry group before its release.
Hertha is a development of my Bech (yes, named after the dress designer Judith Bech) with a wider shawl for a more formal look. It also makes it look more like a shawl and less like a scarf with a collar. I was attracted by the Mulberry color of the Jaggerspun Zephyr Lace 2/18 which becomes even more saturated held double. Not to mention the luscious fiber combination of 50% tussah silk and 50% merino. The yarn is available on large cones of 454 grams/1 pound with an incredible 4608 meters/5040 yards or in 100 g skeins with 1024 meters/1120 yards, you can also order smaller spools from Handweavers Studio in London, where I first discovered this American yarn that has become a favorite of mine. Yes, they are now my sponsors. Thank you, Jaggerspun!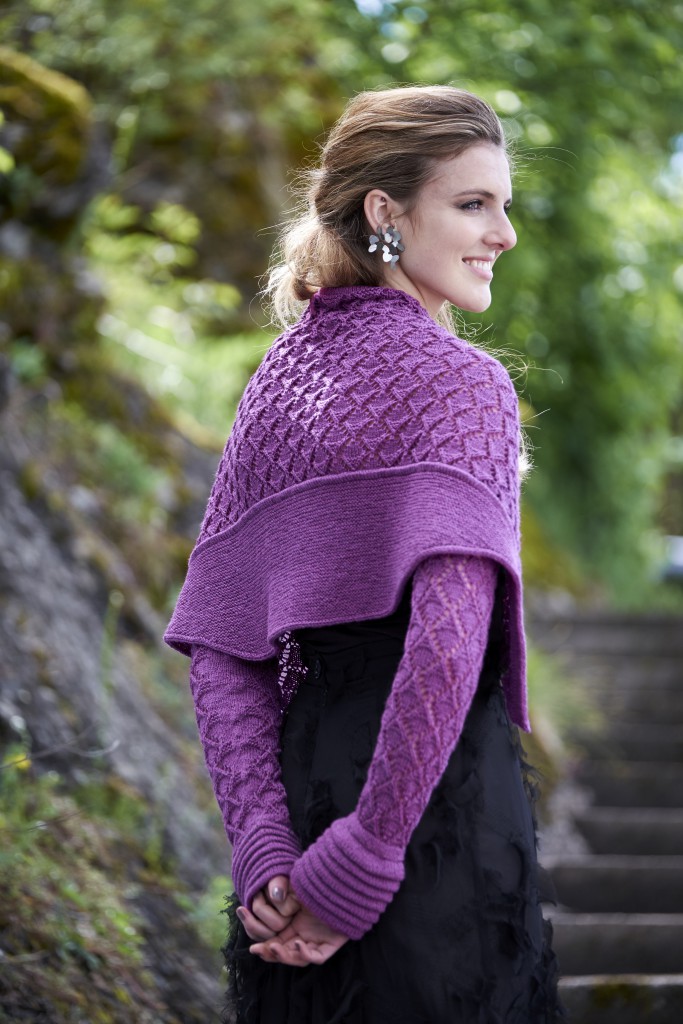 The shawl and loose sleeves are knitted using both 3 mm/US 2.5 and 3.5 mm/US 4 needles for the different stitch patterns. The gauge in garter stitch is 25 stitches and 40 rows while it is 24 stitches and 40 rows in the shadow triangles pattern. The lace pattern is easy to work and it seemed natural to choose garter stitch edgings, and divide the patterns with tucks. The cuffs on the loose sleeves have 6 tucks plus the hem. Yes, they are fun to work with 2 circular needles held parallel.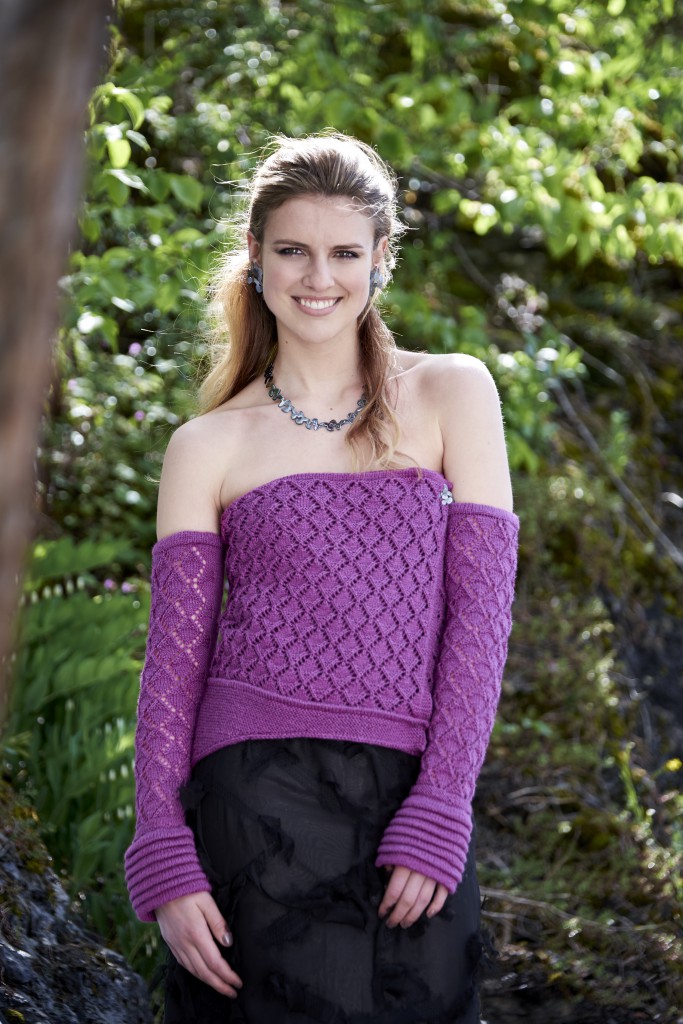 The loose sleeves have elastic inserted into the top hem to keep them in place. They are knitted in the round unlike the shawl. The collar on the shawl is shaped by short rows, and ends in an i-cord bind off. The pattern comes in 3 sizes: S/M as worn by Anne Dorthe, L/XL and 2XL but can easily be adjusted in length and width according to your own preference by adding or removing pattern repeats.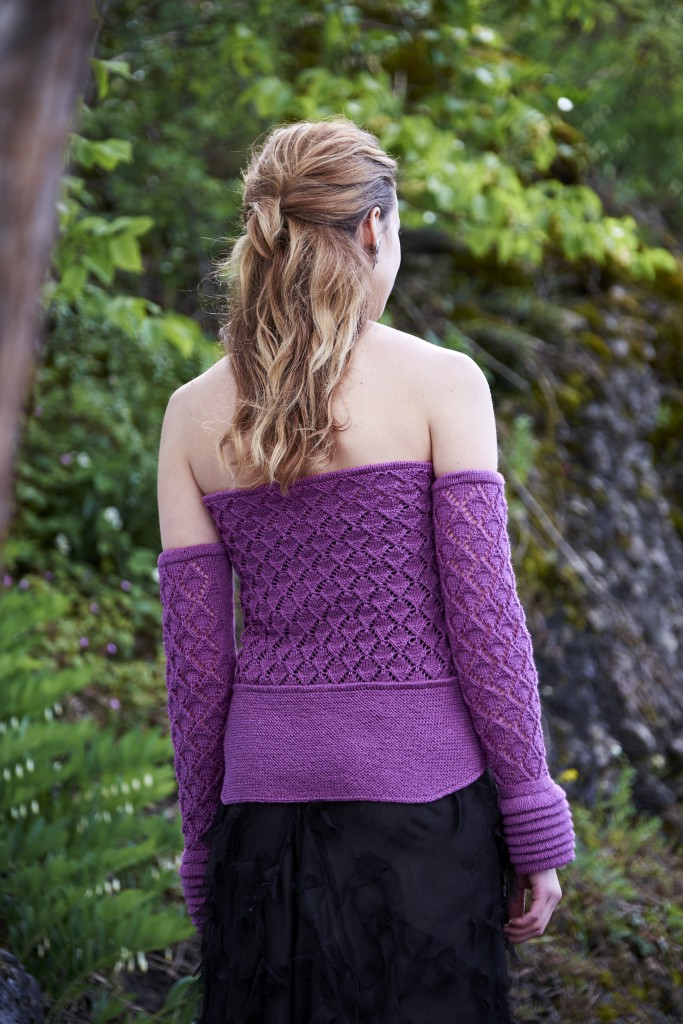 Above you see the shawl worn around the body, held together by one beautiful Abelia earring by Kaja Gjedebo. It is accompanied by the Poplar necklace and the Magnolia large earrings, all in oxidized silver. All of them such a fabulous companions to Hertha in my opinion. Hertha will be published together with two other new designs in Familien Småstrikk in November: Nuala and Syndra. To be continued.