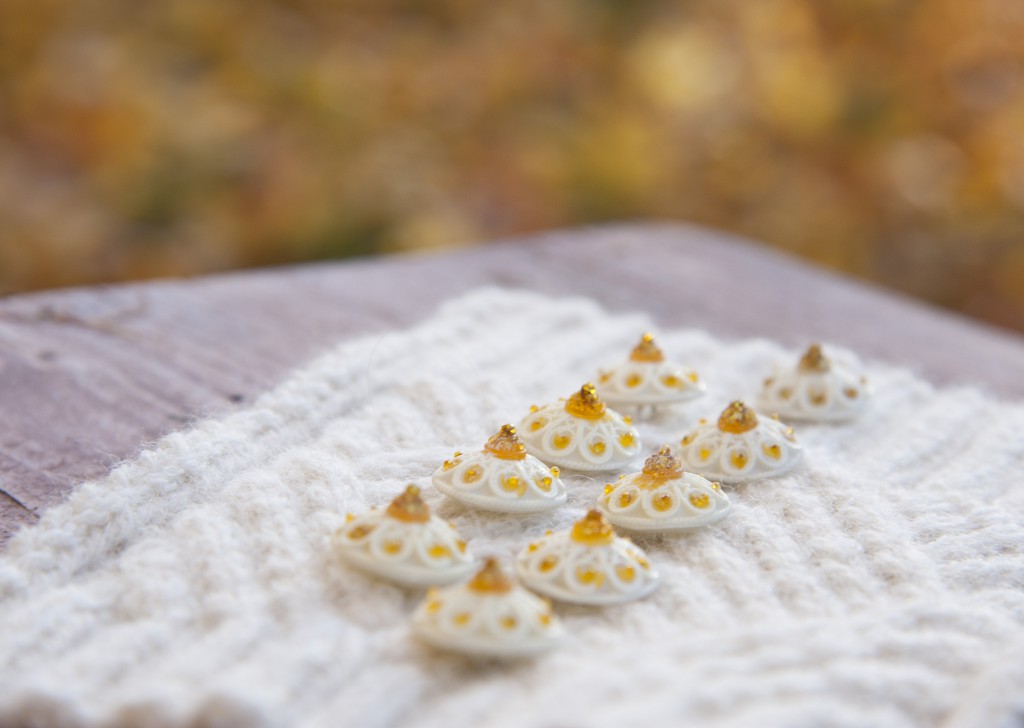 I wanted to add the most stunning buttons I could think of to my Helka, the long jacket with cables that looks woven, so I sent a request to jewelry designer Siri Berrefjord to check if she was willing to make me some bespoke buttons. I am thrilled to say that she was happy to oblige, so I sent her my knitted swatch and told her about my design plans to make garments to fit with dress designer Judith Bech's wedding gowns. I had decided that I wanted to adorn the button band with an excess of buttons and ordered 13 buttons from her, all in the size small with a diameter of 18 millimeters/0.7″, all in cream with gold on the center top. Included, I wanted a set of photos taken by Siri, a trained photographer, that shows the immaculate details on these handmade buttons molded in plastic after old traditional national costume/bunad silver.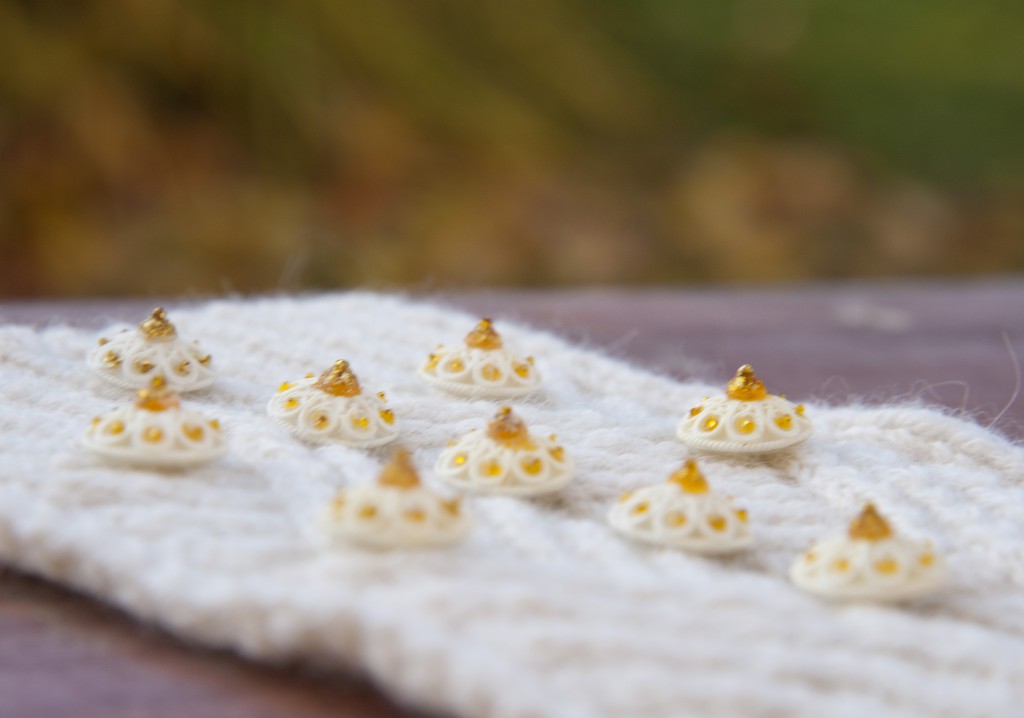 Siri played around with the color and decided to go for a foggy white color – a thinner layer of white – so that the button would look cream and at the same time absorb the background color of the knitted jacket. She also tested covering more of the button in gold but discovered it would remove all the details of the pattern below.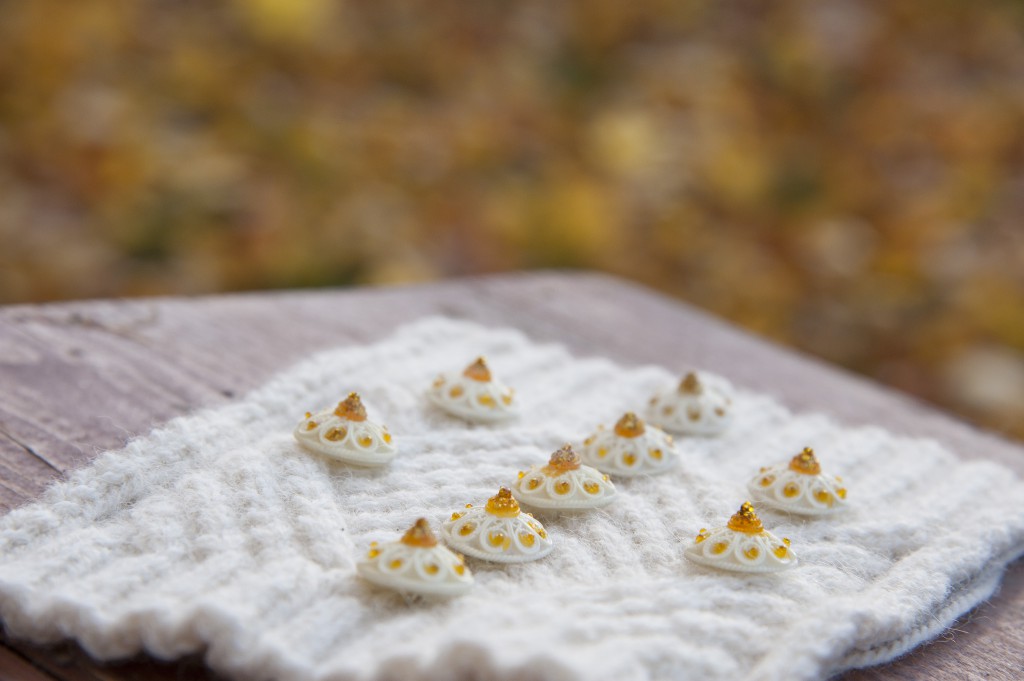 As always I am impressed by the composition of the photos, making sure the background matches the object in the photograph. These beautiful buttons also work equally well as button cufflinks or earrings or small brooches. Makeløs/Remarkable stylist Kristin Elise Halkjelsvik – yes, she is – proved this on our photoshoot in Fredrikstad for the magazine Made by Me. Take a close look at the cufflink in orange worn by Pia Cecilie/Team Models in this photo: www.marveng-puckett.com.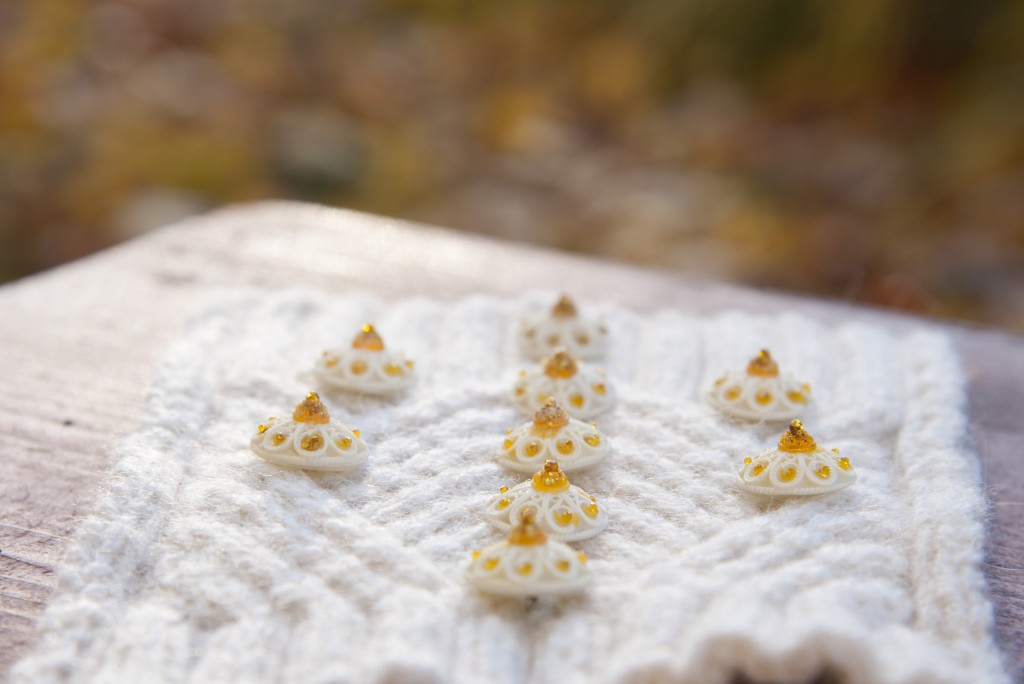 I love how all the rounded details on the buttons stand in contrast to the straight lines created by the cables. These photos also show a bit of the texture of the numerous cables that make up the pattern on Helka. The Norwegian pattern will be printed in the special magazine called Familien Håndarbeid out in March, while the English pattern will be test knitted in my Ravelry group late April before its release.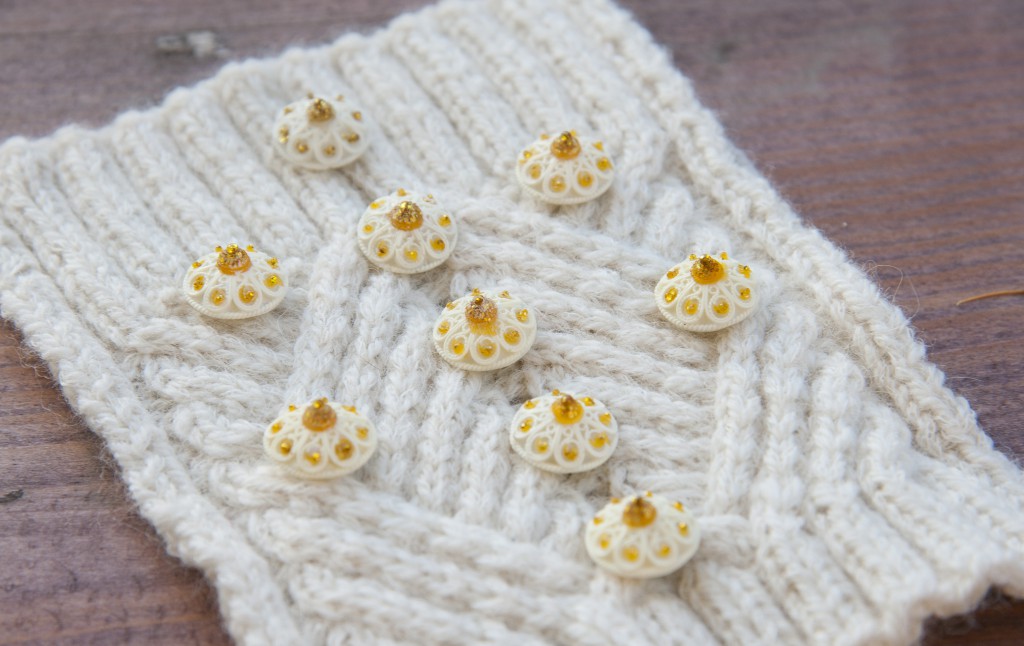 In the photo above you can clearly see the cable in all its glory while the buttons look less textured than they are. I wanted to show you all these photos so you had the chance to study the buttons. You will find a selection of her buttons available in her shop on Epla here: Siris Skattkammer. Siri sent me 14 buttons in the end, and I am ever so pleased that she did, since I decided to use them all! The professional photos of Helka taken by Eivind Røhne will soon be revealed here, but first I will show you 3 more new designs…