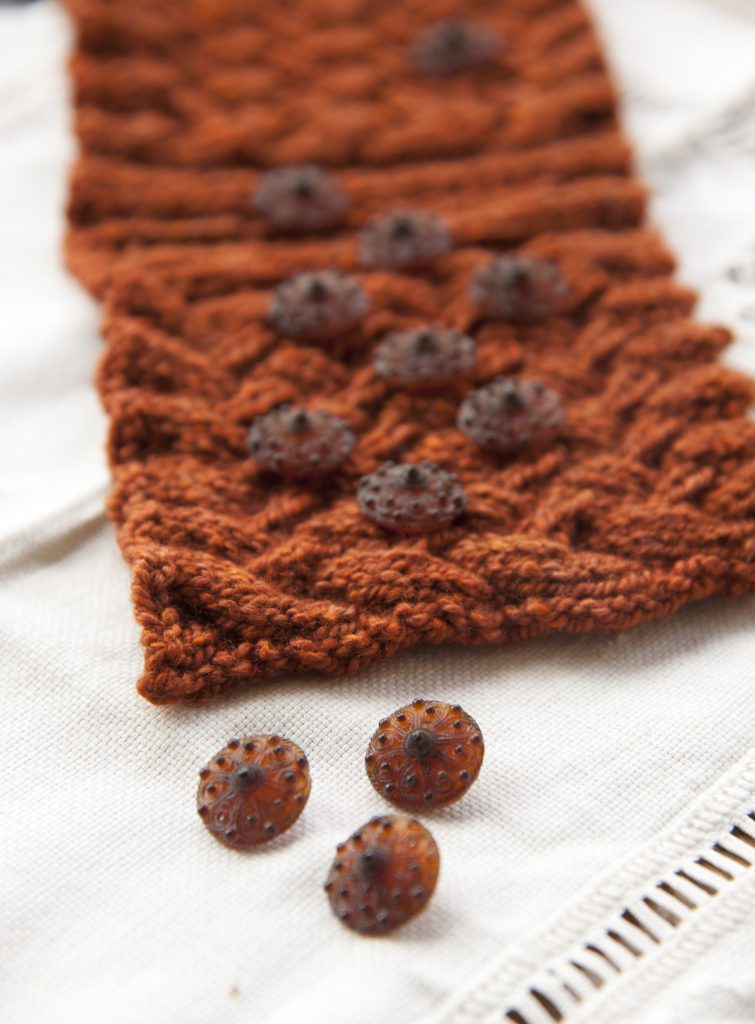 Now, a study of the details, the bespoke buttons hand-made by Siri Berrefjord especially for my new design Ena. I ordered 12 buttons in the size small with a diameter of 18 millimeters/0.7″ in an orange-brown colour, by e-mail. I sent Siri my swatch – while I was knitting the sample – so that she could match the colour and take some wonderful photos. Siri is a trained photographer, as well as a jewellery designer, clothes designer and now also an co-author, see her Norwegian book: Redesign. Ena, Celtic for  fiery – perfect for both the colour and for the amount of cables – is knitted in the divine Acadia by The Fibre Co. in the shade Orange Storm. I made the swatch to check my gauge but also to find a spine for the back and checked whether I wanted a plain column of rib or a twisted stitch. Just seeing the knitted swatch is such a detail is like yarn porn. And, yes, there is such a thing. We knitters know all about this.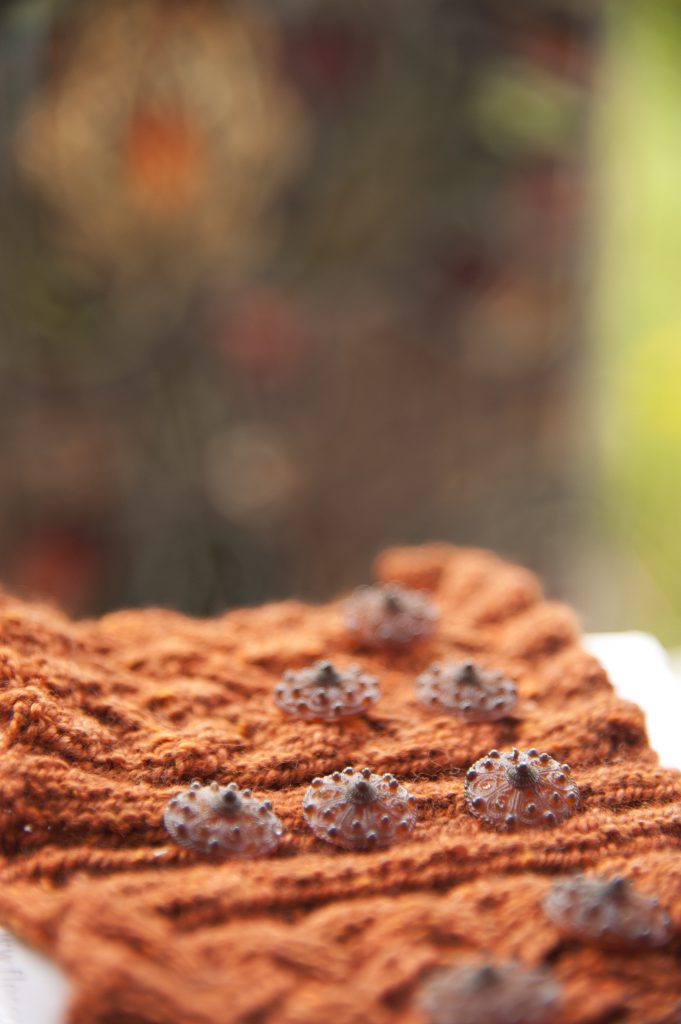 I specified that I wanted orange buttons with brown in them. Siri made the perfect match as you can see. Each button is like a piece of jewellery with immaculate texture to it. The design is based on the silver broches for the traditional folk costume, called "bunad" in Norwegian. They are moulded in plastic then painted with several layers.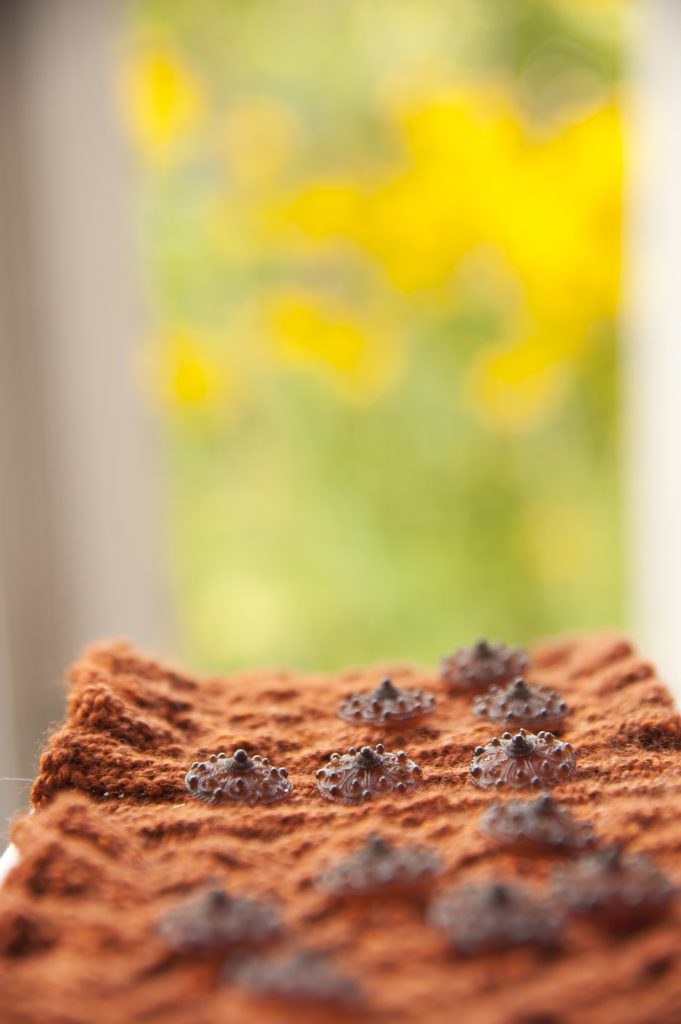 As always I am impressed by the composition of the photos, making sure the background matches or contrasts the object in the photograph. It is such a fun and successful collaboration. Take a look at these previous designs: Helka, Gyda and Icelandic Jacket.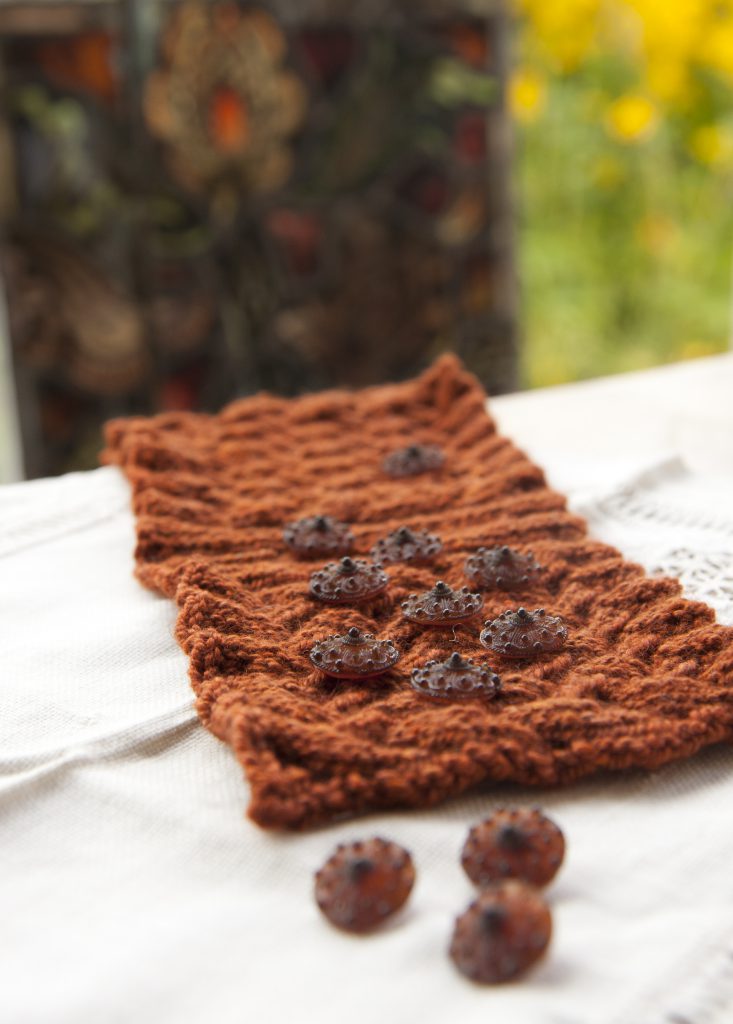 The cables I chose for Ena, are by Norah Gaughan and found in her brilliant Knitted Cable Sourcebook. The woven cables are ideal for the Acadia yarn, made of 60% merino wool, 20% alpaca, 20% silk with 133 meters/145 yards on each 50 gram skein and it is a luxury to both knit and to wear.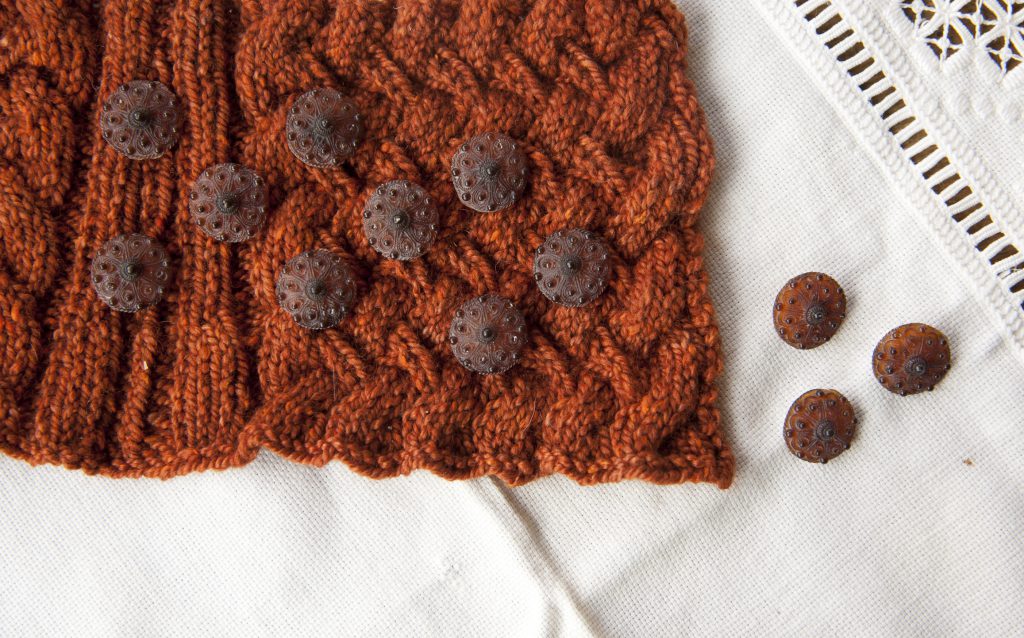 You will find a selection of Siri's buttons available in her shop on Epla here: Siris Skattkammer and more divine photos on her website: Fredenshavn. The finished sample of Ena was professionally photographed by Eivind Røhne at Bøler Church and you can see the photos in my blogpost: Photoshoot at Bøler Church; Ena. The English pattern will be test knitted in my Ravelry group, beginning on March 12th, before it is released at the end of April.
SaveSave
SaveSave
SaveSave
SaveSave
SaveSave
SaveSave
SaveSave
SaveSave
SaveSave
SaveSave
SaveSave
SaveSave
SaveSave