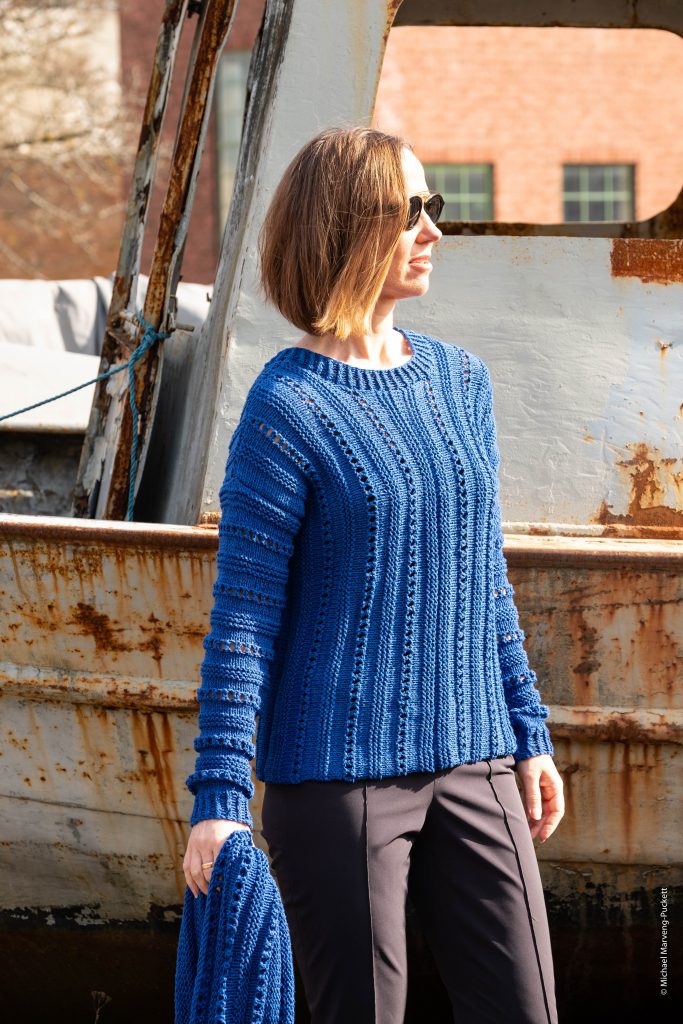 Last summer I received a Facebook message from the acknowledged designer Elsebeth Lavold (Viking Patterns author)  that she and her husband musician-turned-photographer Anders Rydell would drive past our house on their way to her relatives in Norway, from their home in Stockholm, Sweden. She wrote that she would love to meet me in real life (IRL) and asked if I was up or inviting them for a cup of coffee or tea. It takes about 5 hours from Stockholm to our house, close to the Swedish border so I was happy to offer them lunch and asked if Elsebeth could bring a couple of balls of her two most popular yarns, Silky Wool and Hempathy. She asked what colours I preferred and I gave a few. A month later in June, they appeared and Elsebeth was bringing me several bags of yarns. She wanted me to have enough yarn to make a whole project. I was so taken back but extremely grateful and flattered.
I choose Kingfisher Blue 61 of Hempathy, a divine bright blue shade, and was given 10 balls. Hempathy is made of 41% cotton, 34% hemp, 25% synthetic fibres and comes in 50 gram balls with 140 meters/153 yards. It drapes lovely and has a melange look with an uneven texture. When I finally came around to testing it, I decided to hold it double and use a larger needle size a 5 mm/US 8. So guess what happened? I ran out of yarn! As luck would have it, I heard that my friend and agent Thomas Kvist of House of Hobbies had just made a deal with Knitting Fever to distribute all their yarns, including the Elsebeth Lavold Yarns. All I had to do was ask him to send me another bag of 10 balls and he did.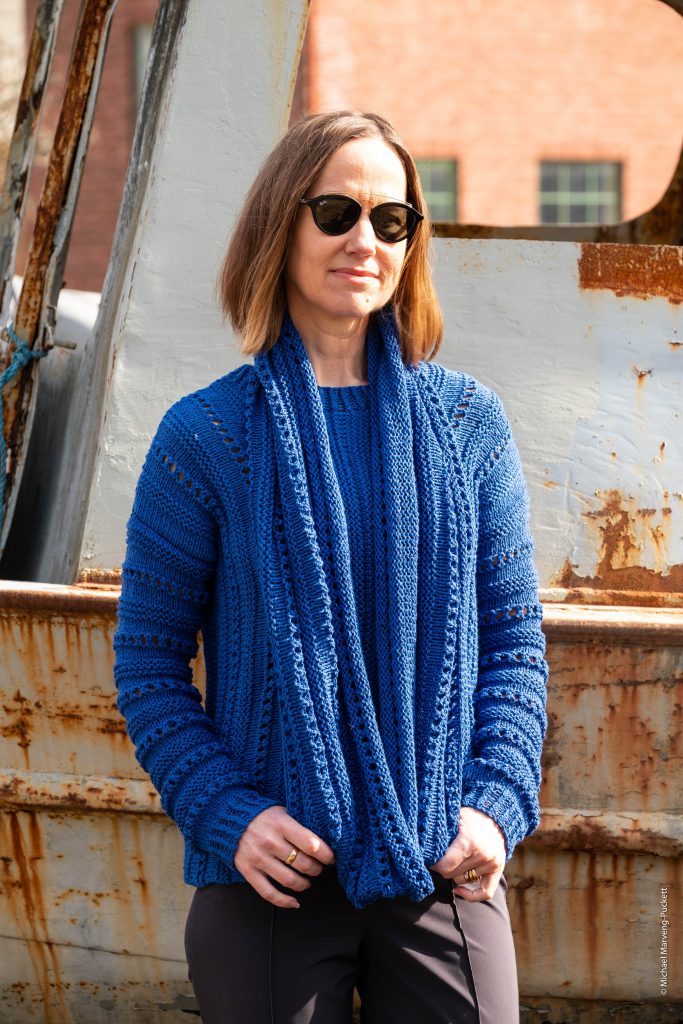 If you, like me, you might think that Elsebeth is American with Swedish decedents, due to the fact that her first book 'Viking Patterns' was published in the US and in Sweden, you are wrong. The fact is that she is half Norwegian and half Danish. I was very surprised to hear this, even more so since she speaks Norwegian, Danish, Swedish (they are all similar but with very different pronunciation) and American as a native, so I could not figure it out and had to ask her.
My idea for Vela was a trendy oversized summer sweater, knitted sideways with a center join made by a 3-needle bind off, so that it would hang perfectly on the body. I decided to make the sleeves narrow to make up for the oversized body. Maybe add a rib at the bottom at the end, or not. I wanted an easy pattern a combination of garter stitch, stockinette stitch and an eyelet row. When I tested them out in the yarn they nearly disappeared, hence I held two strands together and got the result I wanted. I ended up without the rib at the bottom of the body, since I liked it without any ribbing. The neckline on the other hand was given a twisted rib and so was the bottom of the sleeves.
With extra yarn left over, I decided to make a large cowl. In Norway the summer temperature can vary a lot and you might need a cowl. I also feel that a long cowl makes the pullover dressier. Here is the result, photographed on me down by our power station and the Halden Canal. I am wearing size XS/S and have graded it in two more sizes: M/L and XL/2XL.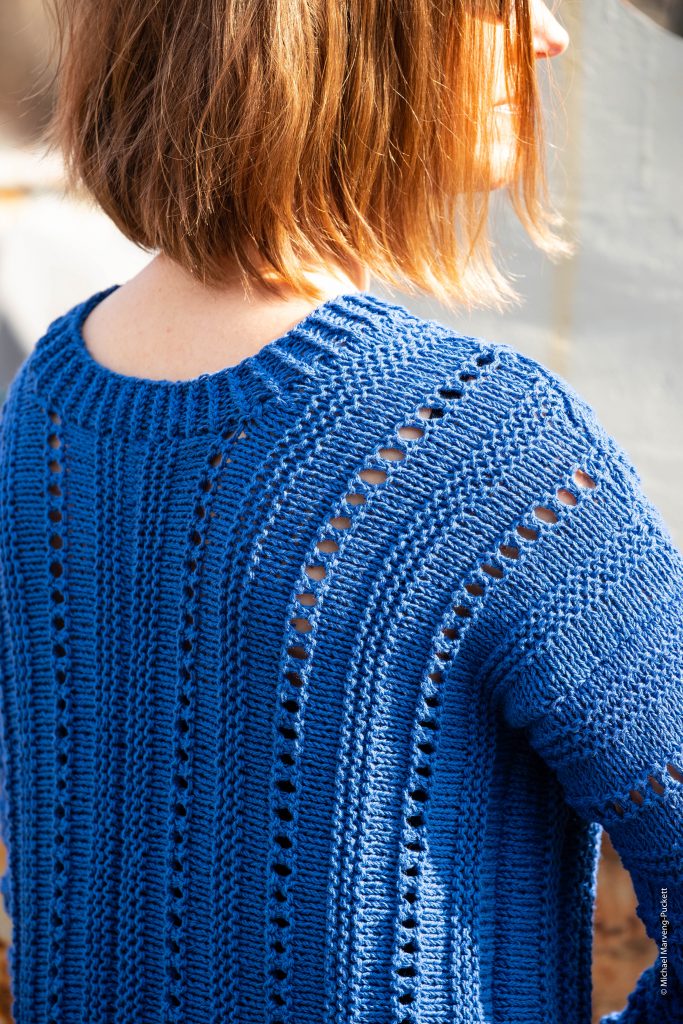 Finally, here is a detailed photo of the back. I will come back to the date for the test knit later, when I have finished all the new designs for the photoshoot on Monday 27th of May at the Oslofjord Museum.
A longer version of this post can be seen on Patreon, as one of the sneak peeks I offer my patrons that support me. You can find me here: www.patreon.com/lindamarveng.