For the first time I attended the Strikkefestival/knitting festival at Fefor Høifjellshotell/High Mountain Hotel at Vinstra in the Gudbrandsdalen. Designer Kari Hestnes asked me last year if I wanted to attend and hold workshops as well as a talk there, from the 3rd to the 5th of May.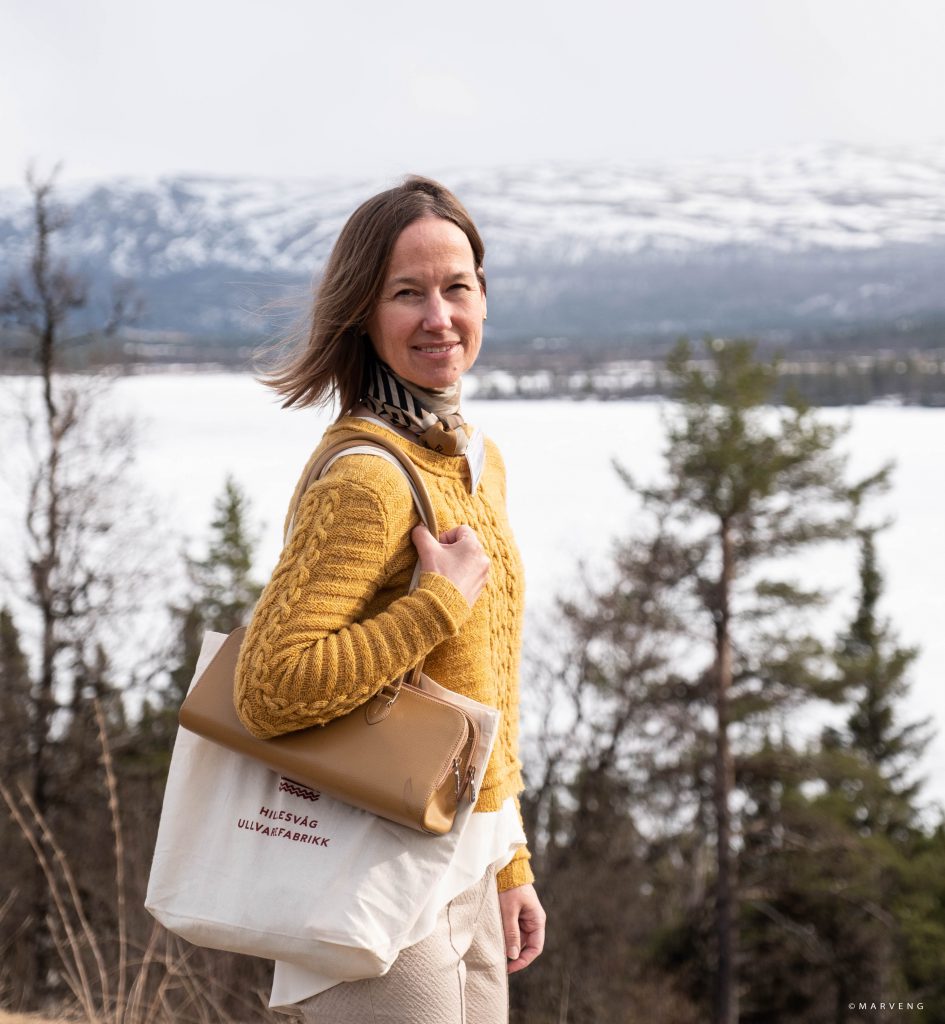 I was delighted to accept and Michael wanted to join me. My sister-in-law Marianne Spæren Marveng and her friend Tove Wahl took the challenge to become my models for the Saturday evening Catwalk. Neither of us stayed in the historic amazing suites dating back to 1902 pictured on their website but in the newer wing of the hotel. After a very warm April, we drove from Ørje to Vinstra and had snow on the way up, during the five hour long drive. The nearby Fefor Lake was still frozen, see the photos above.
We arrived just in time for lunch on Friday, then we had time to look around before the opening of the festival at 5.30 pm. Lunch was a small buffet with soup of the day and a large selection of cakes. There are several lounges and salons to sit and knit in. A total of nine stands were placed in some of these: Designers: Helle Siggerud; May Britt Bjella Zamori; Pinnedans (read: Needle dance – sisters; Heidi and Mette) and Kari Hestnes. Yarn dyers: Nina Petrina and Hege Dagestad. Yarn spinners: Amadeus Angora and Natur Gull. Yarn shop: Håndarbeidsstua. Kari showed us around the knit cafe areas, the dining hall and the large conference hall where I also would hold my workshops: Flettestrikk Masterclass/Cable Knitting Masterclass and Engelske Mønstre/English Patterns.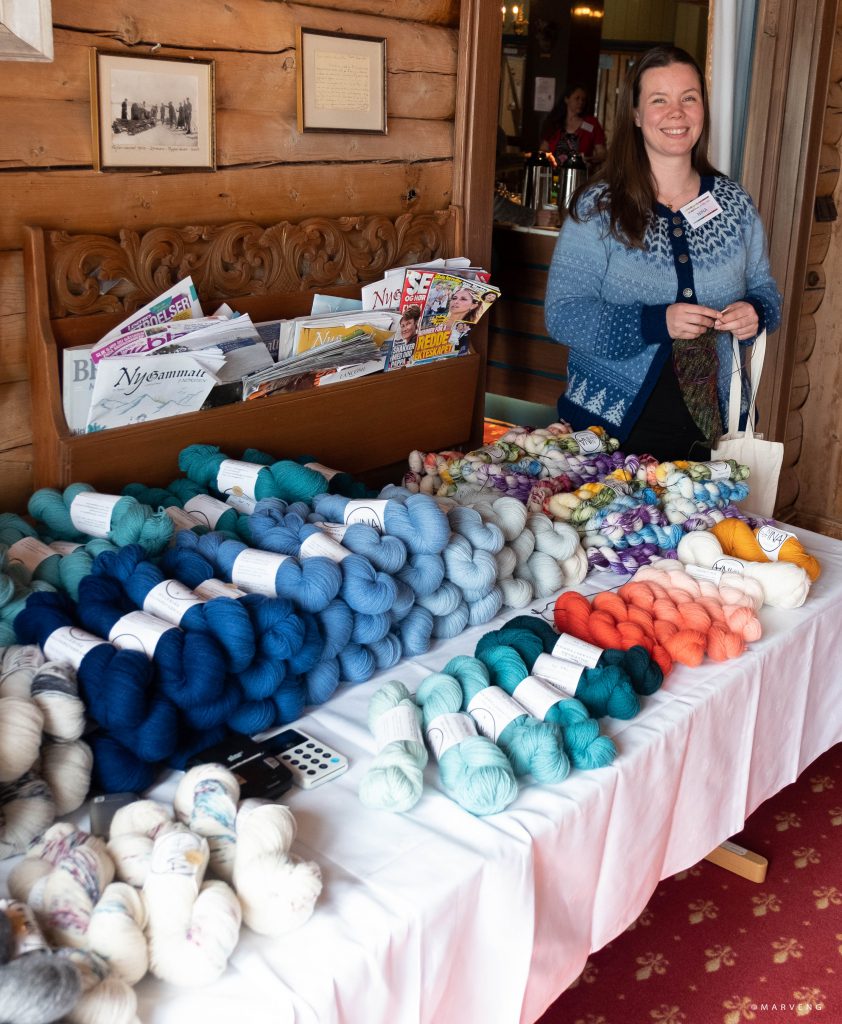 Before dinner at 7 pm, I used the opportunity to meet Nina Petrina in person and look at her hand dyed yarn – all dyed on Hillesvåg Ullvarefabrikk pelt wool and lambswool bases. She presented gorgeous colours and the book "Strikk med Gradienter"/Knitting with Gradients available in English on Ravelry.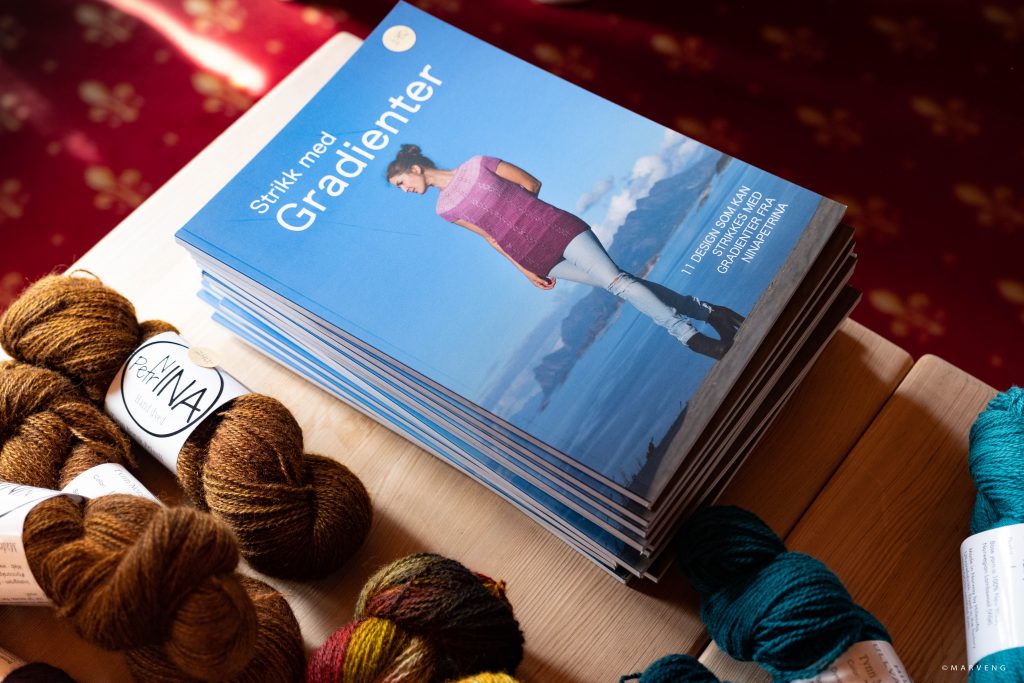 Photographed by Nina but also with design by other designers. I also caught up with May Britt, Pinnedans and Helle. It was also fun to meet new knitters and friends from Ravelry there. Some Norwegian knitters seem to be on all or many of the knitting festivals I attend; Hello Marianne Skatten and Lill-Ann Borgen!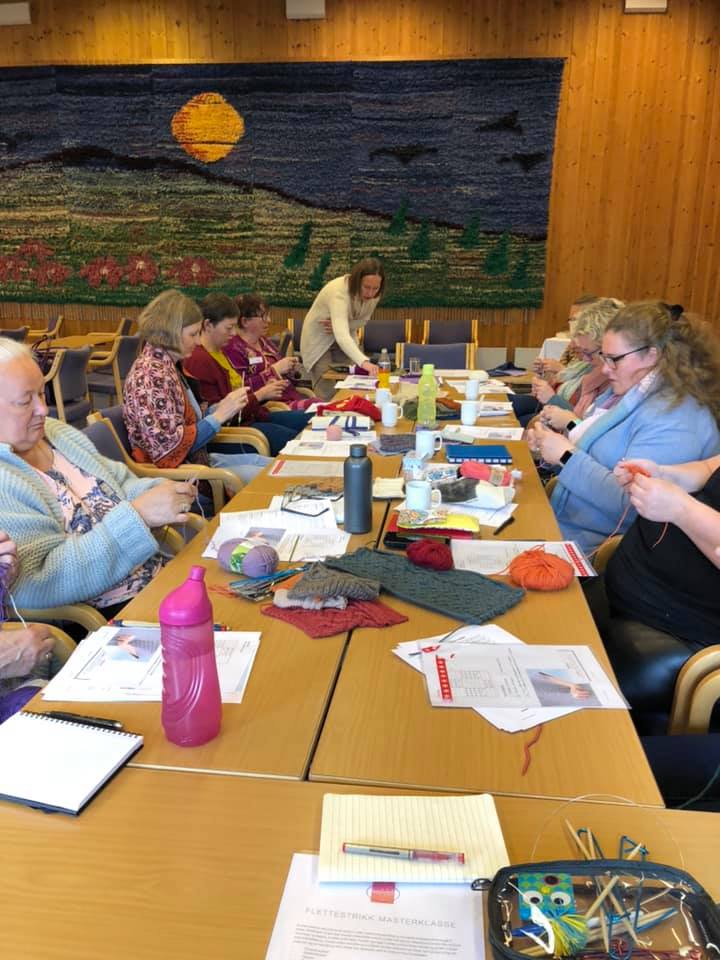 Breakfast began at 7.30 AM and we were ready for it by that time on Saturday. I had my first workshop at 9.30 AM to 1 PM, so Michael helped me set up the room. 13 participants had signed on for my first workshop: Cable Knitting Masterclass. Above you see us all in action, captured by Kari Hestnes. After my workshop, my sister-in-law Marianne and her friend Tove arrived in good time for their catwalk meeting with Kari. Marianne is size Extra Small and her friend Tove is size Small so they were both perfect for my sample garments as well as some of the other designers samples. I had an hour to spare and decided to try the swimming pool before my talk.
Kari chose the Digital Knitting talk, and everyone was welcome to join in, if they wanted. After my talk most of the knitters rested before dinner at 7 PM and the catwalk at 9 PM. I rested in the bar with my knitting and talked to Kari. This was her 6th and last as knitting festival general. New generals are May Britt Bjella Zamori and Hege Dagestad, they were presented at the closing do on Sunday afternoon. Above you see me presenting Tove wearing my Gyda jacket with Gyda Cowl knitted in Hillesvåg Ullvarefabrikk Ask, photographed by Marianne Skatten. I am wearing my Yellow Gold Pullover knitted in Jamiesons Spindrift.
There were strong spotlights on the catwalk so all the photos became a bit washed out. All the models were told to relax and have fun. There was no need to take this too seriously. It worked, they all seamed to enjoy themselves, even though it was the first time for some of them. Above you see my sister-in-law Marianne wearing the Harding Cardigan knitted in Brooklyn Tweed Shelter. In the background you also see the Pinnedans sisters.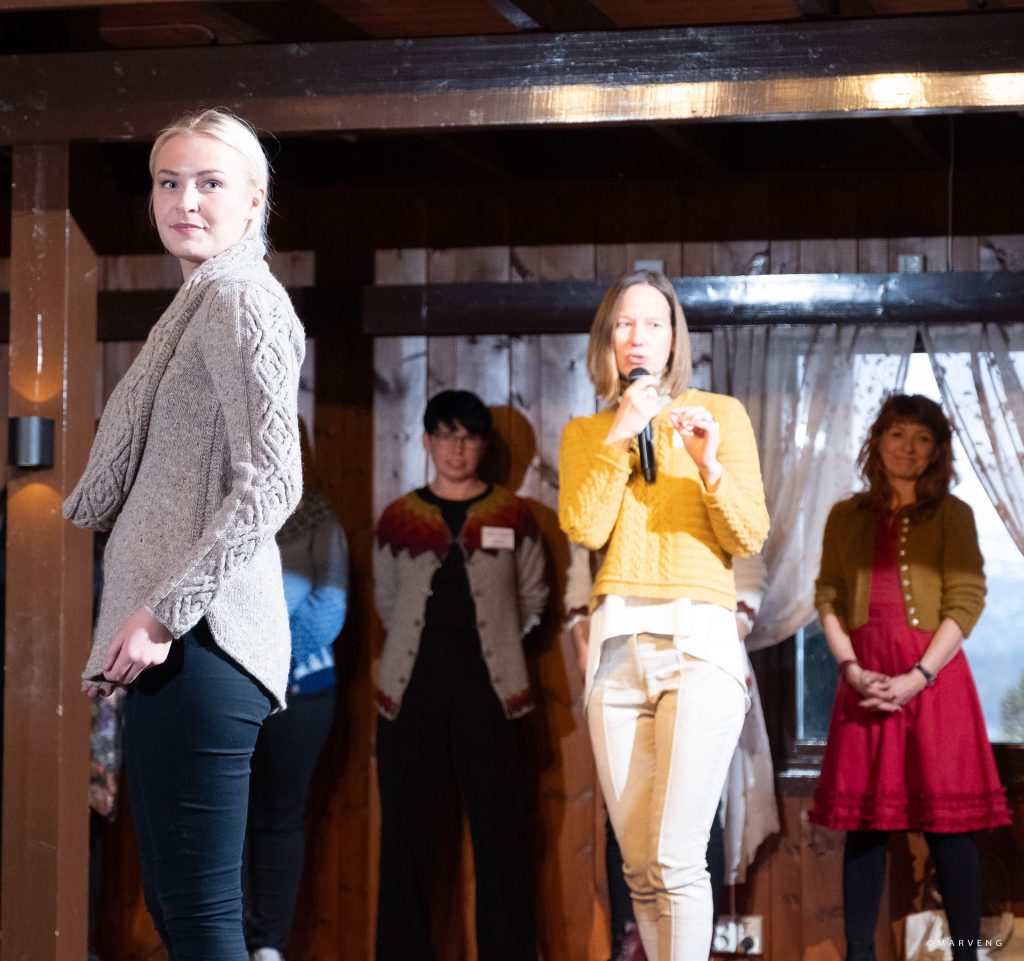 Here is my Oydis Sweater with the Oydis Cowl worn by one of Kari's models whom she also uses for her designs. Michael has taken many more photos of the catwalk and I will share more of those, but I will end this blog post with a photo of Pinnedans that shows some of the fun we had.
Of course it is an advantage to be two when present your designs, it is so much more fun… I had a wonderful weekend in the best company! More photos of the catwalk will come next.