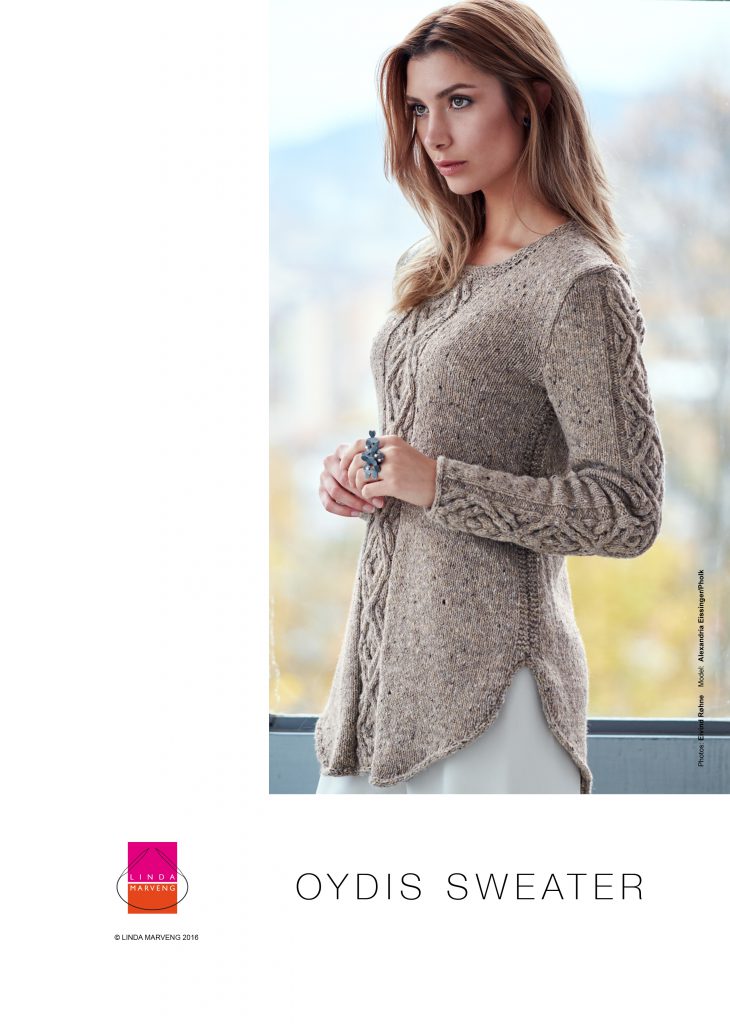 My popular Oydis Sweater pattern was published in English and Norwegian in 2016.  Above you see it photographed by Eivind Røhne, worn by Alexandria Eissinger with makeup & hair by Sissel Fylling and jewellery by Kaja Gjedebo Design, at the Ekeberg Restaurant in Oslo.
Now, the pattern is also available in Japanese, translated by Tomoko Nishimura, I am delighted to say. Here is the introduction in Japanese, followed by the English version:
Shadow Diamond Cable (シャドウ・ダイアモン ド・ケーブル=ダイヤモンド型の交差模様)と 裾のカーブが特長的なAラインのセーターです。 裾はアイコードで縁取り、脇と襟ぐりにはガー ター編みを施しています。カウルと合わせて着 用してもしなくても、幸運の女神 Oydis にぴっ たりの装いです。前後身頃は往復に編むのに対 し、袖とカウルは輪に編みます。繊細なツィー ド糸とチェーン撚りのアルパカ糸を引き揃えて 編むことで、編み目が美しく浮き出て艶やかな 編み地に仕上がります。
A shadow diamond cable dominates this a-line sweater with a curved flattering hem. I-cord bands frame the bottom of the sweater, while garter stitches mark the sides and the round neckband. The sweater, with or without the cowl to dress it up, make the outfit ideal for the Goddess of good luck; Oydis. The body of the sweater is knitted flat, while the sleeves and the cowl, are knitted in the round. A fine tweed yarn is held together with an alpaca lace yarn, with a chain construction, to create a fabric with a beautiful stitch definition and a slight halo.
The pullover is available in sizes XS to 2XL, knitted in a DK weight yarn (or two lighter weight yarns – e.g. lace and fingering weight – held together) using a 4 mm/US 6 needles with a 20 stitches and 30 rows in pattern gauge. For more versions take a look at the Ravelry pattern page.
You can read more about my creative life, by becoming a patron with rewards such as a monthly free pattern, sneak peeks and a monthly video on Patreon.com.