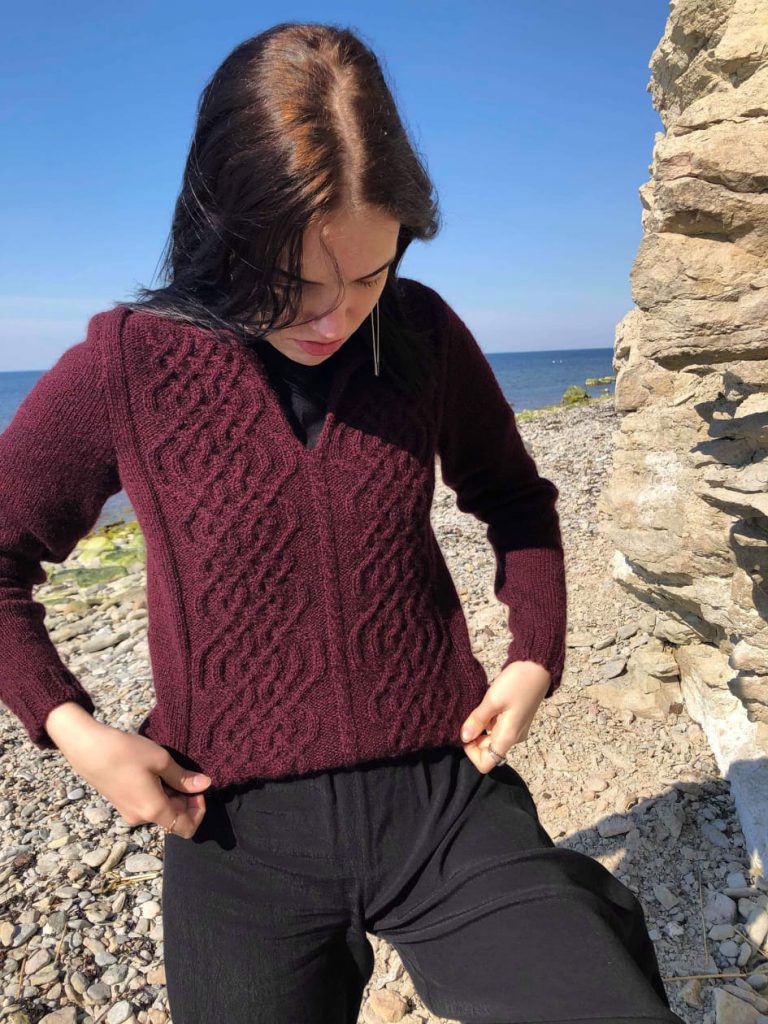 I was thrilled to see the amazing photos Siret took of her daughter wearing Corra, "… at the end of the world – at the Panga cliff. Panga cliff is the highest bedrock outcrop in western Estonia and its islands. Its maximum height is 21.3 metres and it runs for about 2.5 km. Panga cliff is situated right on the coast, cropping up like a 'wall', and its highest point used to be an ancient ritual site where people were sacrificed to the sea. We made photos in the lower part of cliff". Siret, aka kollane on Ravelry, writes about her yarn choice on her project page: "Tinde yarn from Hillesvåg Ullvarefabrikk is from Norway. Pure wool yarn, slightly rough at the beginning, but after washing, wonderful! Great for twisting cables. I recommend warmly trying to knit it.test knitted size large with smaller needles to achieve a size medium".
"Another cable-rich pullover created by Linda Marveng, which needs to be knit, especially if you're an addict to cables. Corra pullover is richly covered with sophisticated cables. Sleeves are more modest in terms of cables, only two simple cable lines. The Corra pullover has a slightly fitted waist. What a great way to train memory and hand skill by twisting cables!". Thank you so much for test knitting Corra and taking these amazing photos, Siret!
The design was made for Hillesvåg Ullvarefabrikk and is available in sizes XS to 2XL, with a bust circumference of  86 to 126 cm/33.75 to 49.5″. The pullover is knitted using 3.5 mm/US 4 needle and with a gauge of 21 stitches and 30 rows in stockinette stitch measures 10 cm/4″ square. The Corra pattern is available in English and Norwegian in my Ravelry store and on  Loveknitting.