I was so thrilled when Siret, aka kollane on Ravelry, chose to use Hillesvåg Ullvarefabrikk, Tinde in the gorgeous Blue Turquoise shade for her test knit version of my Sirona. Siret wanted to test the yarn since it is one that I use a lot in my designs. However, the Sirona sample was made in The Fibre Co. Cumbria, another brilliant yarn and favourite of mine. Siret made size large, so it would be a bit oversized and her daughter (a size small) would accept modelling in it. As you can see it suits her so well! The only modification she made was unintentially making it longer as Siret measured from the beginning of the pattern instead of the cast-on edge. These photos of her daughter are taken with an iPhone, close to her home in Estonia, on an island called Saaremaa. Thank you so much, Siret for test knitting and for taking these beautiful photos!
The pullover is worked back and forth in pieces and seamed. The neckband is worked in the round. Stitches are picked up and knitted from the first round of the neckband for the I-cord bind off decoration.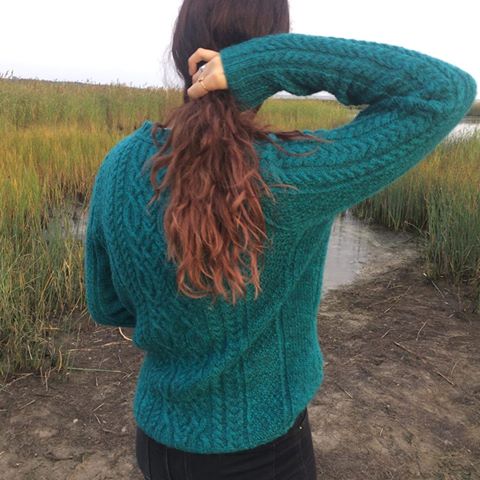 Sirona is Celtic for Star Goddess, the name for this fitted pullover with an intricate central cable surrounded with smaller cables and double seed stitch. The round neckline needed a crown and was given an I-cord bind off decoration. Sirona is knitted in pieces in the divine The Fibre Co. Cumbria. The pattern is available in sizes XS to 2XL with a bust/hip circumference of 86 to 126 cm/33.75 to 49.5″ and a waist circumference of 76 to 116 cm/30 to 41.75″. The English pattern is available on Ravelry and on Loveknitting, while the Norwegian pattern has been published in the special magazine Familien Høststrikk, on sale now.