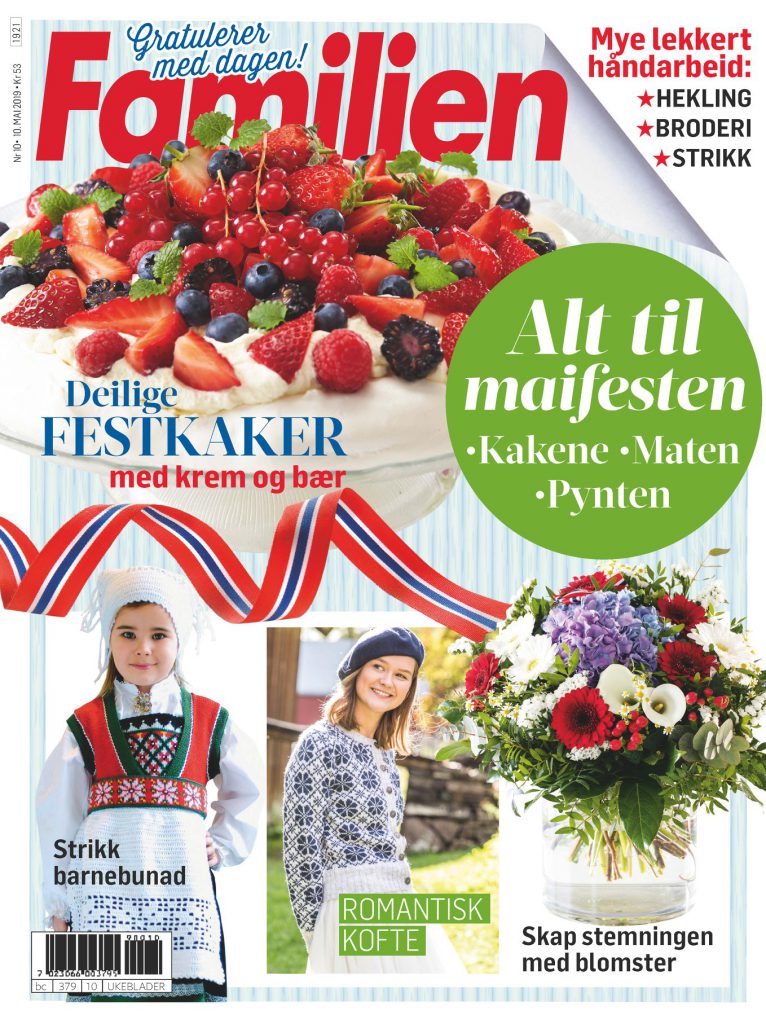 I am delighted to have yet another design the Cablewing Sweater featured in the bi-weekly Norwegian magazine Familien. It is the second time the sweater is published in the magazine, first time was the special issue Familien Strikkebok from August 2013 with photos taken by their in-house photographer Esten Borgos. I decided to photograph the sweater again in the spring of 2017, and below you see Alexandria Eissinger with hair & makeup by Jens J. Wiker and jewellery by Kaja Gjedebo Design photographed by Eivind Røhne.
Cablewings surrounded by lace gives this sweater a flowery expression. The A-line shape with lace along each side, paired with the double round neckband, is a flattering on many bodies. The pullover is knitted in the round to the armhole in a classic cream colored pure wool with bounce, Embla from Hillesvåg Ullvarefabrikk. A large matching wrap gives the sweater a regal look and it is warm, practical, but also decorative.
The body is knitted in the round up to the armholes and then flat to shoulders. The lace panel incorporated in the cablewing pattern is worked on each side of the body to decrease in. When you decrease for armhole, neck and sleeve top work stitches along the selvedges in reverse stocking stitch to avoid decreasing inside cablewing pattern.
The pattern is available in sizes S to XXL, with a bust circumference of 90 to 122 cm/35.5 to 48″. The Cablewing Sweater is knitted using 4 mm/US 6 and a stockinette gauge of 22 stitches and 28 rows measuring 10 cm/4″ square. Both the English and the Norwegian pattern is available from both Ravelry and from Loveknitting.