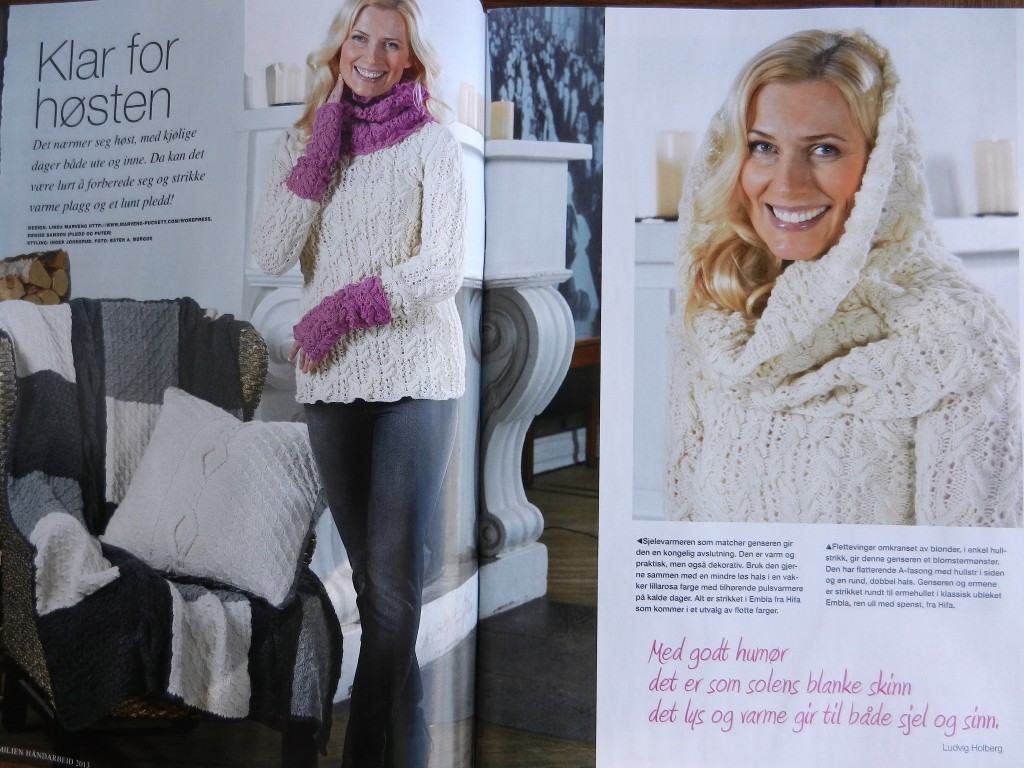 I am proud to present my 3 patterns in Familien Strikkebok, that came out in Norway on Monday. It is a magazine even though the name implies that it is a Knitting Book, though all the 124 pages makes it the size of a book! My 3 patterns are: Flettevinger Genser/Cablewing Sweater, Flettevinger Løs Halser og Pulsvarmere/Cablewing Wrap, Cowl & Wristwarmers and Patent Poncho in the shape of an oversized sweater. I am thrilled that they appear just after the contents on page 4, with the heading "Klar for høsten"/Ready for Autumn. The Patent Poncho follows on a single page after the two double spreads. The photos are by Esten A. Borgos, and the stunning blanket with matching cushion is designed by Denise Samson, see more at andreboller.
The a-line Cablewing Sweater, which comes in size S to XXL, and accessories are knitted in Embla – Hifa 3 on 4 mm/US 6 needles which comes in magnificent shades, see ull. The Patent Poncho, which is one size but easy to adjust in both length and width, is knitted in the thinner Ask -Hifa 2 on 3 mm/US 2.5, see all the shades here: ull. The accessories and the poncho will soon be available in English in my Ravelry store, see designers/linda-marveng, while the sweater will be test-knitted in my group on Ravelry first; another reason for you to join us, if you have not already done so: groups/linda-marveng.
The magazine is available in most newsagents and in selected food stores throughout Norway. Here is a photo of the cover so that you can spot it, easily!
If you want to see more photos and read more about the projects, see my post: new-design-cablewing-sweater-and-cowls and new-design-patent-poncho.