I love these new photos of my Cablewing Sweater, taken of the gorgeous Alexandria Eissinger with hair & makeup by Jens J. Wiker and jewellery by Kaja Gjedebo Design, brilliantly captured by Eivind Røhne at Ingierstrand Bad in late May. The sweater was previously photographed by the Norwegian magazine Familien and I wanted some new ones with my styling. Here is my introduction to the pattern: Cablewings surrounded by lace gives this sweater a flowery expression. The A-line shape with lace along each side, paired with the double round neckband, is a flattering on many bodies. The pullover is knitted in the round to the armhole in a classic cream colored pure wool with bounce, Embla – Hifa 3 from Hillesvåg Ullvarefabrikk. A large matching wrap gives the sweater a regal look and it is warm, practical, but also decorative.
The sample sweater is currently exhibited at Strikke 2017, a knitting festival at Hadeland Glassverk, together with 5 other of my designs and amongst other garments from invited designers. I am holding two workshops on Sunday 8. October and will show photos from the exhibit after that.
The body is knitted in the round up to the armholes and then flat to shoulders. The lace panel incorporated in the cablewing pattern is worked on each side of the body to decrease in. When you decrease for armhole, neck and sleeve top work stitches along the selvedges in reverse stocking stitch to avoid decreasing inside cablewing pattern. The wrap is knitted in the round and can easily be adjusted by adding or removing pattern repeats.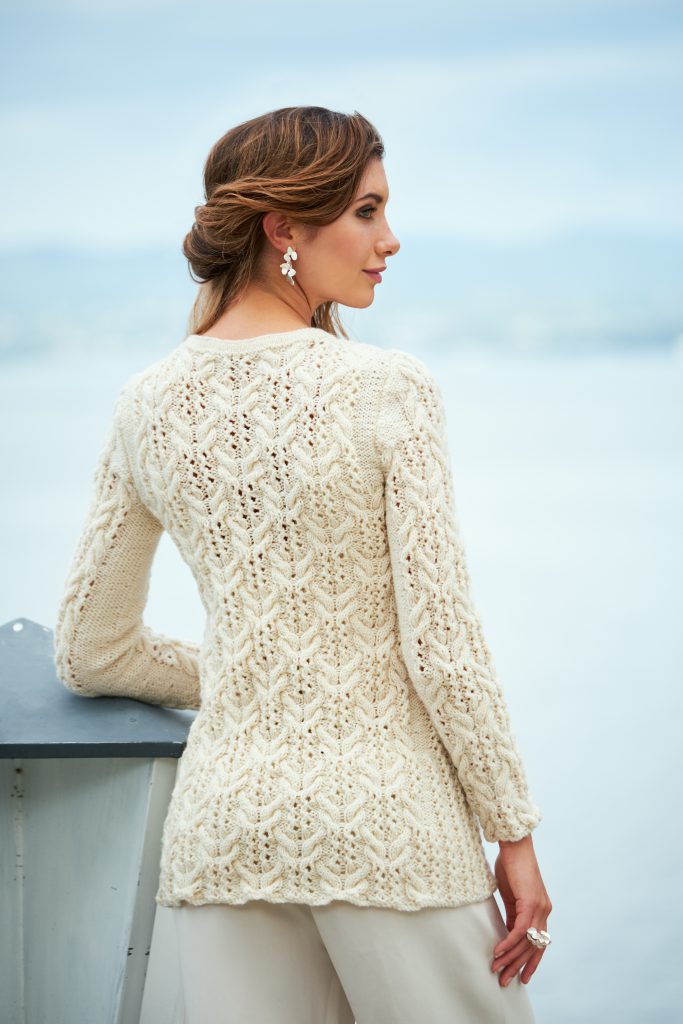 The sweater is knitted in Hillesvåg Ullvarefabrikk, Embla – Hifa 3 made of 100% wool, with 210 meters/229 yards per 100 gram skein using a 4 mm/US 6 needle. The gauge is 20 stitches and 28 rows in stockinette stitch. I have graded the pattern from size Small to 2XL, with a hip circumference from 110 to 142 cm/43.25 to 56″ and a bust circumference from 90 to 122 cm/35.5 to 48″.
It was such a fun pattern to knit so I had to design more accessories to go with the sweater and perfect for the cold Norwegian climate. I choose to make these extra pieces in a contrast colour and will show those next. Both the Cablewing Sweater and the Cablewing Accessories pattern has been reviewed by my Technical Editor Corrina Ferguson of Picnic Knits. The new versions will be uploaded shortly.
Here is a detailed photo of the stitch pattern as well as Kaja Gjedebo's divine Wide Caprifol Ring and Ivy Earrings, both in matted silver and fantastic match to the stitch pattern. The Norwegian pattern was first published in Familien Strikkebok in August 2013 and the English pattern was test knitted before its release. Included in the pattern is also a large wrap to give the sweater a regal look and it is warm, practical, but also decorative. The wrap can be worn around the shoulders or on the head. Due to the heat we did not photograph the wrap worn as a hood. But we did photograph the wrap with two smaller cowls inside and made Alex suffer in the heat, not that it shows in the photos though…
SaveSave
SaveSave
SaveSave
SaveSave
SaveSave
SaveSave
SaveSave
SaveSave
SaveSave
SaveSaveSaveSave
SaveSave
SaveSave