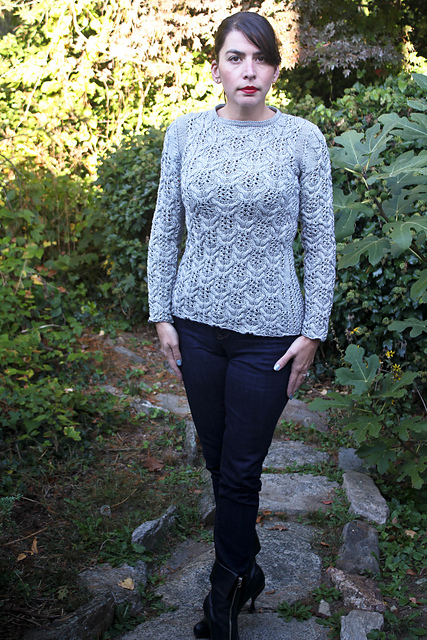 I was thrilled to have Yelena Malcolm Dasher, aka ymalcolm on Ravelry, as a test knitter for my Cablewing Sweater, see projects/ymalcolm. She is a very popular test knitter because of her knitting skills, her sharp mind, photography and amazing knitting speed, just to mention a few of her skills. Yelena chose the marvelous LEDK (short for limited edition double knit) by Madeline Tosh in a shade called Astrid Grey and named her project Courchevel after the ski resort. Her stunning pictures attracted other test knitters to sign up to my delight. Like me, she found the stitch pattern addictive. Yelena had to adjust the row gauge to fit the pattern and chose to not fold the neckline down. Thank you, Yelena! The pattern has been released in English and Norwegian, where it first was printed in the magazine Familien, in my Ravelry Store.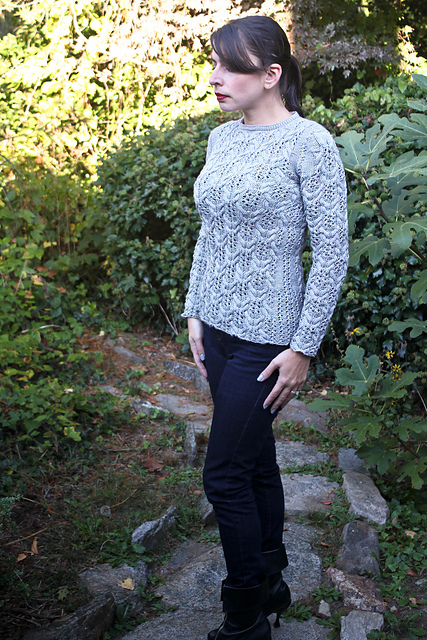 I was very impressed with the matching nail varnish, a happy co-incidence apparently. Yelena has more photos on her project page on Ravelry. More results of brilliant test knitting will come soon.
A photograph from the back. Yelena was not daunted in any way by my pattern and has taken part in more of my test knits, I am pleased to say! Here is my introduction to the sweater: "Cablewings surrounded by lace gives this sweater a flowery expression. The A- line shape with lace along each side, paired with the double round neckband, is a flattering on many bodies. The pullover is knitted in the round to the armhole in a classic cream colored pure wool with bounce, Embla from Hifa. A large matching wrap gives the sweater a regal look and it is warm, practical, but also decorative".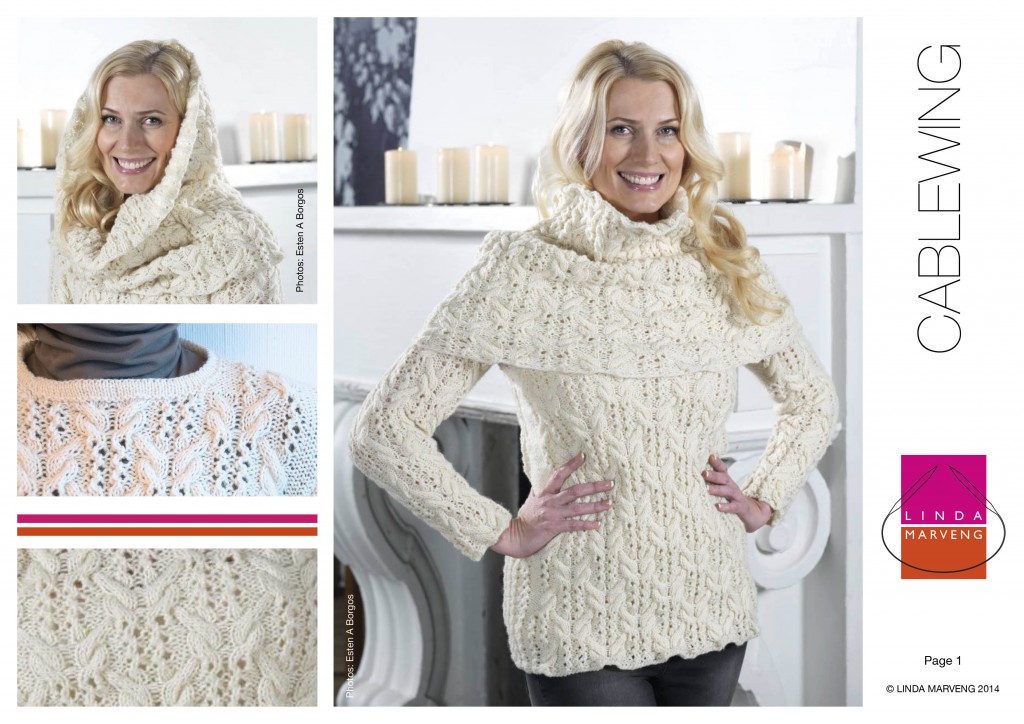 It is available in sizes S to XXL, and knitted using a 4 mm/US 6, for more information see the pattern page on Ravelry.