Last Wednesday my husband and I attended a knitting evening at the Norwegian publishing house Cappelen Damm in Oslo. We knew the authors and their photographers: Helle Siggerud (left), was publishing her first knitting book called "Strikk til alle tider"/Knitwear for all occasions, while Nina Granlund Sæther was publishing her 10th book called "Sokker fra hele Norge"/Socks from Around Norway. Both books are beautifully photographed: Helle's by no other than Eivind Røhne and Nina's by Guri Pfeifer. Both authors have travelled around Norway visiting museums and studying local traditions. They did bump into each other at a carpark at a small museum in Telemark late one afternoon. Both talented designers held a talk; Helle on the costume traditions she discovered on her trip and Nina on the history of stockings going all the way back to the Egyptians. We were offered sparkling wine, the opportunity to study their sample projects, buy books at a discounted rate, take part in the raffle as well as ask our questions. Some of the women present were knitting, but I could only focus on their talks and gladly gave up my attempt.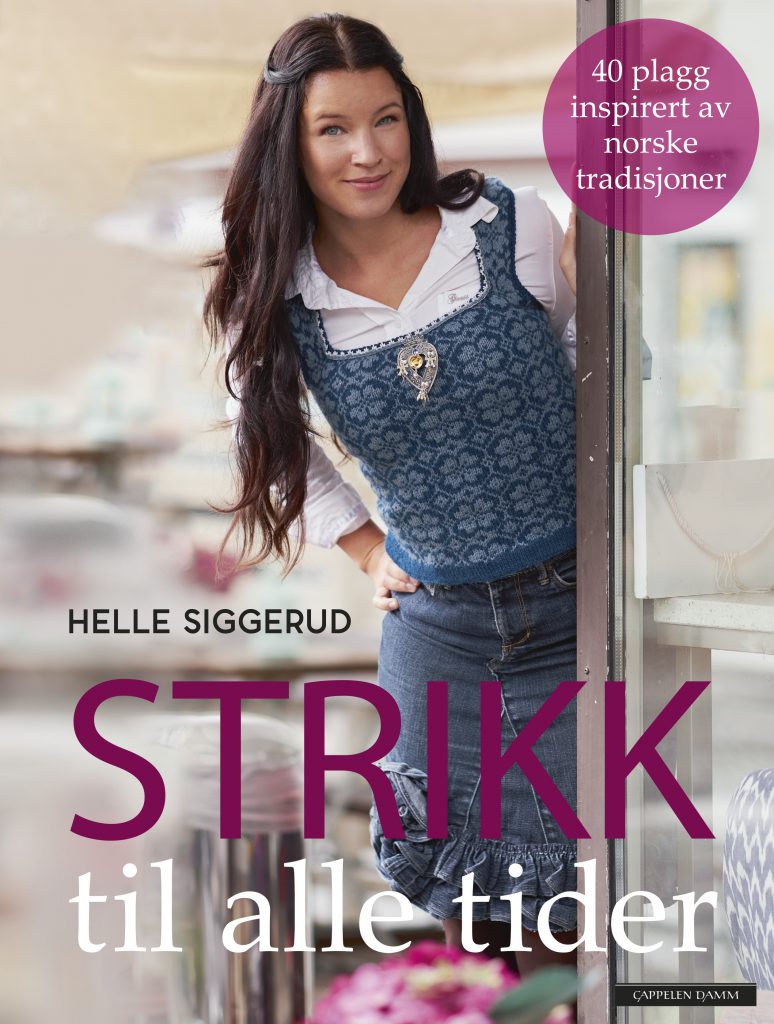 Helle's book is published in Norwegian, but the Cappelen Damm Agency presents the book as follows in English in order to sell the foreign rights: "40 garments inspired by Norwegian traditions In this wonderful knitting book, Helle Siggerud has been inspired by costume traditions and folklore from all over Norway. She has traveled far and wide and immersed herself in Norwegian patterns; used in knitting, weaving, embroidery and wallpaper; and has transformed it into beautiful knitwear. Helle is famous for her figure-hugging garments, good cuts and snappy details. And you'll find all that here. The book features mostly women's garments, but there are also great designs for men and children – and for dogs!"
Nina's previous book "Votter fra hele Norge"/Mittens from Around Norway is in its 5th edition in Norwegian and has sold more than 31 000 books so far. The English translation has been reviewed in magazines abroad as well as promoted by the library in New York in the US. Here is an introduction to her latest book from the Cappelen Damm Agency pages: "Nina Granlund Sæther is back, this time with the follow-up to her best seller Mittens. In Socks From Norway, we travel once again through Norway's countryside and it's knitting traditions – this time while keeping our feet warm. In this book you'll find fascinating stories about the origins of the various socks, archive images from museums around the country, and plenty of instructions for socks for the whole family." I believe it is only a question of time before these books are translated into English.
SaveSave
SaveSave
SaveSave
SaveSave
SaveSave
SaveSave
SaveSave
SaveSaveSaveSave
SaveSave