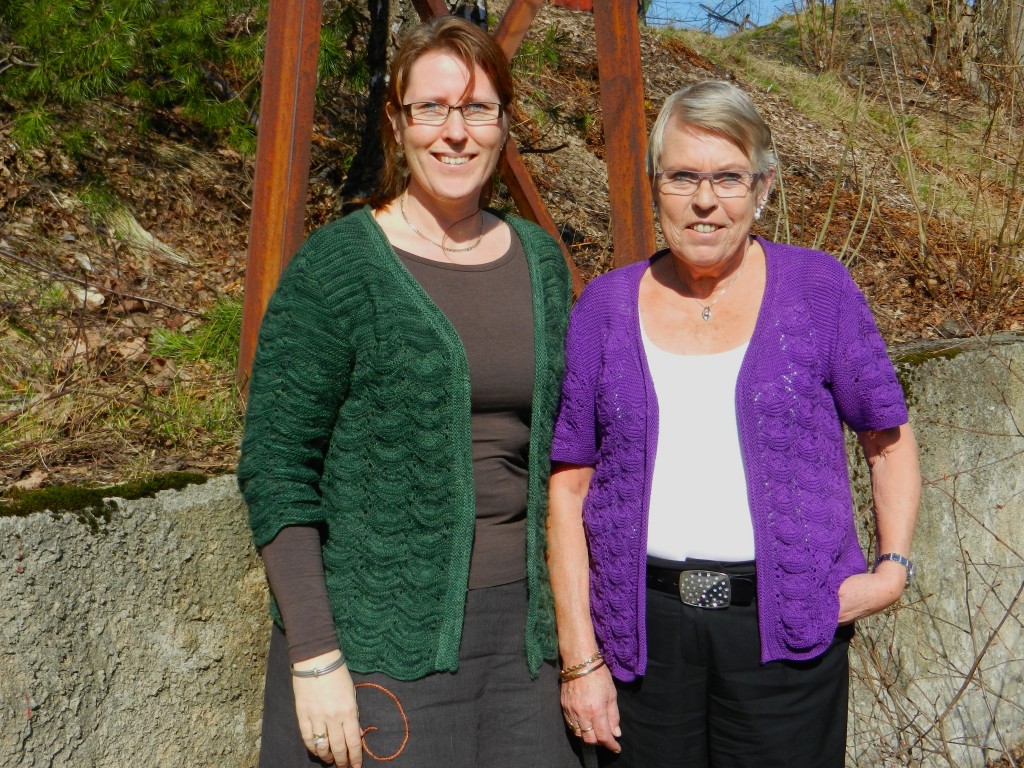 Last weekend I held my new Knitting Design Workshop in Larvik, and I stayed – as always – with my friend & Ravelry Group moderator Nina Hove Myhre who together with Inger Kamfjord Andersen came wearing my design; Regal Purple Jacket (read: in uniform). How thrilled was I? You can only guess! Nina made hers in her own dyed wool Vandre, see FiberAndArt, while Inger made hers in the original Hifa Perle, for more details see Ravelry. The workshop was organized by Larvik Husflidslag, and held at their marvelous premises – filled with looms, sewing machines and dressmaker mannequins – next to the museum. As if that in itself was not enough, Nina had baked buns that very morning in their kitchen so that the smell welcomed us and they were absolutely delicious!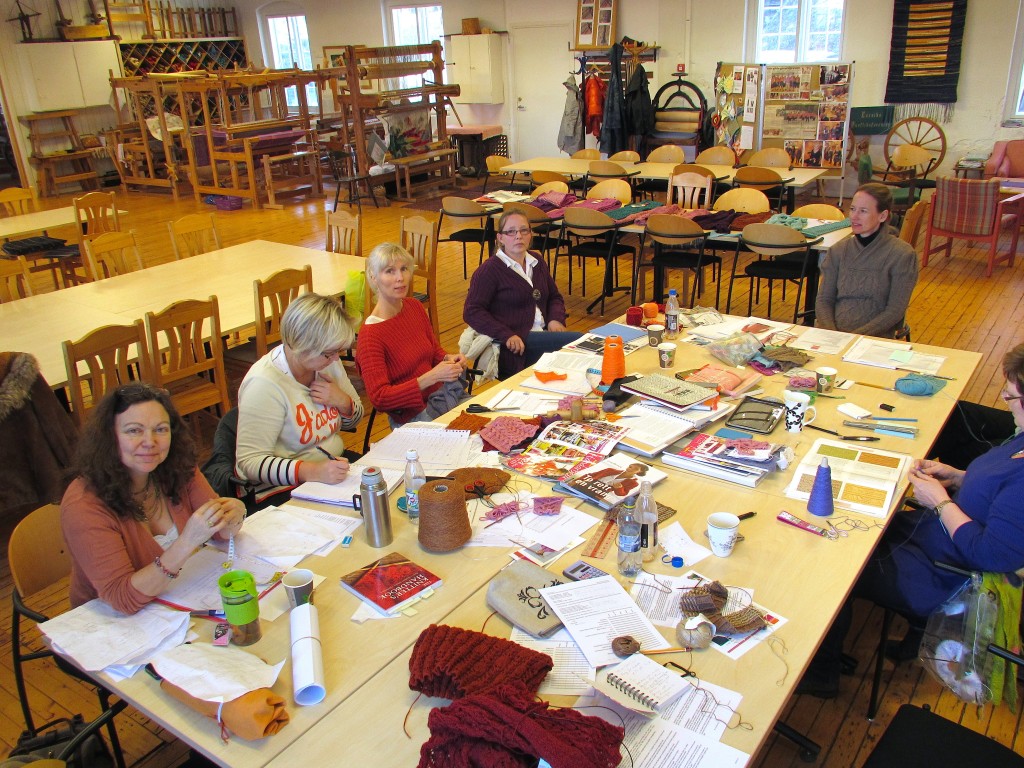 My plan was to go through the design process from beginning to finish, and follow one of my designs on its journey to completion; Tyrol Jacket was my choice since I have its initial  submission proposal with a sketch and preliminary schematic. Instead of making tasks for each knitter to do, after I had covered a section of theory,  I opted for them to bring a swatch in a pattern and yarn of their choice, then for them to make a project page where they would add their ideas as well as numbers as soon as they started to calculate with their gauge according to their measurements and chosen ease. I was amazed at the complexity of the swatches several of the knitters brought with them and recognized their Japanese influence, see below. All I had to do was make suggestions for edges and assist on calculations, especially the sleeve top one for a set in sleeve.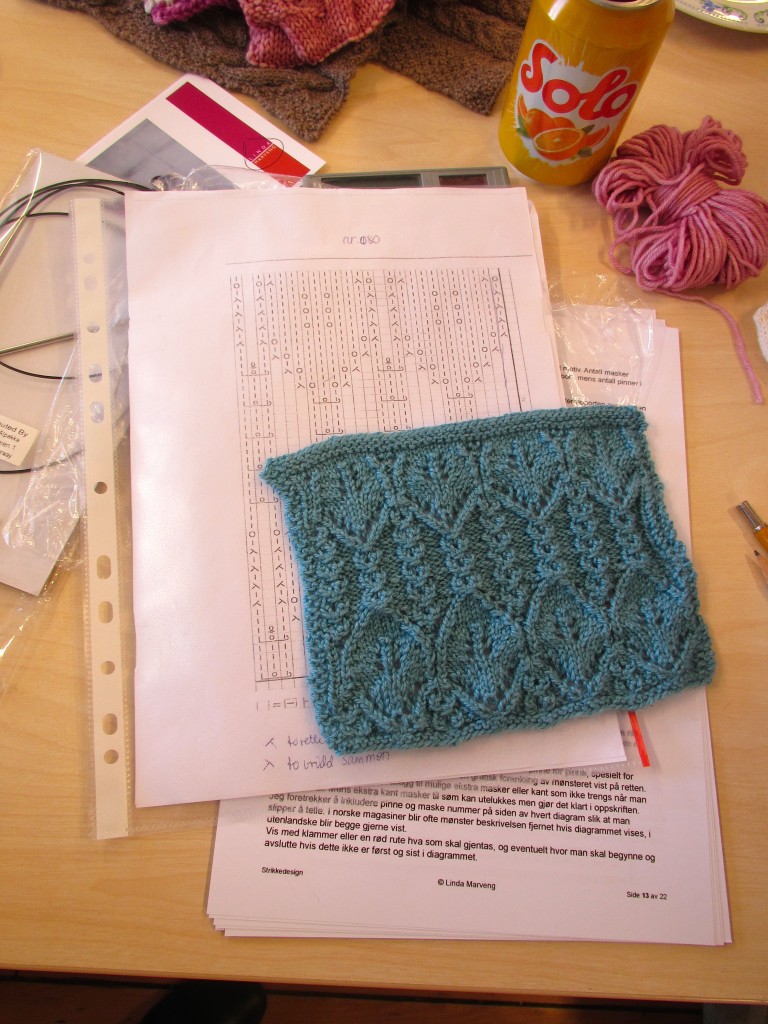 Totally essential for the workshop, in my opinion, were stitch manuals, my design bible by Shirley Paden, my own swatches and designs, as well as favorite shade cards I use for inspiration and yarn selections. I also had to bring copies of my book, obviously. Just in case some of the participants had not seen it.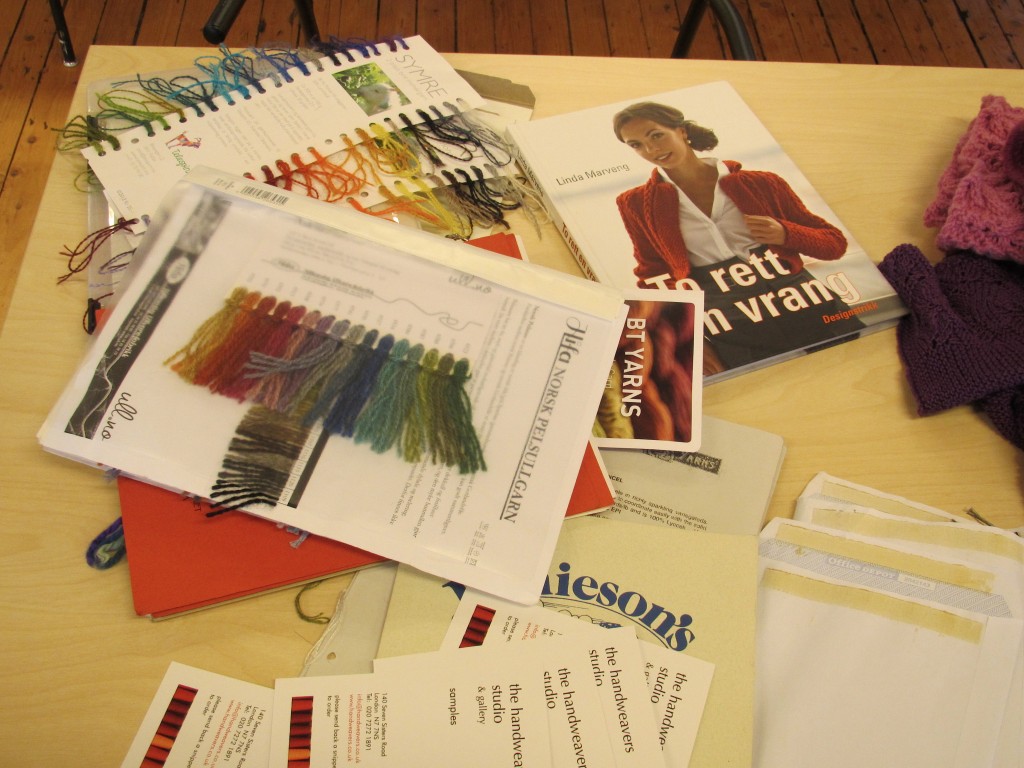 On Sunday Nina had changed into another uniform, this time the Arcade Vest knitted in the original yarn; Norsk Pelsullgarn by Hifa in Grey Violett, see Hillesvåg Ullvarefabrikk. The Norwegian pattern was published in Familien in issue no 3 earlier this year, while the English pattern will be released shortly. I am delighted to say that Nina took part also in this test knit. Here is the pattern page on Ravelry. You can also read, with Google Translate, if you do not read Norwegian, Nina's blogpost here: Fiber And Art.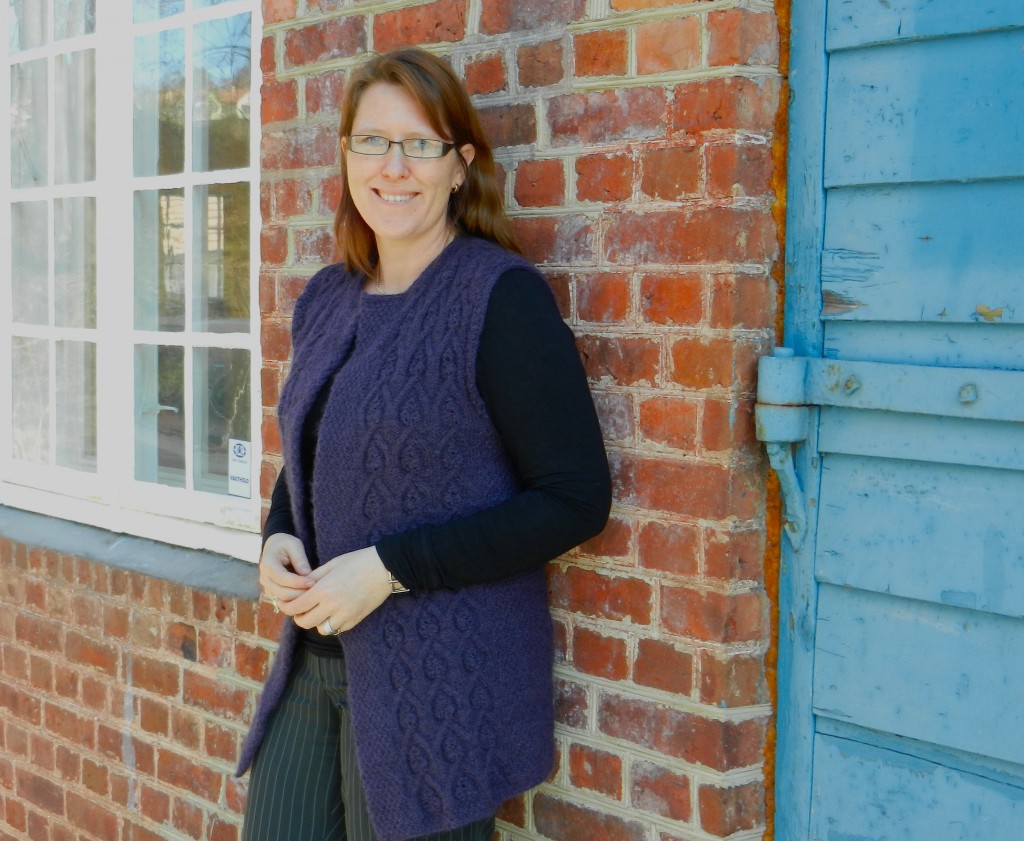 My next Knitting Design Workshop is scheduled in Oslo organized by Østre Aker Husflidslag at the end of October but more workshops will follow. This weekend I am holding Japanese Patterns in Oslo organized by Vestre Aker Husflidslag, and I am working on my workshop paper. Next on my agenda is calculating my own new designs…