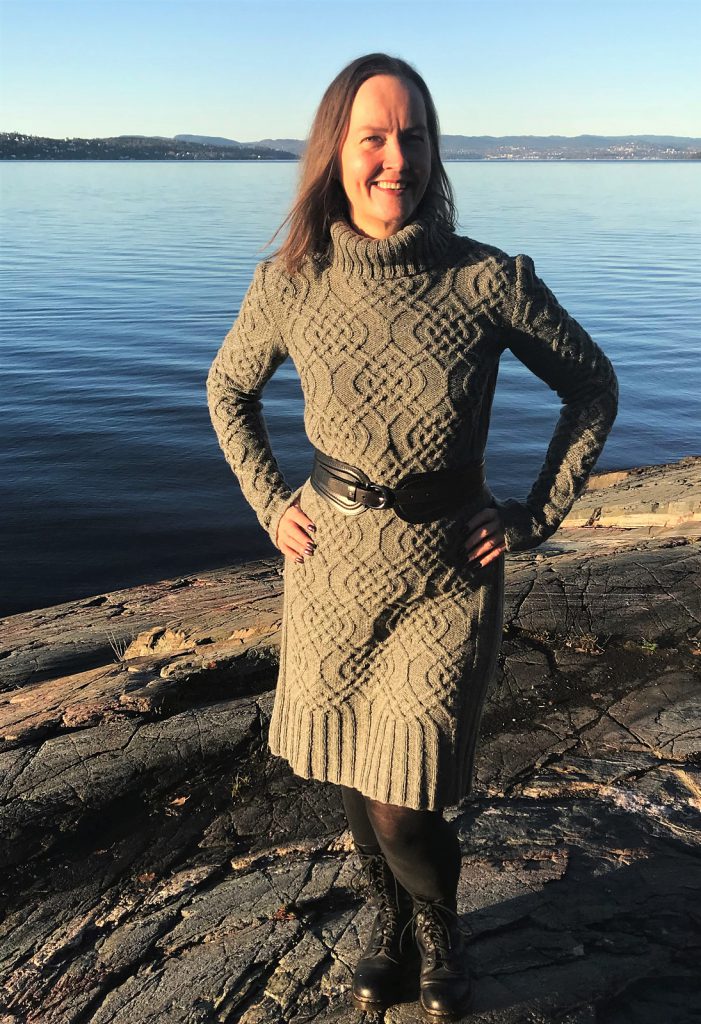 For the second time around, I am showing one of my designs that Marianne Skatten has knitted, the first one was Halli, which she wore to the  Strikkefestivalen/Knitting Festival in Fredrikstad. Instead of making the Prescott Pullover, Marianne decided to modify it into a dress, by adding more ribbing in the sides and purl stitches in the ribbing for waist shaping. Marianne told us about her plans in the Prescott Pullover Knit-A-Long thread, I set up in my Ravelry group last autumn, just after the pattern was published in Interweave Knits Fall 2018. Marianne made size medium but used a different yarn, Holst Supersoft Wool held together with the discontinued Holst Samarkand Uld/silke, that resulted in a different gauge, hence she had to re-calculate the pattern as well. I have seen Marianne wearing the dress, at Wenche Roald's book launch at Cappelen Damm, and it looks stunning on her. Marianne has inspired others to make a similar dress too.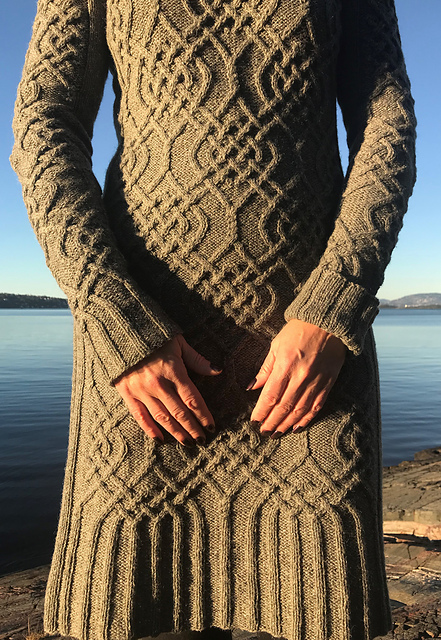 Marianne has written a detailed description of her modifications on her project page: Here is one of her points: "I like to knit in the round, so that I don't have to sew together the sleeves and front and back pieces. I have therefore reworked the pattern for both the sleeves and the body, to be made in the round. I did not knit the sleeves together with the body, which is what I would normally do, but made set in sleeves as the pattern calls for."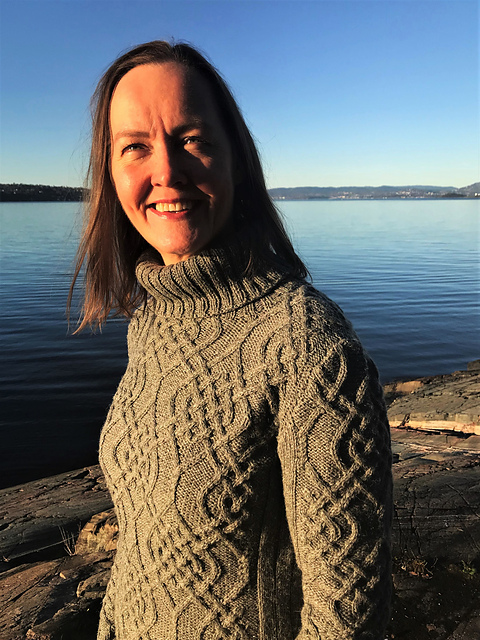 Marianne also wanted a close fitting turtle neck. She explains: "To accomplish this I moved the front neck line 5 cm upwards, compared to the front neck line in the pattern. I did not make any adaptions when placing the back neck line". Thank you so much, Marianne!
The gorgeous cable is designed by Dorota Kowalczyk, aka devorgilla on Ravelry. The English pattern to the Prescott Pullover is included in the Interweave Knits Fall 2018 magazine and available in a digital edition as well as a print edition.