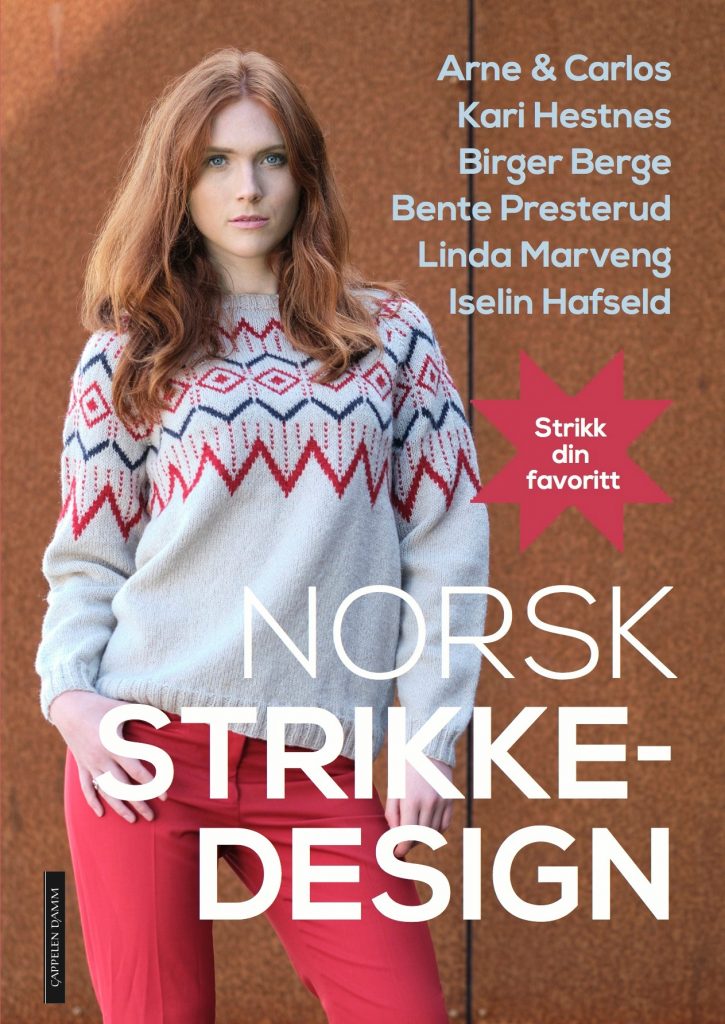 The Norwegian knitting book: "Norsk Strikkedesign. Strikk din favoritt"/Norwegian Knit Design. Knit Your Favourite has been released by publisher Cappelen Damm and I have received it! Thank you to editor and participating designer Iselin Hafseld and publishing editor Anne-Berit Tuft! On the cover is model Emma Ross wearing "Jennys genser" designed by Arne & Carlos. The other participating designers are: Kari Hestnes, Bente Presterud, Birger Berge and me. The book will be marketed at the Frankfurt Book Fair beginning tomorrow, where Norway is the Guest of Honour this year. We all hope that this will increase the possibility of it being sold by the Cappelen Damm Agency to foreign publishers, hence translated. The brilliant photographer is none other than Eivind Røhne. Below is the back cover. You can look inside here and see more photos in my blogpost: Book Club Presentation. The book is only available in a printed format in Norwegian and can be ordered directly from the publisher or from online book stores like: Adlibris. Cappelen Damm will organise a book launch in Oslo on Thursday 21. November.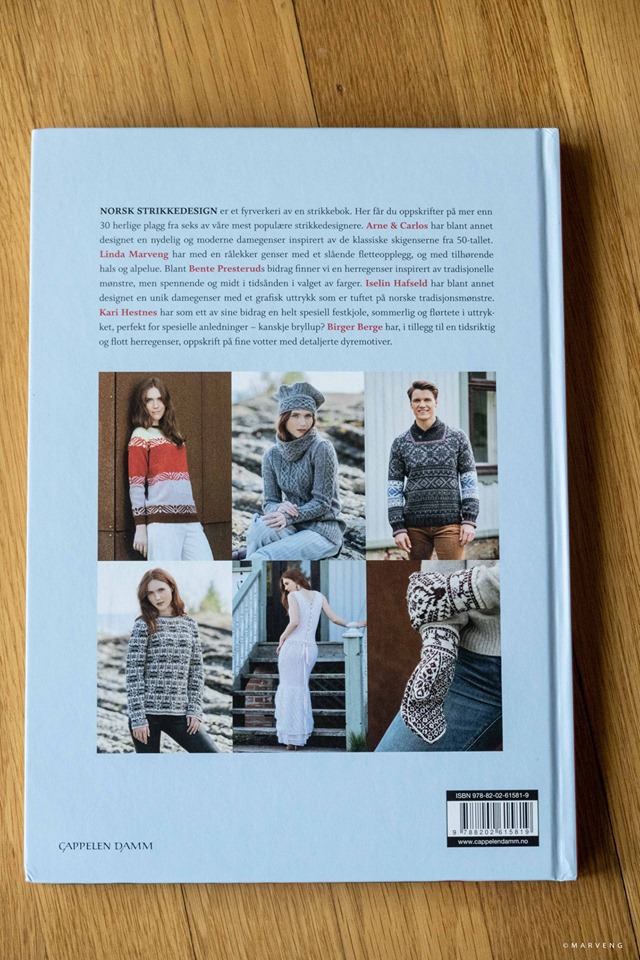 We all have 5 designs each and my ones are all knitted in Tinde pelt wool yarn by Hillesvåg Ullvarefabrikk using 3.5 mm/US 4 and 3 mm/US 2.5 needles with a 21 stitches and 30 rows gauge. One of my designs, Thia, is made in the hand-dyed colour called "Mikkel Rev"/Michael the fox (based on a children's rhyme) by Værbitt, Oslo based yarn shop owner Laila Henriksen. Below is model Kaja Kvernbakken wearing Thia in size Medium. All clothes styling as well as make-up and hair styling was done by Line Cartridge Lislerud.
Thia is a sweet fitted cardigan with a small extra rib above the waist, cables adorning the center framed by double seed stitch. The lower part is all in stockinette stitch to allow the beautiful hand-dyed Mikkel Rev on Tinde pelt wool by Værbitt shine with its colours and depth. Thia ends in a large collar that can be folded down.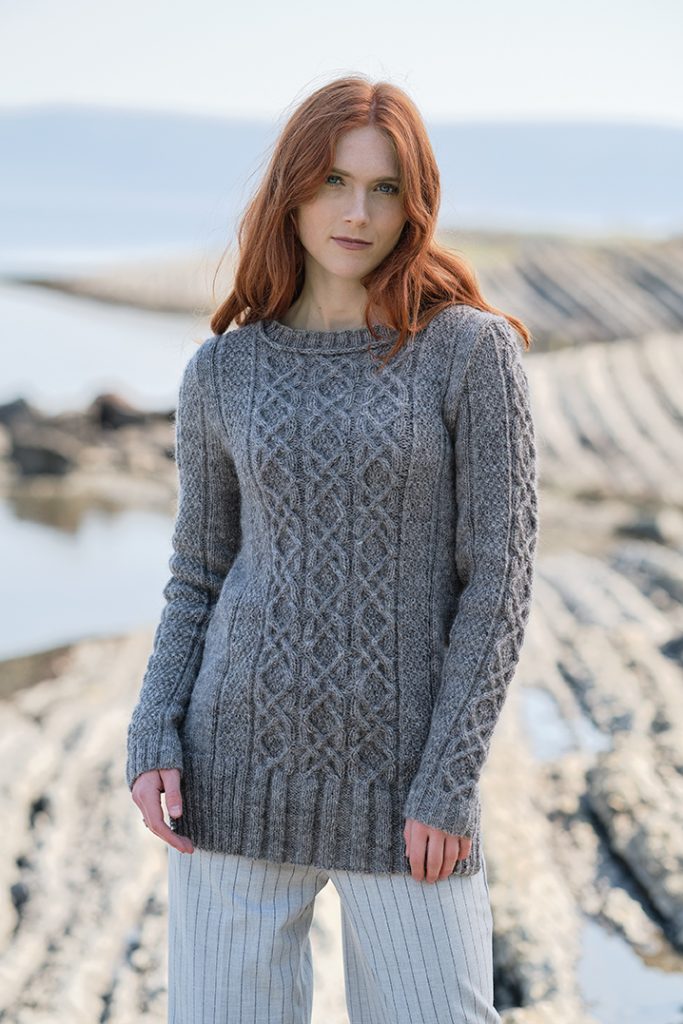 Named Cian Pullover after the Irish God who rules over love magic, is this long a-line pullover. Three central Moss cables, framed by double seed stitch, adorn the center of the body which ends in a vent. Cian is crowned with an I-cord decoration around its crew neck. The pullover is knit in pieces in the divine Hillesvåg Ullvarefabrikk.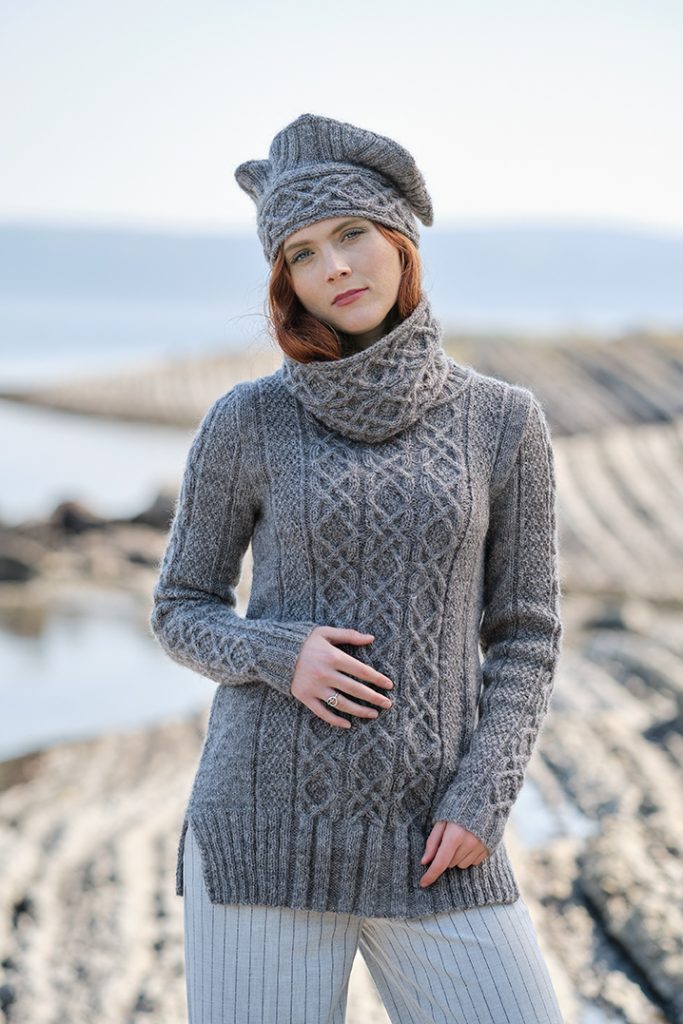 Cian Cowl crowns the Cian pullover which is named after the Irish God who rules over love magic. The cowl is made up of two moss cables and framed by reverse stockinette stitches.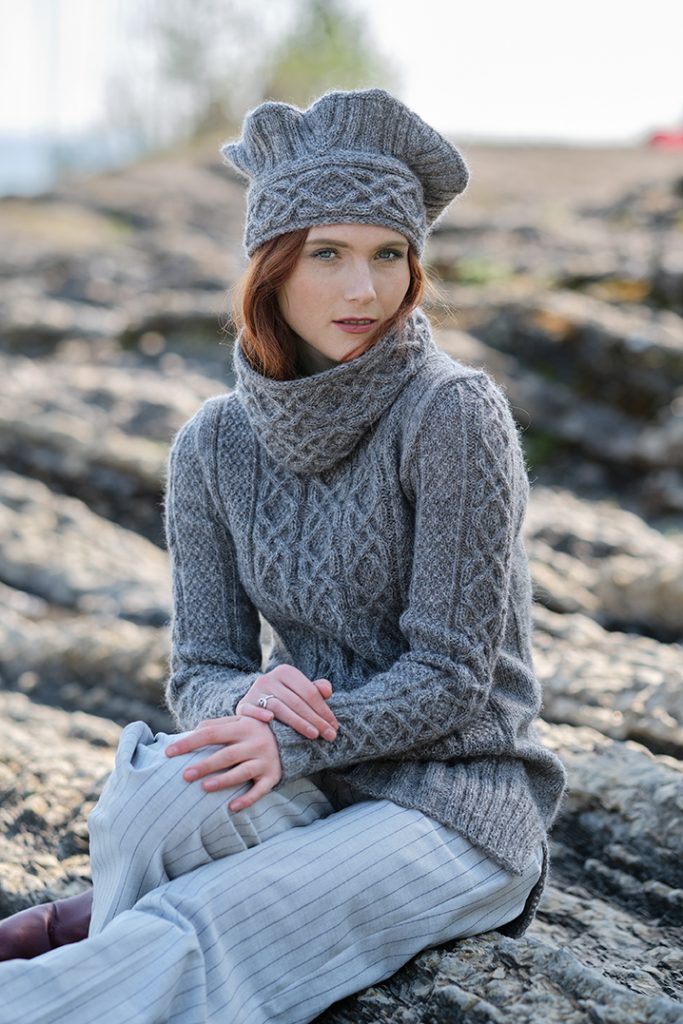 Cian Beret: A moss cable adorns the brim of this beret to accompany the Cian pullover. Named Cian after the Irish God who rules over love magic. Ribbing holds the pull up, which is knitted in stockinette stitch. Wear the beret tilted to one side of the head.
Damara: Named after the fertility Goddess is this asymmetrical skirt with a seeded rib check pattern, that can also be worn as a poncho. The high waist in ribbing is loose so that the skirt can be worn around your hips or folded down, both with a belt to hold it up. Damara is knitted in pieces with a side seam in the divine Hillesvåg Ullvarefabrikk Tinde. The ribbing is worked last so you can easily adjust it to your preference.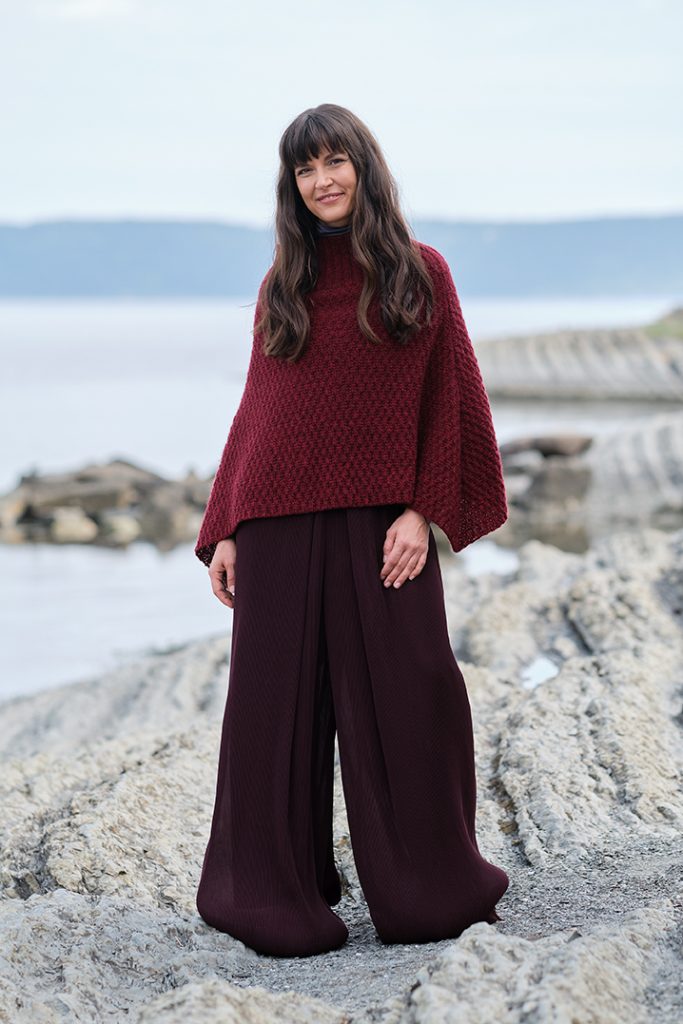 I have also been asked a few questions on different topics, so here are the responses to those:
Digital: Cappelen Damm will not offer the book in a digital format, nor as individual pdf's.
Technical editor: For Cappelen Damm: Kaja Kvernbakken. I have also had my English patterns tech edited by: Barbara Khouri.
Secret Test Knit: I held a secret test knit, by invitation only, with a short deadline late this spring before the book went to print. I will be sharing their lovely results here on my blog.
Rights: The rights revert to us designers on January 1. 2021, and we are then allowed to sell the patterns individually.