Cian Pullover & Cowl are two more designs, especially made for Norsk Strikkedesign/Norwegian Knit Design that will be published early in October by Cappelen Damm, where I contribute 5 projects and take part together with 5 other designers: Arne & Carlos, Kari Hestnes, Bente Presterud, Birger Berge and editor Iselin Hafseld. Below is the preliminary cover, while we are waiting for the next version. We all do hope it will be bought by foreign publishers and translated. My Cian Pullover and the Cian Cowl – one of two accessories, I made – are both knitted in Tinde pelt wool by Hillesvåg Ullvarefabrikk in the Natural Grey shade by my sample knitter Kristin Nygård (sweater) and Grete Jensen (cowl). Yes, the cowl did come later. I decided upon the three main garments for the book first, then the accessories. In early February, just before delivery of the garments to the publisher, Michael photographed me wearing the sweater in size medium and the cowl (one size) in my yarn bunker & his photographic studio.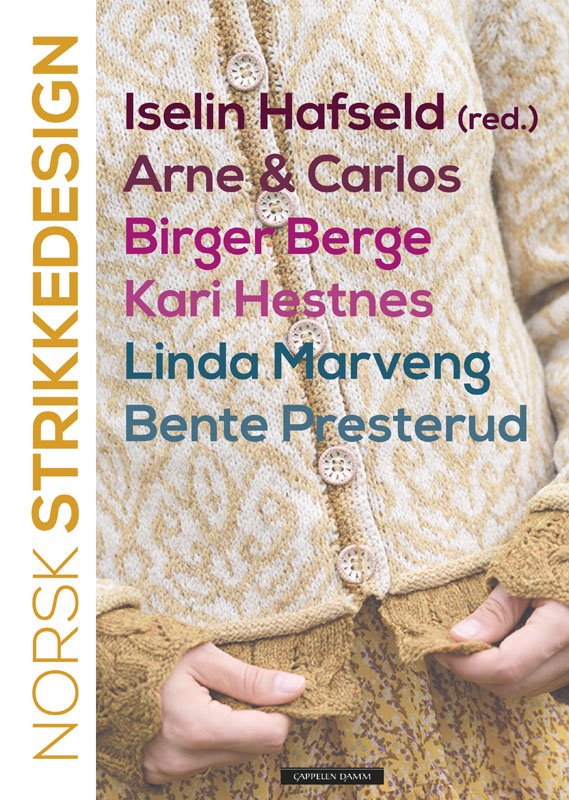 Named Cian after the Irish God who rules over love magic, is this long a-line pullover. Three central Moss cables, framed by double seed stitch, adorn the center of the body which ends in a vent. Cian is crowned with an I-cord decoration around its crew neck. The pullover is knit in pieces in the divine Hillesvåg Ullvarefabrikk, Tinde Pelsull made of 100% pelt wool with 260 meters/284 yards on each 100 gram skein. 
  Both designs are knitted using a 3.5 mm/US 4 needle with a 21 stitches and 30 rows gauge in stockinette stitch per 10 cm/4″ square. I found the gorgeous cables in Norah Gaughan's inspiring Knitted Cable Sourcebook. I placed three at the center of the front and the back for balance and one on the sleeve. I decided to frame them using a twisted stitch and a panel of double seed stitch.
The sweater is worked in pieces and seamed. The rib on the body is not seamed at the bottom to create vents. As you can see in the photo above. The sweater is graded in sizes XS to 2XL with a bust circumference of 84 cm to 126 cm/33 to 49.5″.
After Kristin had knitted the pieces, I did the finishing and decided to add a decorative I-cord band at the neckband as a divider between the cable pattern and the rib.
Here you can see a detail of the front and the cowl. I cannot remember what I was saying at the time, but it was probably something to do with what Michael should zoom in on. Next out in this series is the Cian Beret.
For a more detailed post, support me on patron and get access to 26 patron only posts including 4 videos plus rewards: www.patreon.com/lindamarveng.