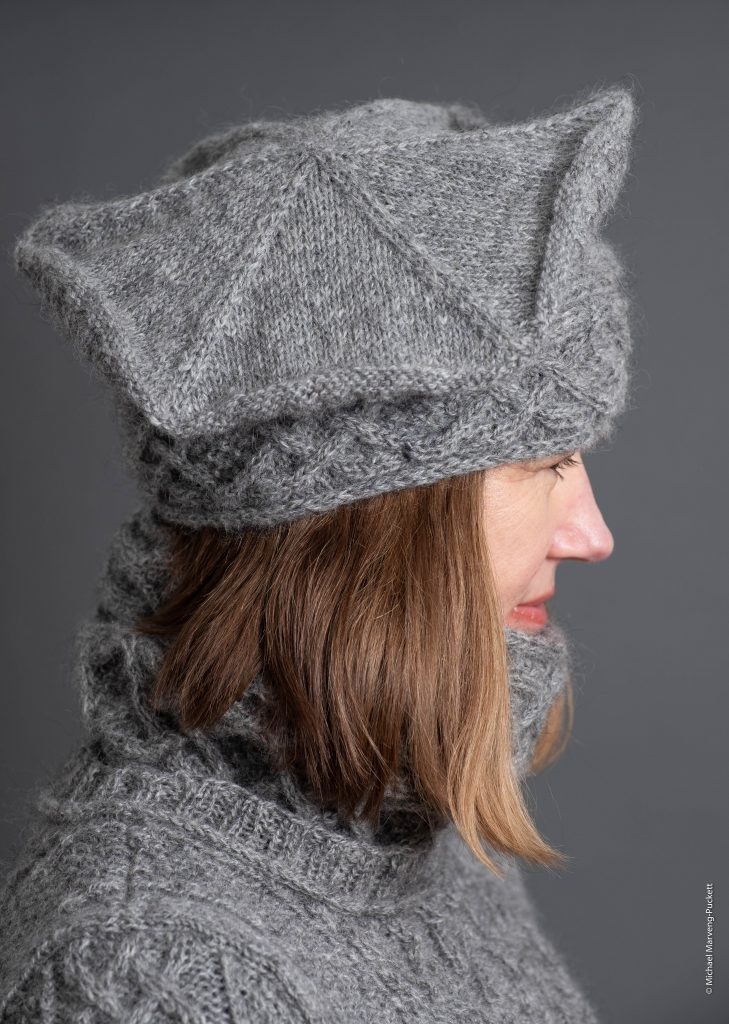 Cian Beret is one more of my designs, especially made for Norsk Strikkedesign/Norwegian Knit Design book that will be published early in October by Cappelen Damm, where I contribute 5 projects and take part together with 5 other designers: Arne & Carlos, Kari Hestnes, Bente Presterud, Birger Berge and editor Iselin Hafseld. Below is the preliminary cover, while we are waiting for the next version. We all do hope it will be bought by foreign publishers and translated. My Cian Beret is also knitted in Tinde pelt wool by Hillesvåg Ullvarefabrikk in the Natural Grey shade by my sample knitter Grete Jenssen, aka ma9. Michael took these photographs of me wearing it in early February, just before I delivered the samples to the publisher.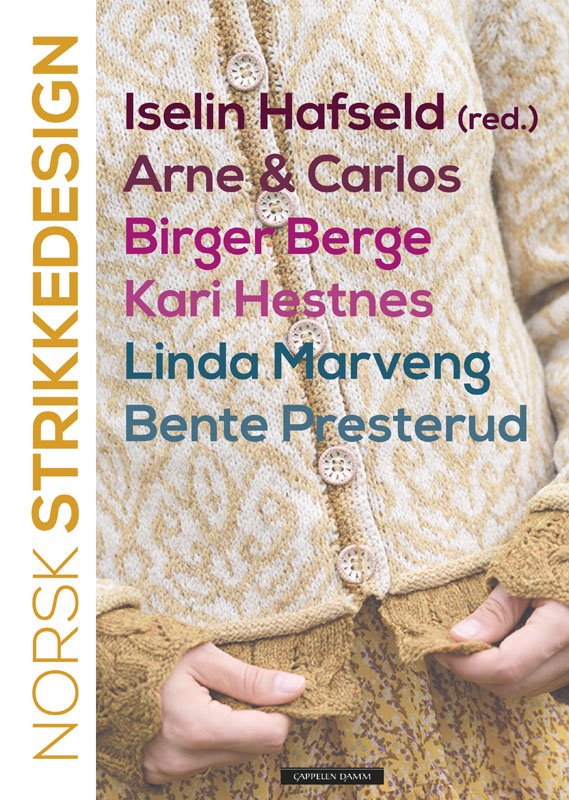 The Tinde pelt wool by Hillesvåg Ullvarefabrikk is made of 100% pelt wool with 260 meters/284 yards on each 100 gram skein. The beret is knitted using a 3.5 mm/US 4 needle with a 21 stitches and 30 rows gauge in stockinette stitch per 10 cm/4″ square.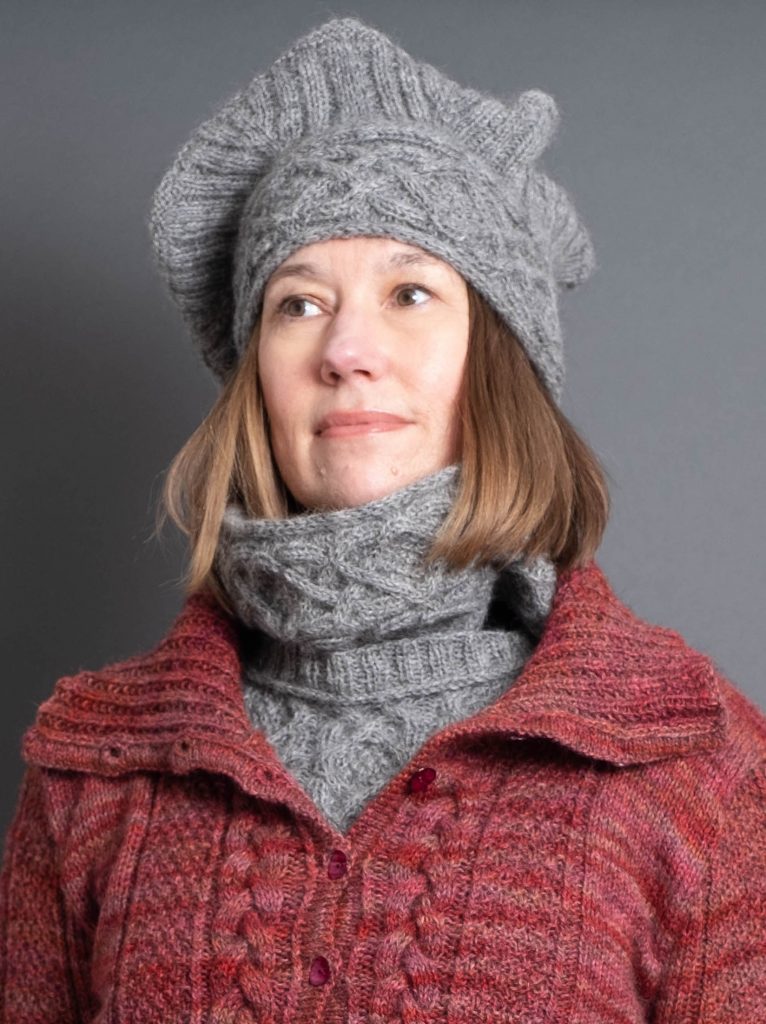 Above you see me wearing Cian Beret, Cian Cowl, Cian Pullover and Thia, all designs made for the book. The cable brim on the beret is worked sideways, so the cast on and bind off are joined together. Then the brim is picked up and worked in the round in rib with increases. The pull is worked in stockinette stitch with decreases to the end. Adjust the width of the brim by removing or adding a cable repeat or rows in ribbing if preferred.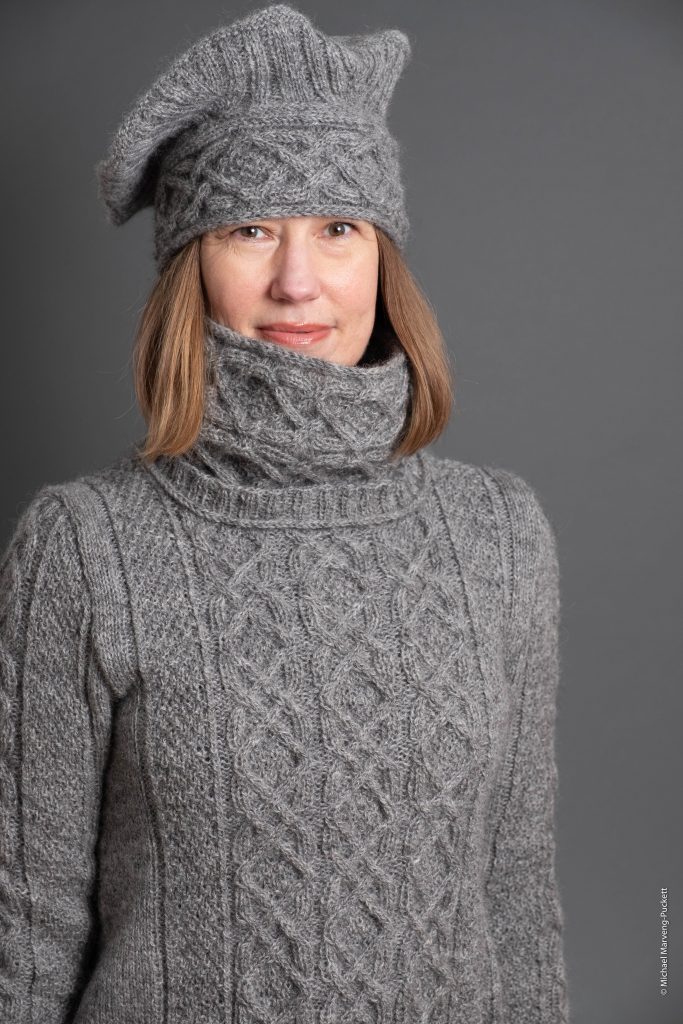 A moss cable adorns the brim of this beret to accompany the Cian pullover. Named Cian after the Irish God who rules over love magic.Ribbing holds the pull up, which is knitted in stockinette stitch. Wear the beret tilted to one side of the head.
The beret comes in one size with a head circumference of 53 cm/20.75″ (fits 55 to 58 cm/21.75 to 22.75″). Next out in this series is the Damara skirt.