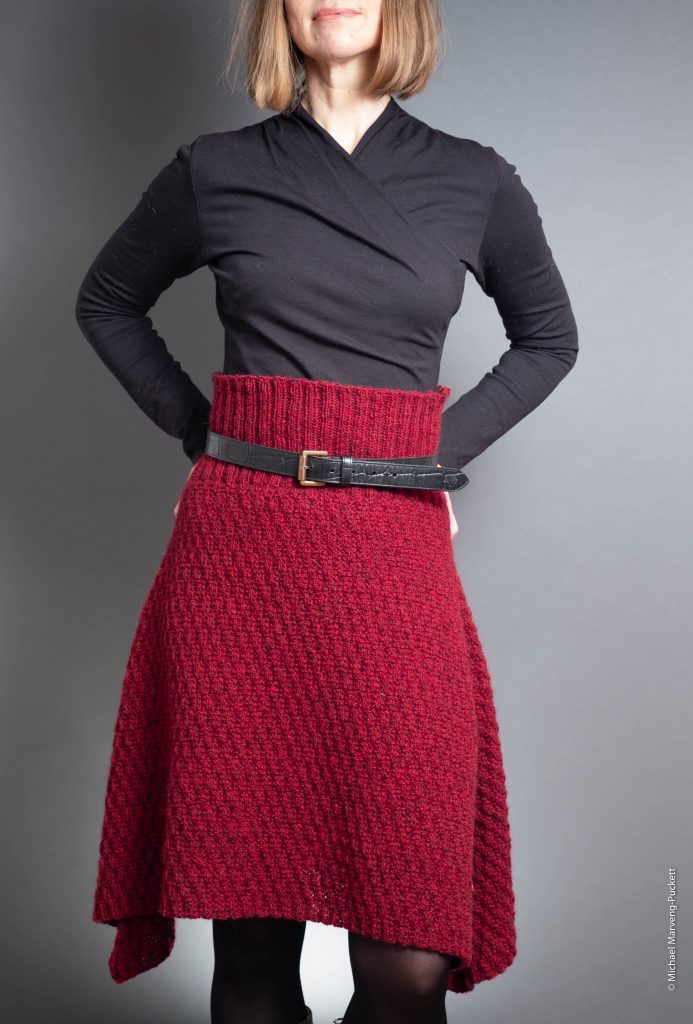 The summer heat has arrived in Ørje, Norway too, but I am still revealing knitwear patterns for the autumn. Damara is the last of my designs, especially made for Norsk Strikkedesign/Norwegian Knit Design book that will be published early in October by Cappelen Damm, where I contribute 5 projects and take part together with 5 other designers: Arne & Carlos, Kari Hestnes, Bente Presterud, Birger Berge and editor Iselin Hafseld. Below is the preliminary cover, while we are waiting for the next version. We all do hope it will be bought by foreign publishers and translated. My Damara is also knitted in Tinde pelt wool by Hillesvåg Ullvarefabrikk in the Burgundy shade by my sample knitter Grete Jenssen, aka ma9. Michael took these photographs of me wearing it in early February, just before I delivered the samples to the publisher.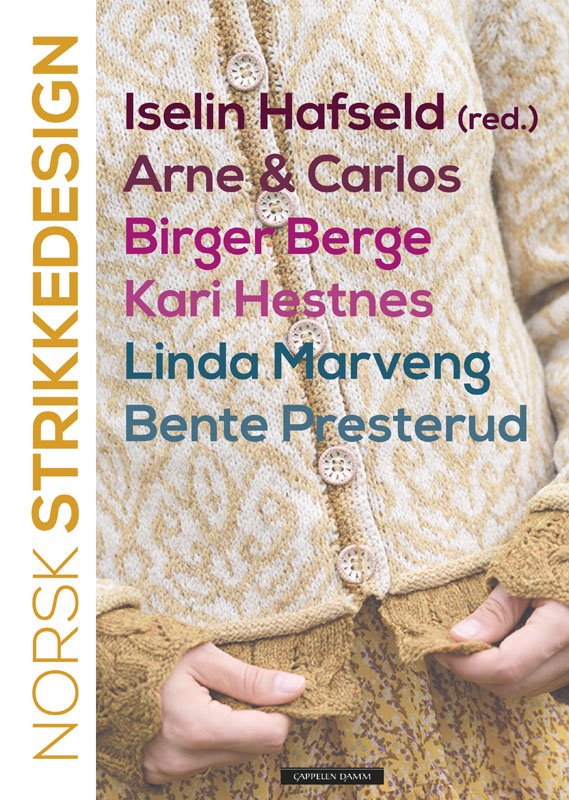 Named after the fertility Goddess is this asymmetrical skirt with a seeded rib check pattern, that can also be worn as a poncho. The high waist in ribbing is loose so that the skirt can be worn around your hips or folded down, both with a belt to hold it up. Damara is knitted in pieces with a side seam in the divine Hillesvåg Ullvarefabrikk Tinde. The ribbing is worked last so you can easily adjust it to your preference.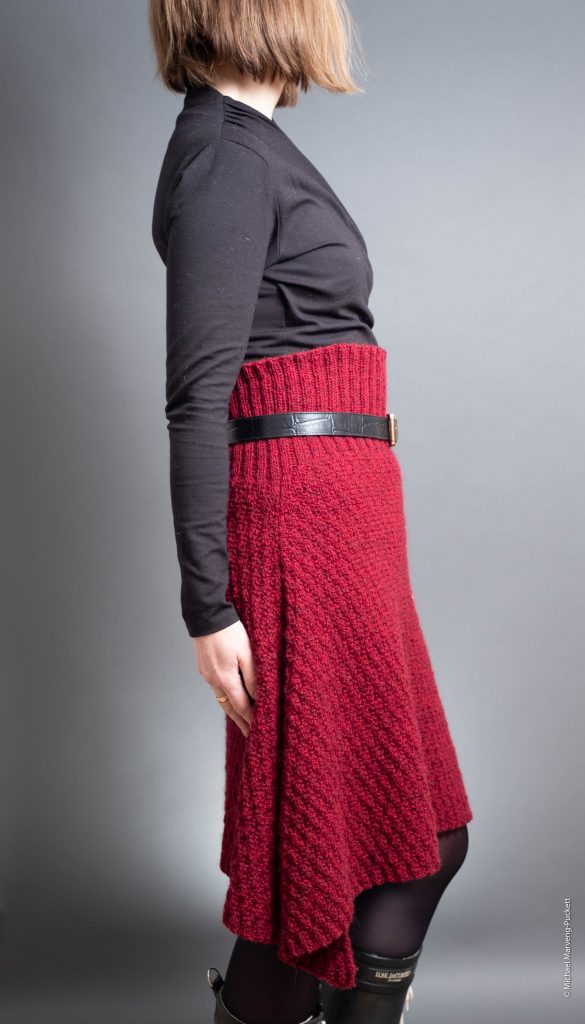 I am wearing size M/L, but have graded the skirt/poncho in sizes XS/S and XL/2XL too, with a waist (top band width) of 70 (82, 94) cm/27.5 (32.25, 37)". The rib top band can easily be adjusted according to preference.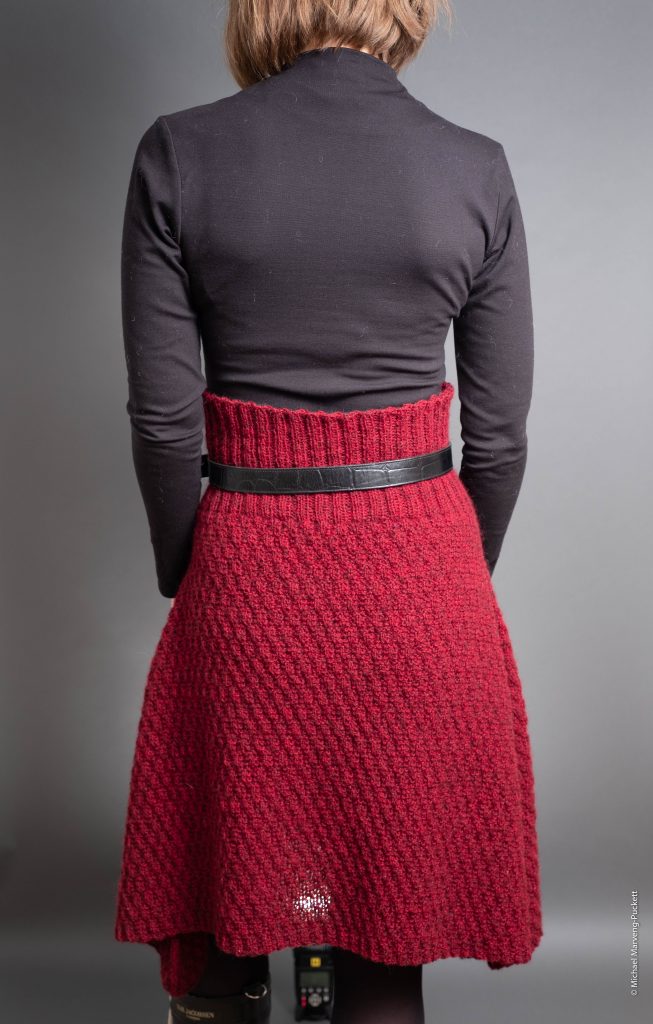 The skirt is made in two pieces, top down with shaping for bottom. Just like the other designs for the book, it is knitted using 3.5 mm/US 4 needle and with a gauge of 21 stitches and 30 rows in stockinette stitch measuring 10 cm/4″ square.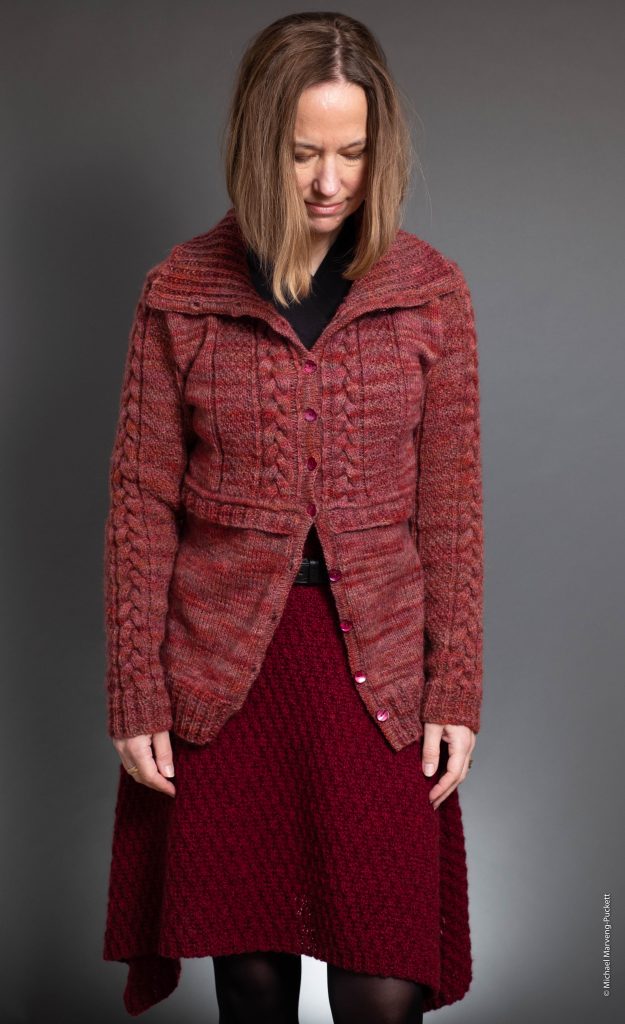 Iselin suggested that we photograph the skirt as a poncho too at the professional photoshoot, so you will have to wait to see how it looks as a poncho. But above you see me wearing the skirt together with the Thia jacket. My test knitters have made some gorgeous outfits that I look forward to showing you after the book has been launched.
For more details, support me on Patreon and get access to this plus 28 other patron only blogposts, including 4 videos and other rewards such a free monthly pattern: www.patreon.com/lindamarveng.