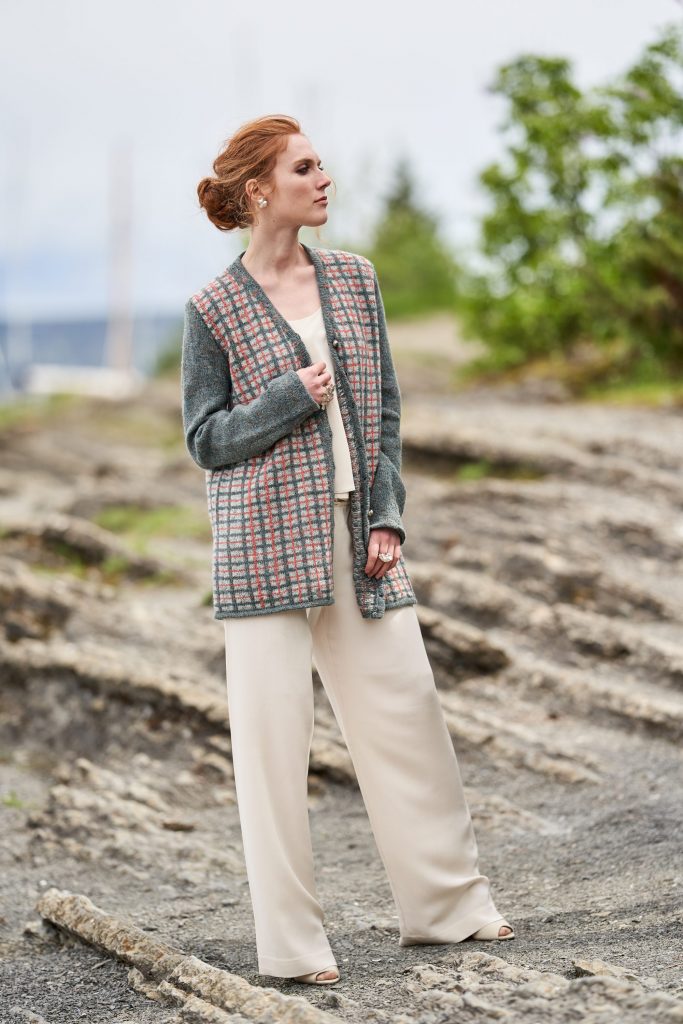 The next series of photos I am going to show you is of the Cambridge Cardigan which was made for Interweave Knits Fall 2018 and returned in time for my photoshoot in May. I organised a KAL (read: Knit-A-Long) for this last autumn and you can see all the wonderful results on the pattern page on Ravelry. The pattern is also available at LoveCrafts. In these photos you see it worn by the gorgeous Emma Ross, with hair and make-up by Sissel Fylling and jewellery by Kaja Gjedebo Design, brilliantly captured by Eivind Røhne at the Oslofjord Museum at Vollen in Asker in May. I decided to style it with cream coloured silk slacks and a matching top to show that it can be both relaxed but also very stylish.
The Cambridge Cardigan is knitted in three colour of Jamieson's Shetland Spindrift using 3.25 mm/US 3 and 3 mm/US 2.5 needle. The Spindrift yarn is made of 100% wool with 105 meters/115 yards on each 25 gram ball. I have graded the pattern in five sizes from XS to 2XL and Em is wearing size L. Intended Ease: + 5-10 cm/2-4". Sample shown is 111 cm/43.75" with + 40.5 cm/16" ease on model.
The Cambridge Cardigan is the quintessential collegiate cardigan. Inspired by Scottish tartans, this preppy, oversized cardigan is ready for a chilly library, reading on the quad, or for a visit to the local pub. The body of this project is worked in the round and steeked at the center and armholes.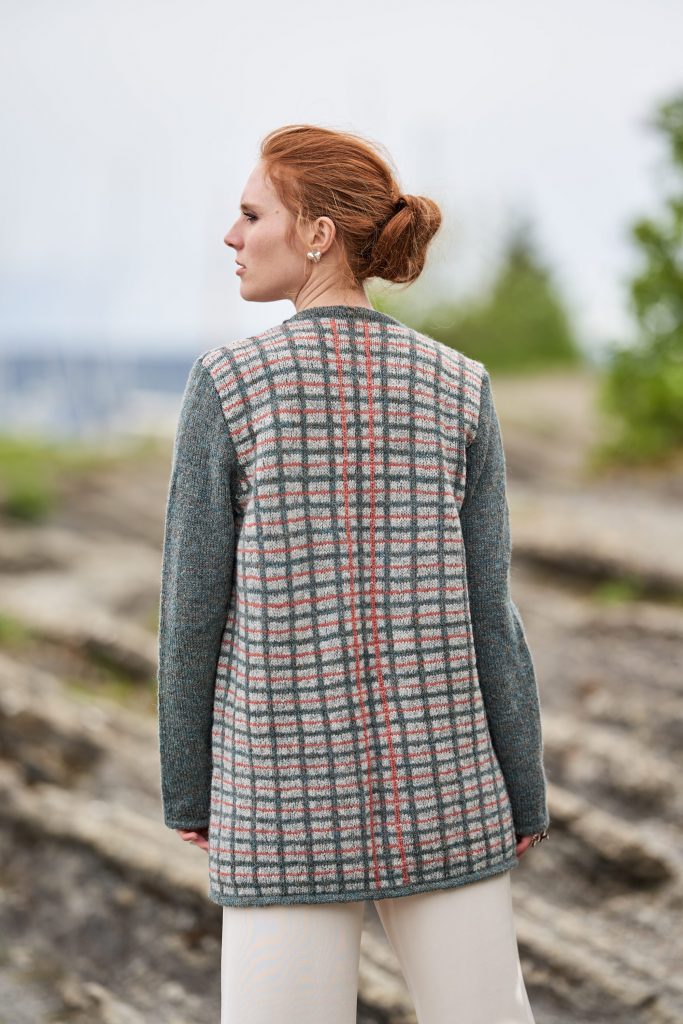 The cardigan is worked back and forth from the bottom up through the hem, then joined and worked in the round with steeks at center front and armhole openings. The sleeves are worked in the round, with the sleeve cap worked flat. I steeked this cardigan by crocheting slip stitches on each side of center steek stitches before cutting, but you can also use a sewing machine or needle felting with a 3-pronged plus 5-pronged felting needle with brush/platform to secure the steeks: See this blogpost with a video tutorial by Meg Swansen: Schoolhousepress.com.
For more details about my design process and sneak peeks of new designs, support me on Patreon and get access to 38 patron only blogposts, including 6 videos and other rewards such a free monthly pattern. To those of you who already support me, thank you! www.patreon.com/lindamarveng.