Early this year, I invited five experienced test knitters to take part in a secret test knit for my patterns going into the Norwegian book "Norsk Strikkedesign. Strikk din favoritt", and here is Valeria's result the Cian Pullover and Cian Cowl modelled by her youngest daughter Eleanor. I asked Hillesvåg Ullvarefabrikk if they would be willing to sponsor Tinde pelt wool yarn to these knitters and to my delight they did. Valeria, aka nickknitterton on Ravelry, chose "Lys dongeriblå" (read: light denim blue) for herself but the set now belongs to her beautiful daughter.
On her project page, Valeria writes: "I had been so happy about Linda´s invitation to a secret test knit of one her five designs in the upcoming book Norsk Strikkedesign. It contains the designs of six Norwegian designers and will be published in early October by Cappelen Damm. Thank you, dear Linda, for your trust and confidence! It was a great honour and pleasure for me!
And I´d like to say a big Thank You to the Norwegian yarn company Hillesvåg Ullvarefabrikk for its tremendous generosity to sponsor this test by gifting us a great amount of yarn. Tinde is a wonderful yarn, so lovely to knit with, light but warm at the same time."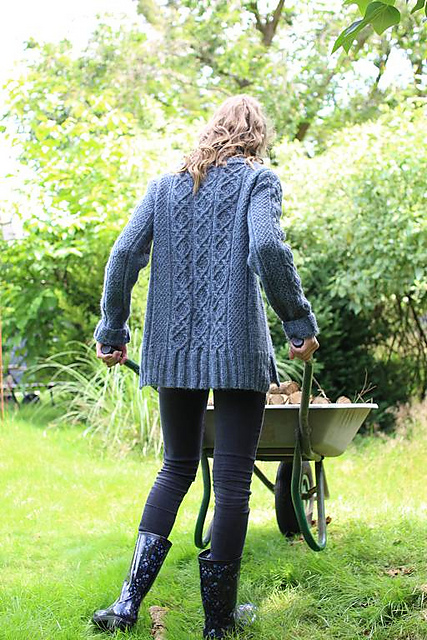 Thank you ever so much for test knitting for me and to Eleanor for modelling! Valeria knitted size Medium and used the recommended 3.5 mm/US 4 needle to achieve the gauge of 21 stitches and 30 rows in stockinette stitch. I have graded the pullover in sizes XS to 2XL with a bust circumference of 84 to 126 cm/33 to 49.5″, while the cowl is one size and easy to adjust to your preference.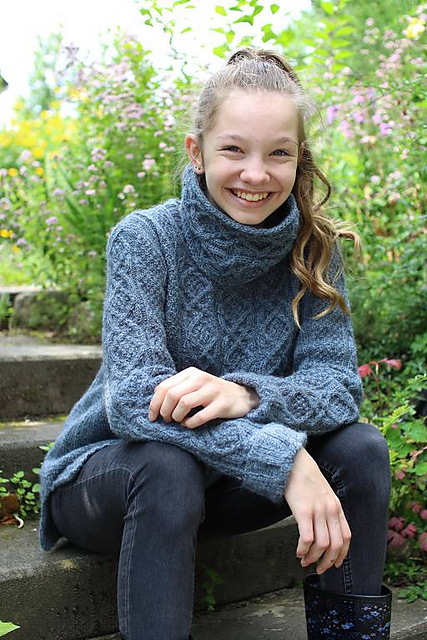 Named Cian after the Irish God who rules over love magic, is this long a-line pullover. Three central Moss cables, framed by double seed stitch, adorn the center of the body which ends in a vent. Cian is crowned with an I-cord decoration around its crew neck. The sweater is knit in pieces in the divine Hillesvåg Ullvarefabrikk, Tinde Pelsull.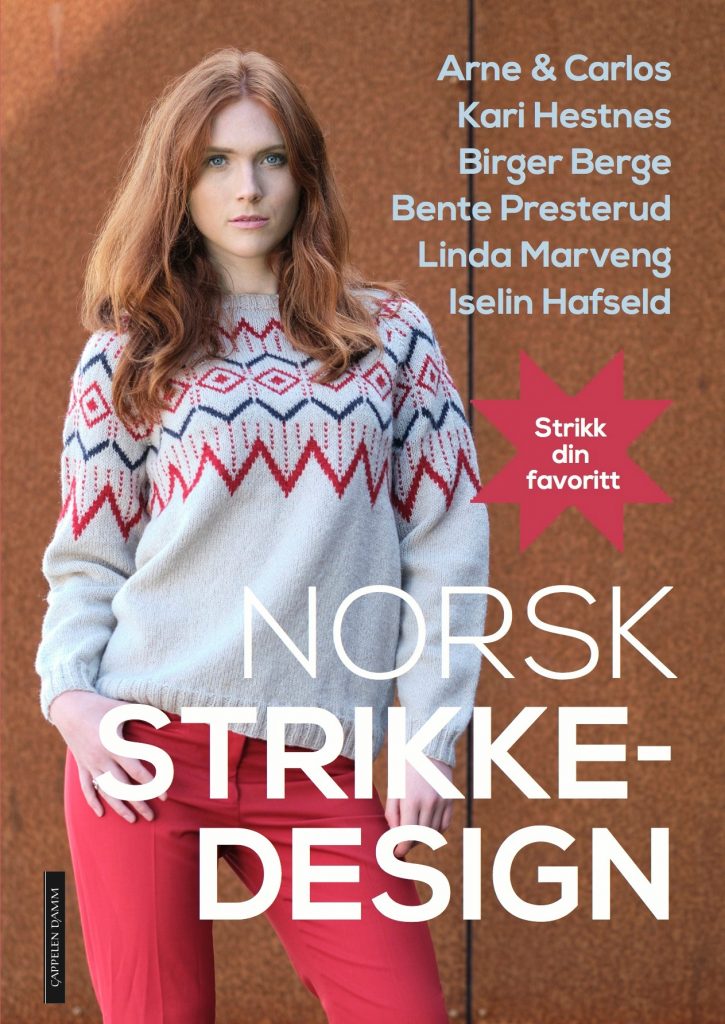 The two patterns (plus three of my other designs) are included in the Norwegian knitting book: "Norsk Strikkedesign. Strikk din favoritt"/Norwegian Knit Design. Knit Your Favourite has been released by publisher Cappelen Damm but is only available in a printed format in Norwegian and can be ordered directly from the publisher or from online book stores like: Adlibris. You can look inside here and see more photos in my blogpost: Book Club Presentation. We all hope that this will increase the possibility of it being sold by the Cappelen Damm Agency to foreign publishers, hence translated. However, the rights will revert to me in January 2021 and I will make the digital patterns available on Ravelry and LoveCrafts.