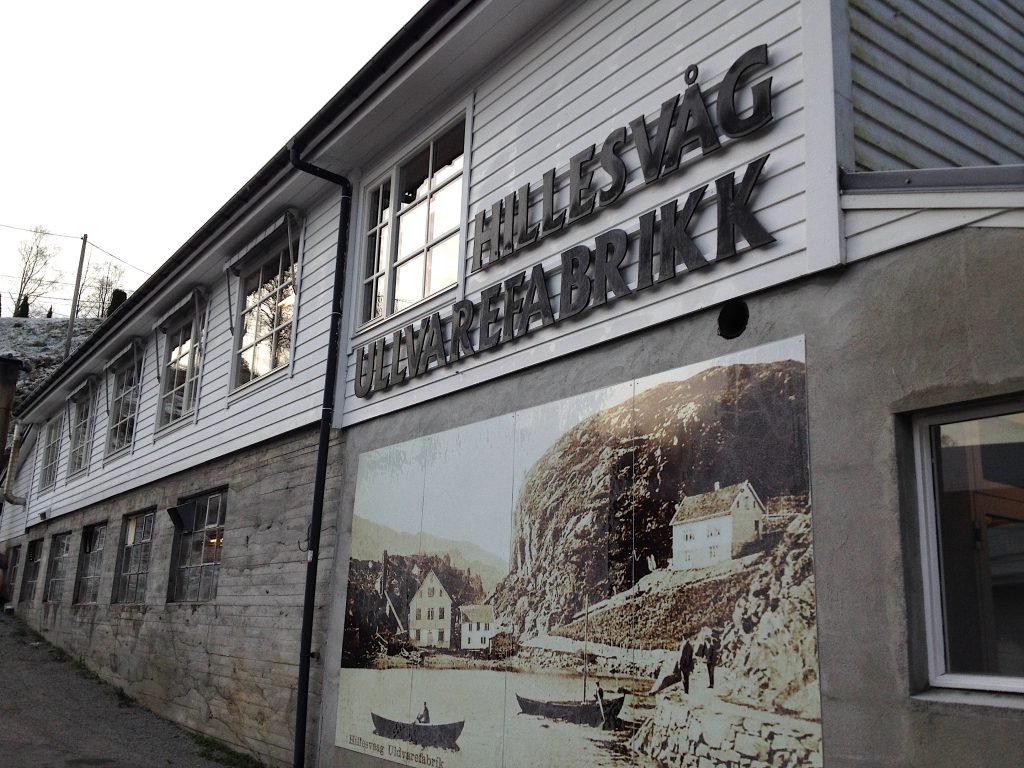 Yes, I have finally been to visit Hillesvåg Ullvarefabrikk at Hjelmås, outside of Bergen. Just to clarify, it is not that I have not been invited before, but because it is far from where I live, on the west coast of Norway. My collaboration with Hillesvåg goes back to 2012, when they sponsored yarn for my Norwegian book and to the sixth collection of designs I am currently working on, which they make yarn kits for. At the end of November I flew from Oslo to Bergen to hold a presentation at The Norwegian Knitting Industry Museum and used the opportunity to visit Hillesvåg Ullvarefabrikk. I traveled by ferry from Bergen to Knarvik Kai/Quay where CEO Øyvind Myhr met me and drove to the near by factory on the north side of the Osterfjorden. The entrance trough the shop is to the right of this picture. Hillesvåg is a family business from 1898, now run by the 4th generation and one of the few factories left in Norway that produces yarn from Norwegian wool.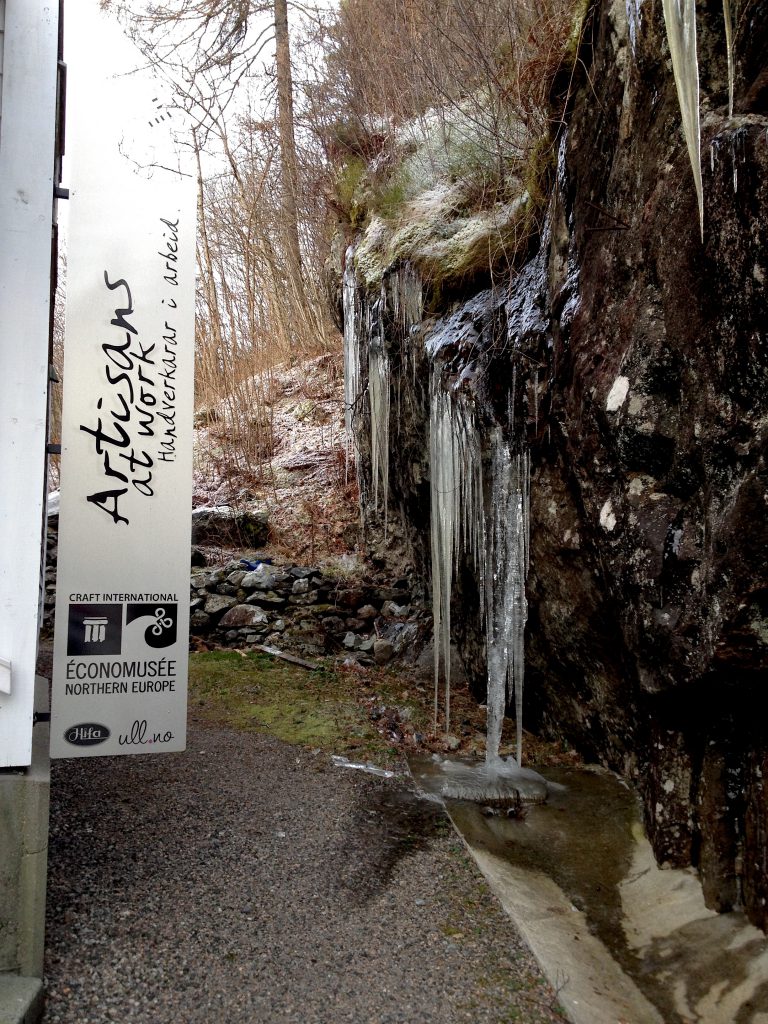 Hillesvåg is an Économusée, that uses traditional craft techniques and uses old machinery to make their yarn and tops. Watch this video that introduces the factory and you will see that their oldest working machine is from 1835. They do have some spare parts to these machines, but if they do not, they have to make it from scratch. See this newspaper article from the Norwegian newspaper Aftenposten.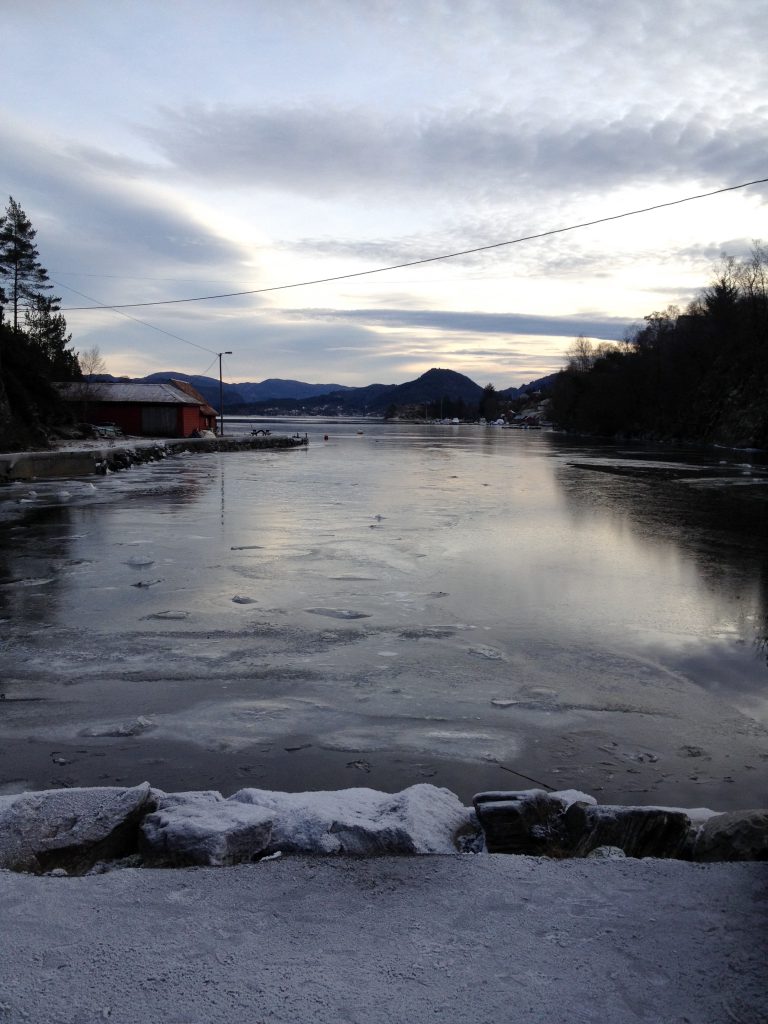 The ferry only took 20 minutes to Knarvik and it was less than 10 minutes to drive the last part. The view towards the fjord is equally enticing. I had worked intensely to be able to bring the 4 new designs for the sixth collection to them, instead of sending them. So revealing the new designs and seeing how they looked on me was first on the agenda, after I had met Øyvind's wife Anette Toft, who deals with customer & designer relations, and in-house designer Berit Løkken. It was fun for me to see their reaction, so I thoroughly enjoyed this delivery in person.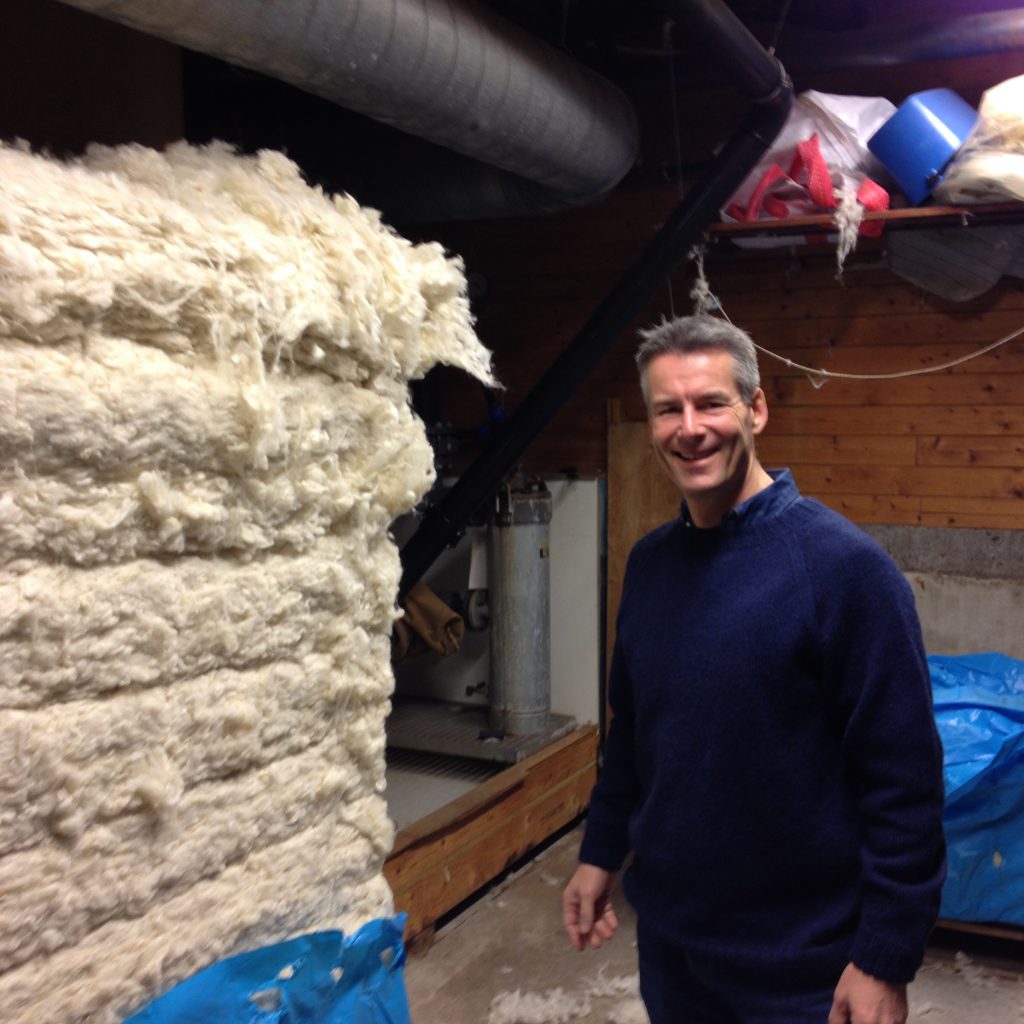 Next on the agenda was Øyvind taking me on a tour of the factory. We started downstairs in the basement. Here is Øyvind standing next to washed white Norwegian wool. The washing is done in the UK, and it comes back in large bags and expands whey they are opened.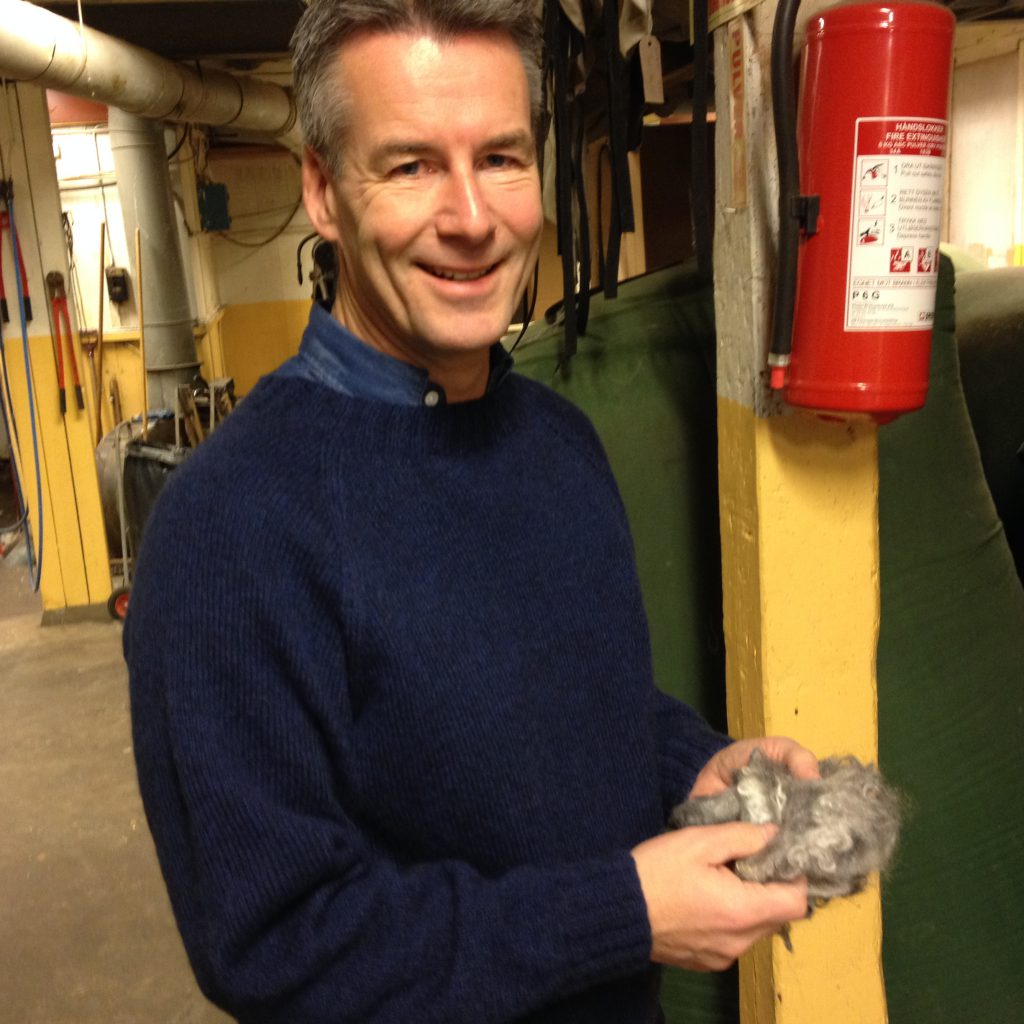 The pelsull/pelt wool is a lot greyer but also silkier in its apperance than the white wool.  Øyvind is very happy that they did start producing the pelt wool yarn in the spring of 2012. It comes from the Pelt Sheep which is a mixed breed of the Old Norwegian Short Tail Landrace the Blue/Grey kind and the Gotland sheep. Pelt wool is of medium staple and it is a woolen yarn with no distinctive creep, but it does have a good lock. These days, they make 3 thicknesses. Above you see him holding onto the pelt wool fleece which is naturally light grey and gives the dyed colours a weathered look on a dark fibre base.
The yarn has a mohair, silky feel with a halo, lustre and bounce. Despite its halo, it has a great stitch definition and depth to it. The pelt yarn also blooms and softens when you block it. These days, they make 3 thicknesses; the DK weight first named Norsk Pelsull/Norwegian Pelt Wool – now called Tinde – the thicker Bulky weight called Blåne and the newer 4 ply/Fingering weight called Sølje launched in May 2016.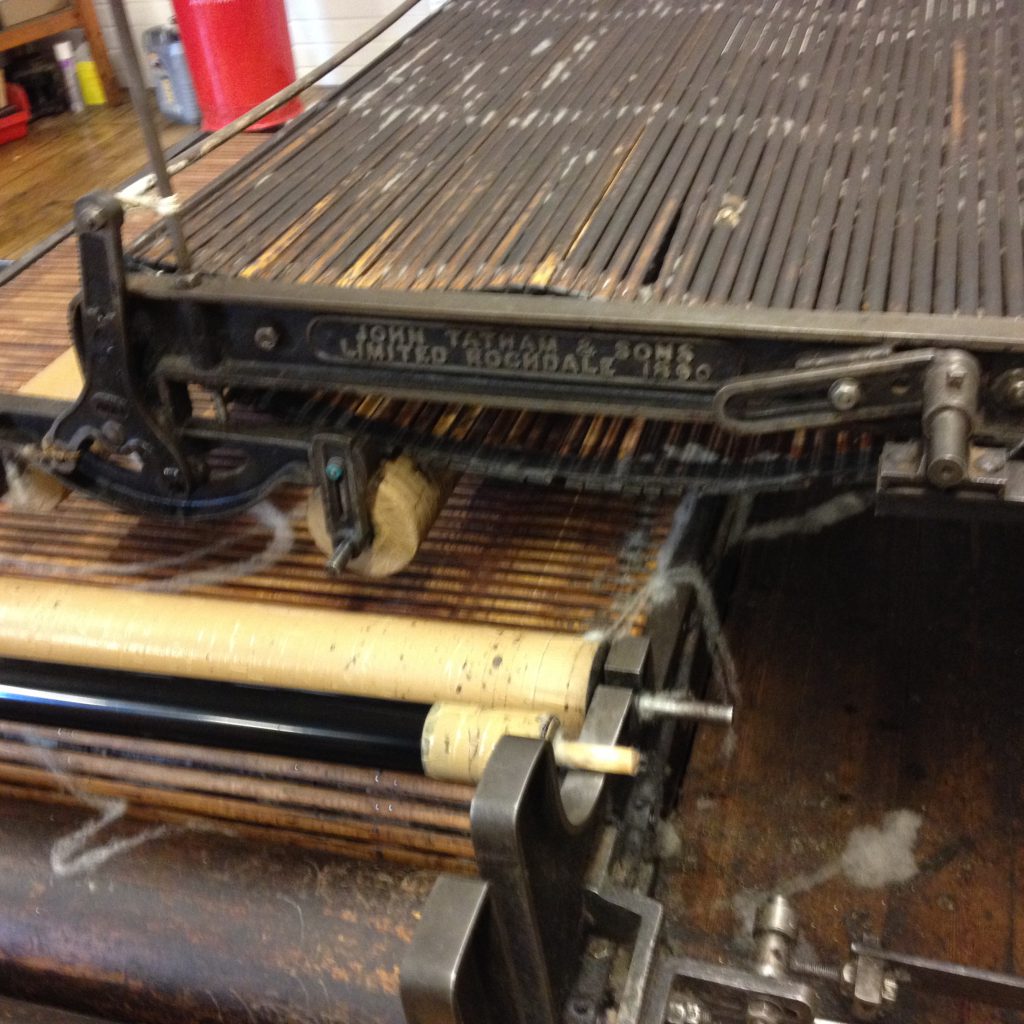 We walked from the basement, where the fleece is kept; air is blown into it and it is dyed up to the next floor. Here is a close up photo of one of the old machine from 1890, that is used for carding for felting.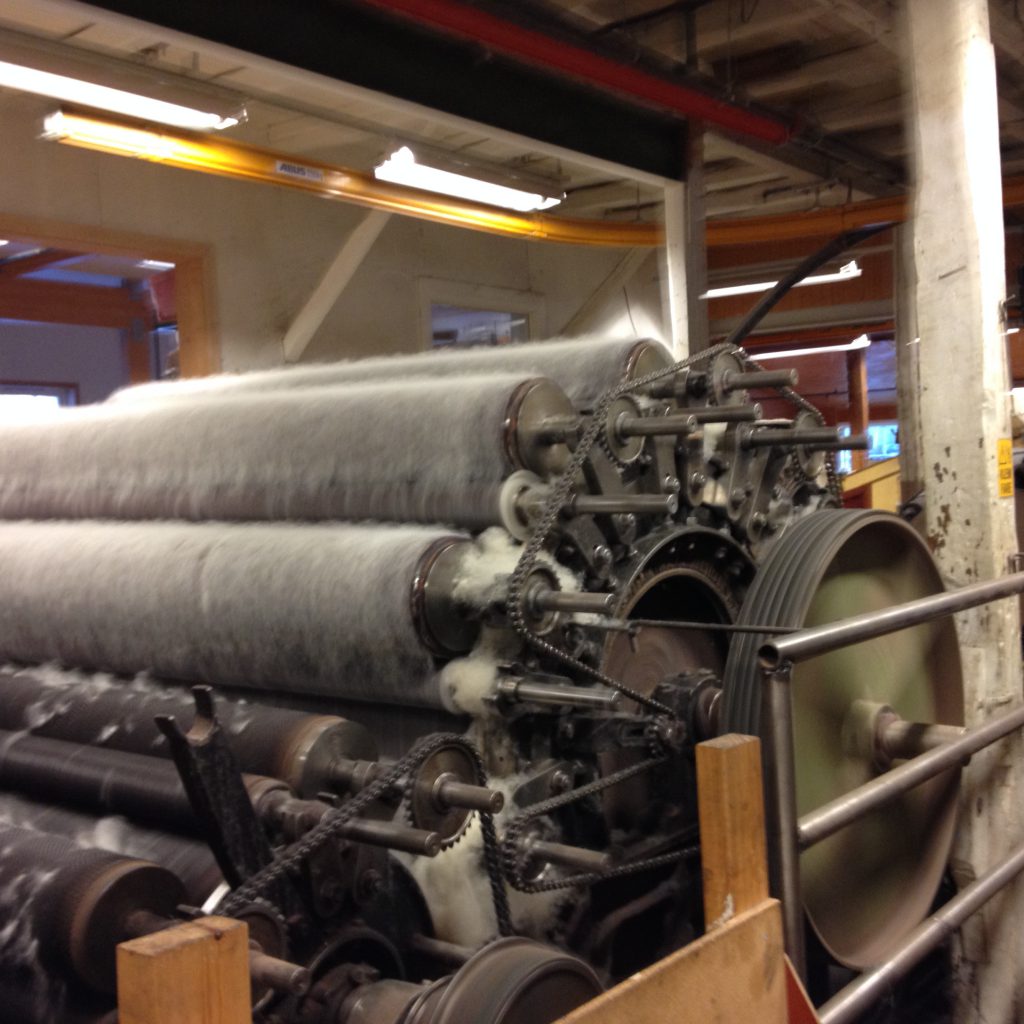 It was utterly fascinating to see all these old machines still in use. They made less noise than you would anticipate.
The spinning process was my favorite to watch. I was so impressed that this worker could spot where the yarn needed splicing and doing it with such speed and ease.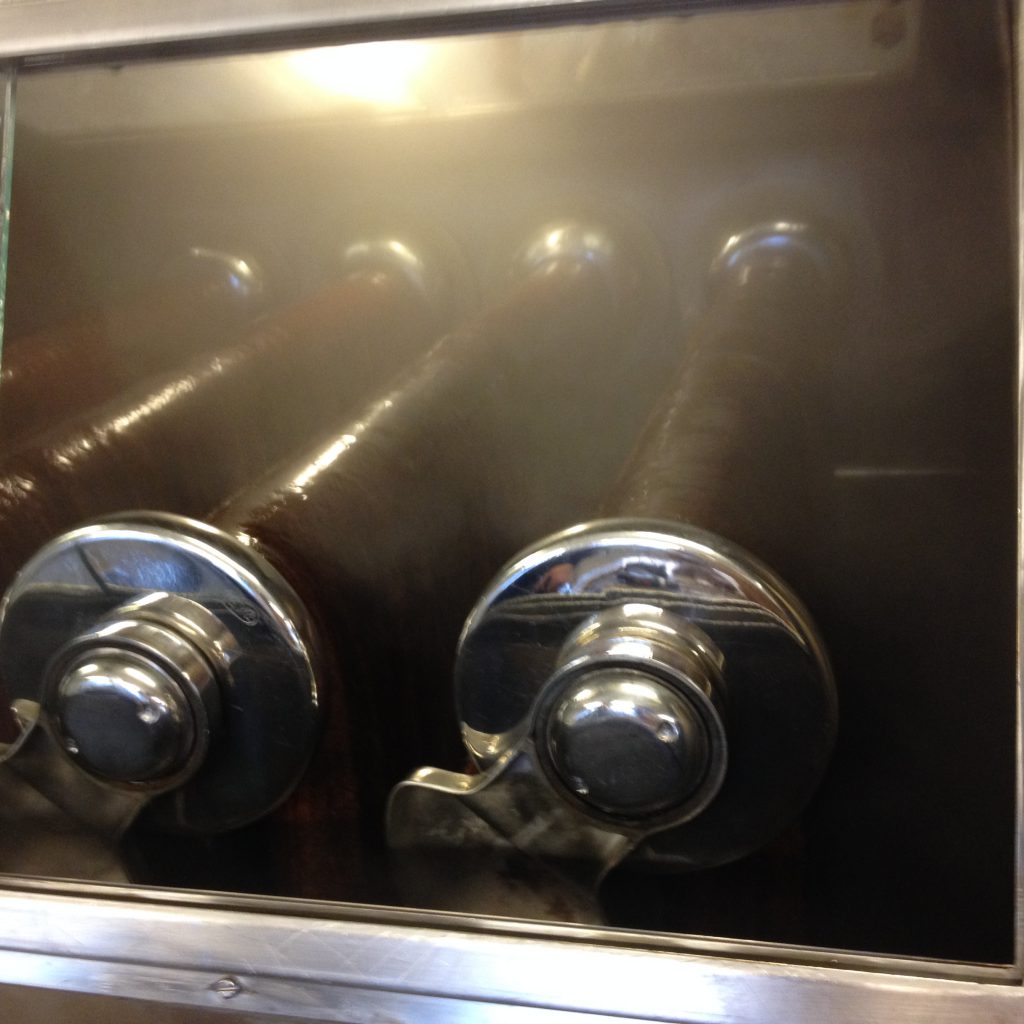 Øyvind's brother Arild is in charge of developing the colours and the dying. He is also the one that has to fix the machines when the stop. They use two different methods that both give the same result. Here is a close up of the one where the hanks are slowly turned around to ensure even colouring, while the other method keep the hanks static but raises the water platform.
After the hanks have been dyed, they are dried over night, maximum 12 hours to avoid the yarn drying out, upstairs at the loft, the so-called drying loft. Here are skeins of Tinde and Ask.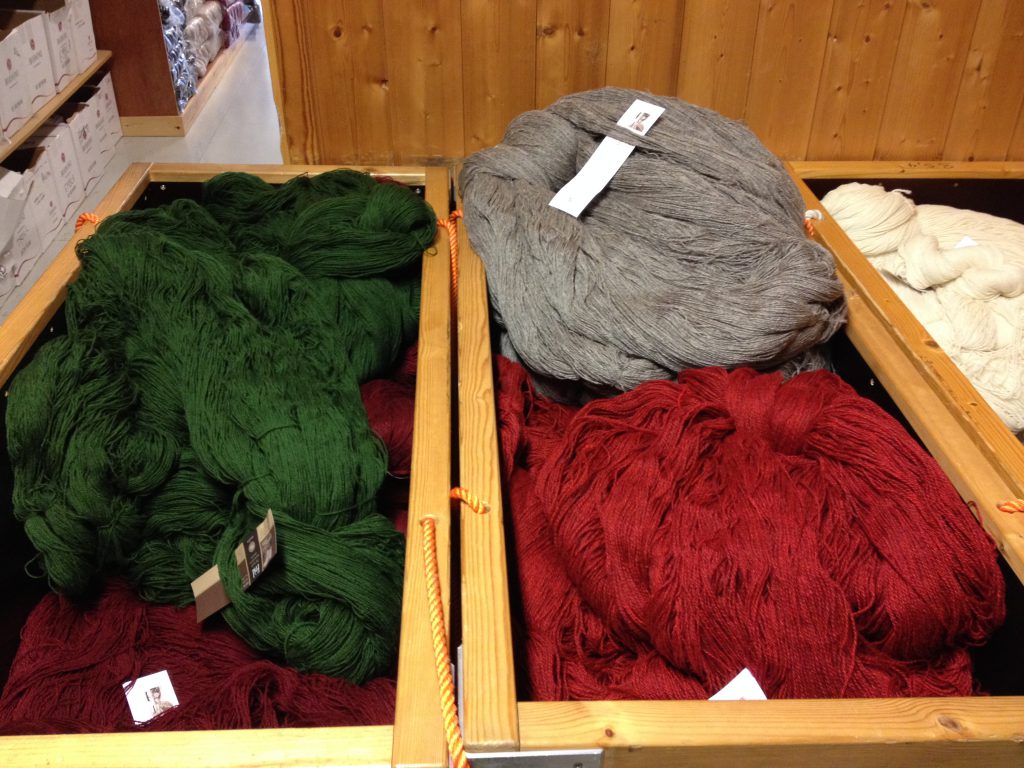 Here are hanks ready for labelling and their final twist or before they are made into cones.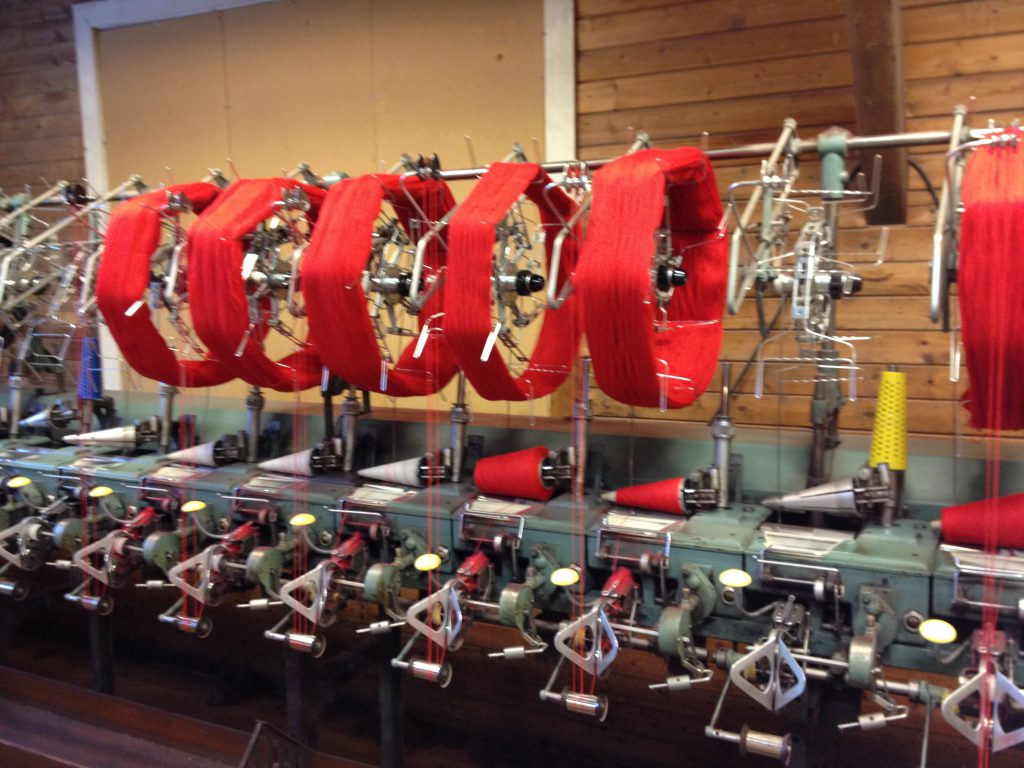 The machine that transfer the hanks onto cones. I was lucky to meet a number of the 20 employees at the factory and saw them doing their job. The order department was busy working on filling Ysolda's order (to Scotland) – box number 8 – and a large order to Trollenwolweb (to the Netherlands), as well as numerous other orders both to stores and direct to customers.
After Øyvind had shown me around, I wanted him and Anette to help me make a video of me knitting for the Fruity Knitting Podcast. We talked through where we should record it and choose their beautiful Sense Room, where they hold their knitting café, in the end. Anette was in charge of recording, while Øyvind gave me a signal when there was 10 seconds left so that I could look up and smile. But just like knitters in my workshops do make mistakes just because I am looking at them, so did I when I was filmed. I had to redo those rows on my swatch. Anette also made a second video using her mobile, close up of my fingers, as requested by Andrea, presenter of the Fruity Knitting Podcast. You can see the footage in the Podcast here.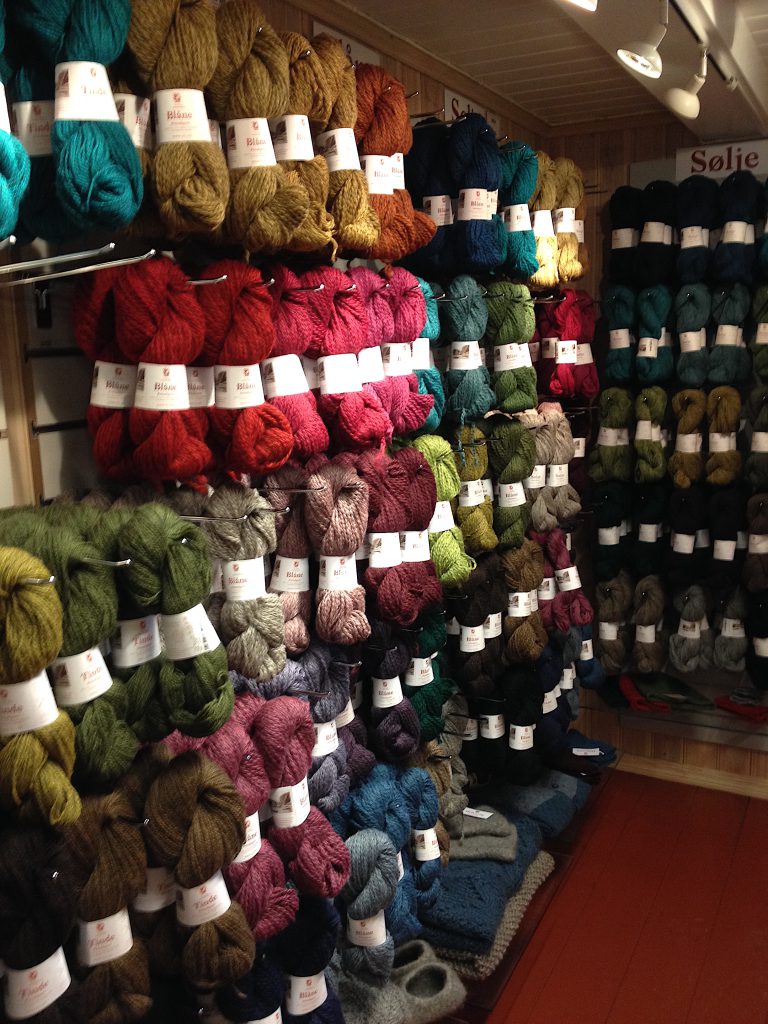 Then we had lunch, Øyvind, Anette, Berit and I, in their conference room and not in their canteen which has a view of the fjord. I told them what I have been working on and so did they. I was also asked if I wanted to make another collection for them and I was delighted to accept. Hence after lunch I wanted to have a closer look at their shop, choose some hanks that had to come home with me for swatching for the seventh collection. I also had a second walk about before my return to Bergen. Above is the entrance to the factory, straight into the shop, with the pelt wool displayed: Sølje on the right, then Blåne and Tinde to the left. This is just a small corner of the shop, that had all their other yarns, yarn kits, knitwear, books, knitting notions, and gifts. Then it was time for me to leave to go back to Bergen, pick up my suitcase and head to the airport. Øyvind took me to the bus stop, since the ferry only runs at rush hour, and gave me instructions where to change buses to make sure I came back into the city center. I made it and also managed to get to the airport in time. I had an amazing day at Hillesvåg Ullvarefabrikk, thank you Øyvind, Anette, Berit and to everyone I met! If you do have the chance and are visiting Bergen, do not miss it!