Christmas is coming very soon and we have a blanket of snow covering the ground here in Ørje, so I thought showing you some bright summery colours would be good. The orange swatch (read: knitting speak for tiny sample) knitted in the gorgeous SweetGeorgia Yarns Mohair Silk DK in Pumpkin using 3.5 mm/US 4 needles and 4 mm/US 6 needles, shows off the different stitch patterns on my Ataraxia swatch as well as Siri Berrefjord's handmade buttons. Yes, Siri is also a trained photographer in addition to being a jewellery maker and a designer, especially of redesign clothes. I sent this swatch to Siri and ordered 9 bespoke small buttons with a diameter of 18 millimeters/0.7″ to match the colour by the beginning of July. Of course, Siri took a number of stunning photos you see here too! Ataraxia was a commission for a the Pom Pom Quarterly 27 Winter 2018 issue with guest editor Norah Gaughan. I made a jacket for the modern warrior women, since the brief stated that "Our muse is a modern woman warrior with a feminine edge. Mix sweet with strong. The Victorian era is the seed of inspiration, but anachronism is welcome".
 The button design is based on the silver brooches used for the traditional folk costume, called "bunad" in Norwegian. Each button is moulded in plastic then painted with several layers. Siri suggested to use orange at the top, then a lighter colour below and with gold with a bit of brown at the base. As always she was spot on. The luxurious SweetGeorgia Yarns Mohair Silk DK is made of  90% superwash Merino, 5% Superkid Mohair, 5% silk with 200 meters/218 yards per 100 gram with a fantastic stitch definition and lustre to it.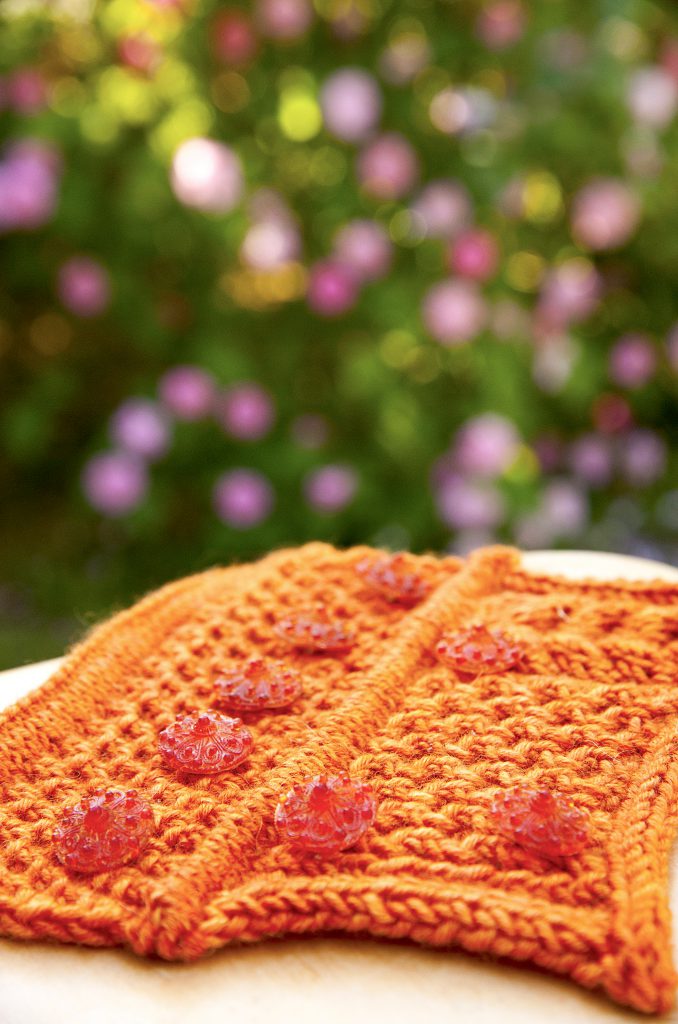 As always I am impressed by the composition of the photos, making sure the background matches or contrasts the object in the photograph. Working with Siri, is such a fun and successful collaboration. Take a look at these previous designs, if you need any more proof: Helka, Gyda, Icelandic Jacket and Ena.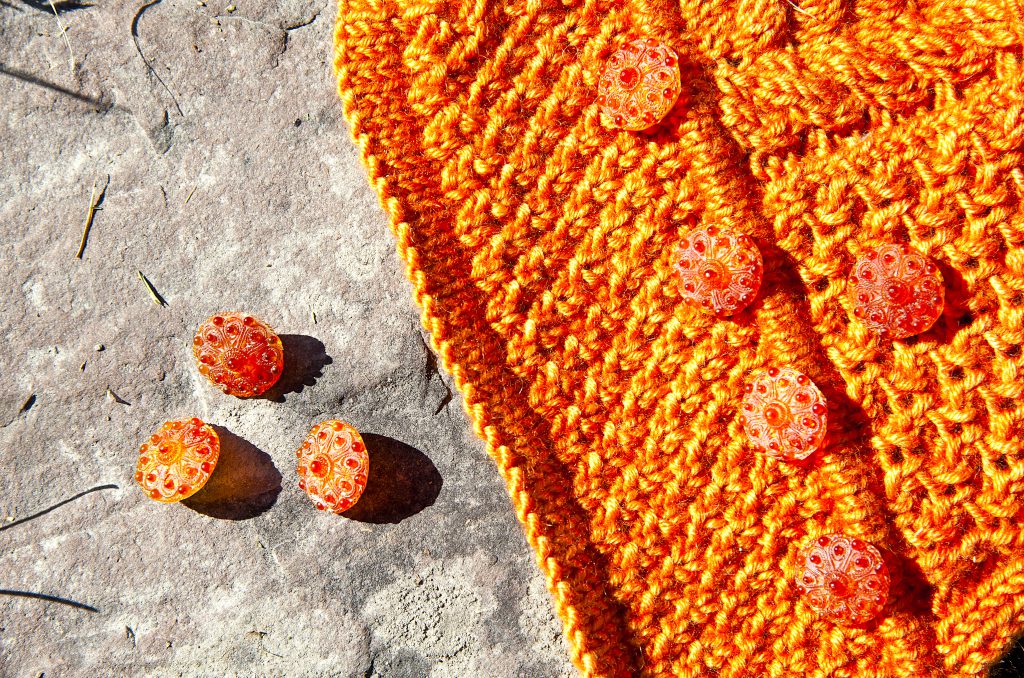 My sample was not included of the magazine simply because the wonderful orange colour did not fit in with the other designs and a second sample had to be knitted up quickly in time for the photoshoot. The second sample for Pom Pom Quarterly 27 Winter 2018 is knitted in The Copper Corgi Fiber Studio, Jones Street Worsted – available at Etsy – made of 60% Merino wool, 30% Alpaca, 10% silk with 192 meters/210 yards per 113 gram skein in the shade Goldenrod. While you can see the  photos of me wearing the orange sample here: Ataraxia Again. I so enjoyed seeing the two different versions of my Ataraxia. Do not miss this amazing issue of Pom Pom Quarterly.
You will find a selection of Siri's buttons available in her shop on Epla here: Siris Skattkammer and more divine photos on her website: Fredenshavn.
I will end with Felicia Lo's ending words from the SweetGeorgia Yarns Podcast: Enjoy colour!