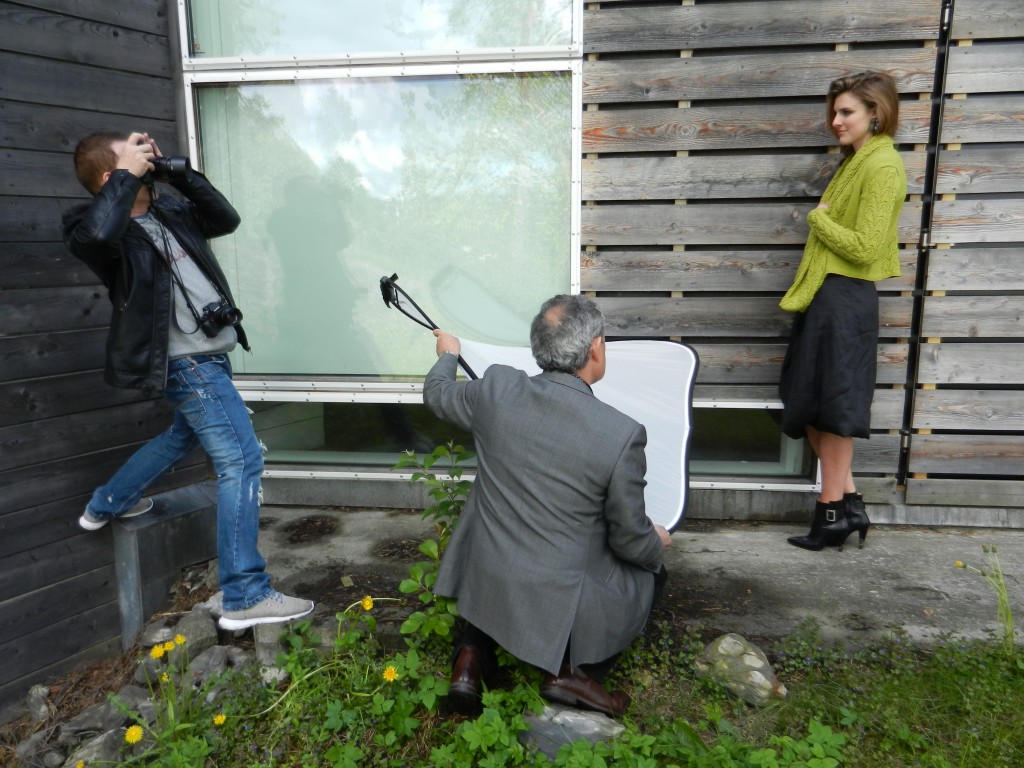 Would it stop raining for our scheduled photoshoot for Familien Strikk on Friday 29th May? It did, it was sunny but still cold. To plan the event I had booked photographer  Eivind Røhne, hair & make up artist: Sissel Fylling and model: Anne Dorthe from Team Models. Then I convinced former Made by Me editor Mary-Ann Astrup to join us to for her essential advice. That my husband would be part of the team was obvious from the start. Next on the agenda was picking a location venue, and it is not easy, but I opted for Henie Onstad Kunstsenter because of the building itself and its location with a nature trail and marina. For styling, I borrowed from dress designer Judith Bech her magnificent fringe skirt, jewelry designer Kaja Gjedebo a selection of gorgeous jewelry and then obviously also Monica Stålvang some stunning boots. Above you can see Eivind and Dorthe in action with my husband assisting. Dorthe is wearing Quamara, a jacket with a loop closure knitted in Zenta by Permin in a mixture of wool and silk.
It was no surprise to hear that Sissel wanted to cut Dorthe's hair, and that she was allowed.  Just as last time, we could easily have formed a line wanting just that. The meeting room, Onstad, was our base for the day and the storage for all our suitcases packed with equipment and clothing. While Sissel was working away on Dorthe's make up and hair, we discussed photo locations and order of garments. The strong sun was an issue we had to resolve at times, as well as the strong wind. As a result a couple of our prime locations such as the pier and next to the sculpture in the water with the Marina in the background had to be given up. Above, you can see how Mary-Ann is providing necessary shadow for Dorthe whose legs are covered in blankets, while she is wearing Nuala, a shawl buttoned up with a cowl knitted in Rowan Softknit Cotton.
Sissel is busy putting on nail varnish on Dorthe's nails, just as we are ready for the first project to be photographed: Hertha shawl with loose sleeves knitted in Jaggerspun Zephyr Lace held double, worn together with Judith Bech's fringe skirt. The stair case on the side of the building was first out as first back drop. If you look closely on the photo above, over the roof of the black tent you will see part of the sculpture of a banana. Now, using that as a backdrop would have made a very different photoshoot, we agreed!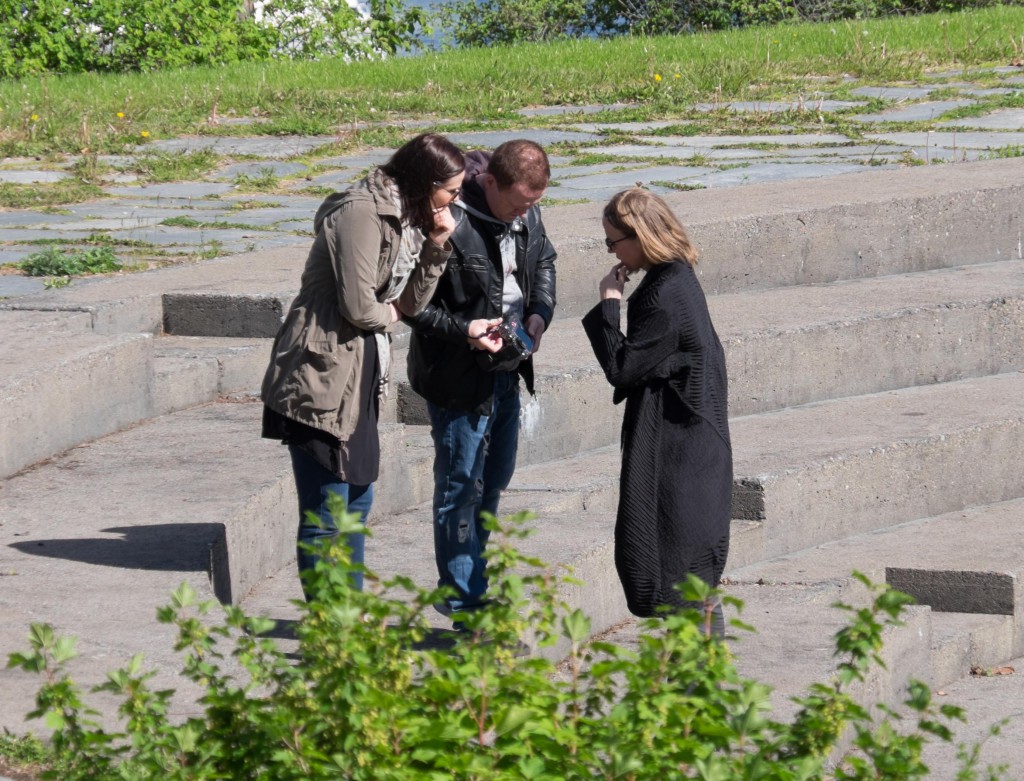 Here we are looking at locations; 3 geniuses at work as Eivind put it, photographed by my husband. The marina is just in the background but also in the sun, unfortunately. But we did find another suitable location instead. We photographed 9 new designs for Familien, and a secret project. Sissel made sure we had a plan allowing only 30 minutes for each garment so that we would have time for a delicious lunch at Bølgen & Moi as well as finish before we needed to vacate the meeting room at 16.30. We made it, thanks to brilliant co-operation. A marvelous team work, thank you all!