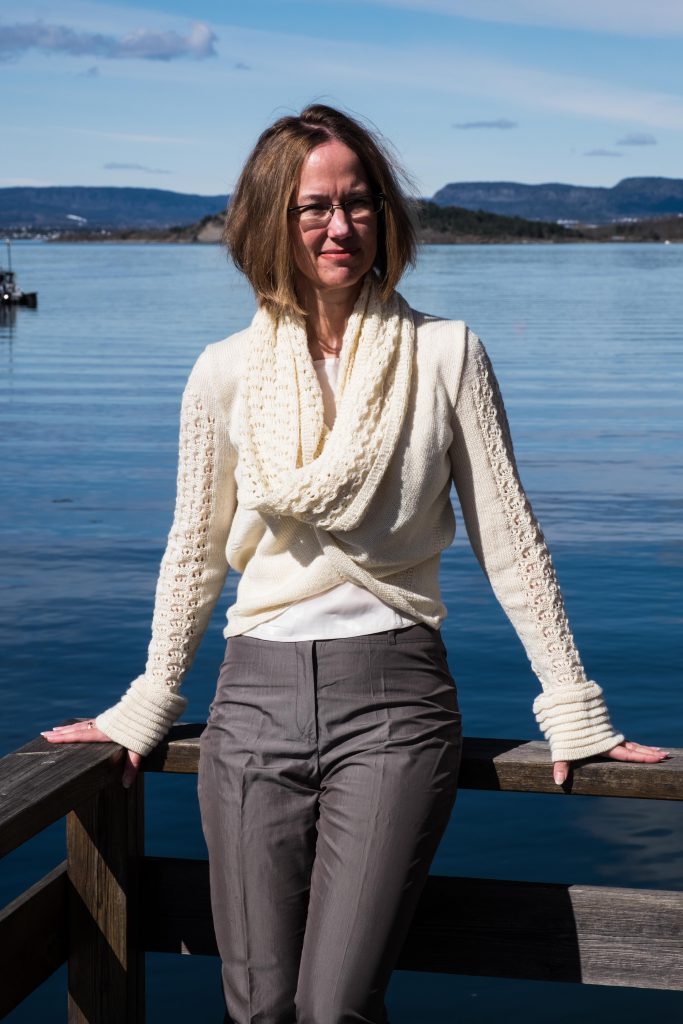 I know you have seen the Juul Cardigan already since it was published in Interweave Knits Winter 2017 magazine, but I wanted to show you the photos my husband took of me wearing it in April, just before I sent it off. It was a glorious but cold day in April, when these photos were taken by the Bunnefjord at Ormøya, just below where we live at Bekkelaget in Oslo. The cardigan was made for the Winter Bride theme but can easily be worn with more casual clothing than a stunning wedding gown. I decided upon a pair of straight grey trouser. Above I am wearing the cowl twice around my neck, so it is pulling in the whole cardigan making it appear more like a ballerina wrap.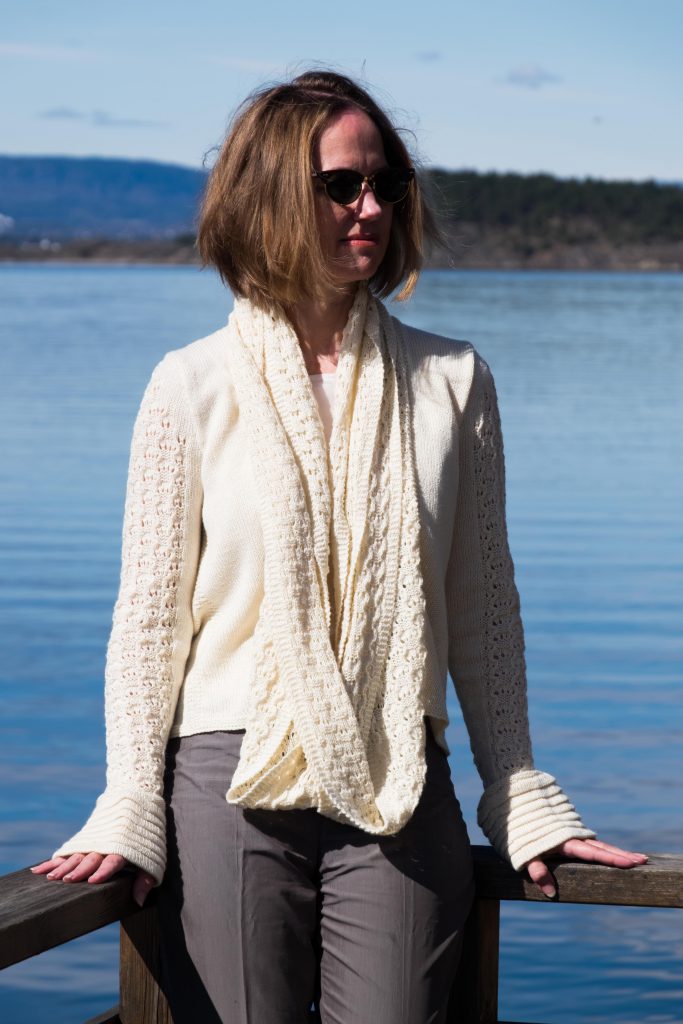 Here with the cowl once around the neck. Juul Cardigan: A reversible lace pattern is the focus point of this straight cardigan with a generous cowl collar and cuffs made of tucks. A fake garter stitch seam add a bit of structure to this cardigan. The cowl collar can be worn loose, folded once behind the neck or twice in front or three times around the neck in a ballerina style hence perfect for a Winter Bride.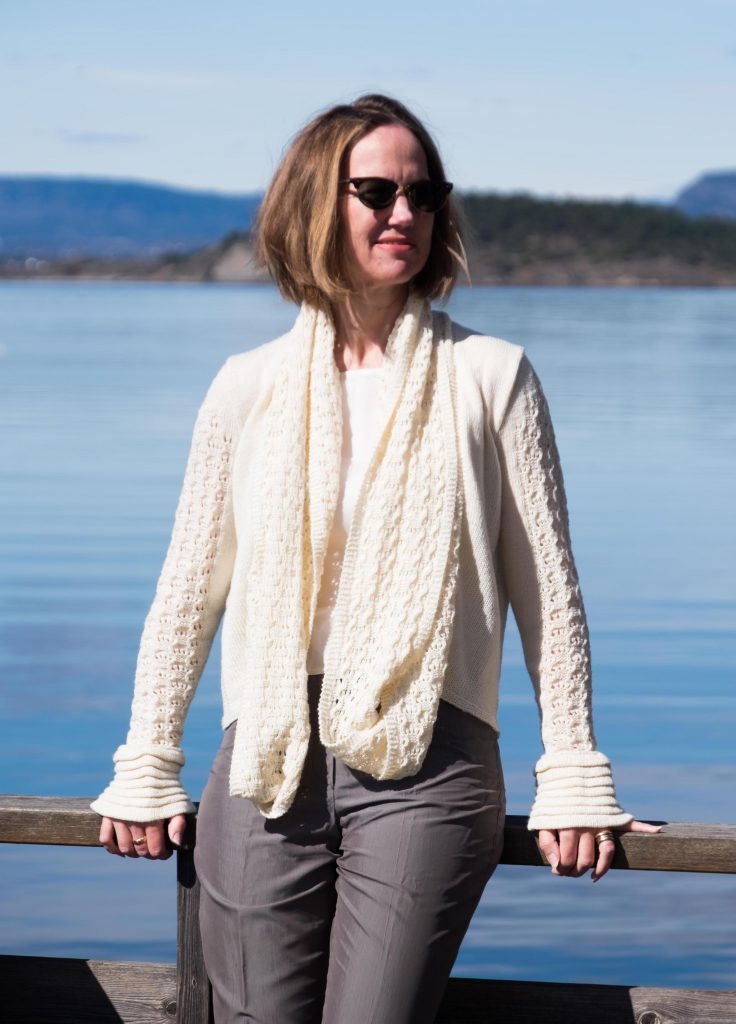 Here I am wearing the cowl once around my neck, just as I put it on. My choice of yarn was an old favourite yarn the Jaggerspun Zephyr Lace 2/18 (50% tussah silk and 50% merino) held double, for its crisp stitch definition, lusciousness and softness. It was a yarn I discovered at the yarn heaven called The Handweavers Studio in London. It is knitted using a 3.25 mm/US 3 needle with a gauge of 24 stitches and 32 rows in Lace pattern with 2 strands held together. I love making the hem and the tucks on the sleeves and I make them with two circular needles held parallell. I have made a video of this technique, see my blogpost with video link (it begins 7.45 in): Knitting Techniques Videos.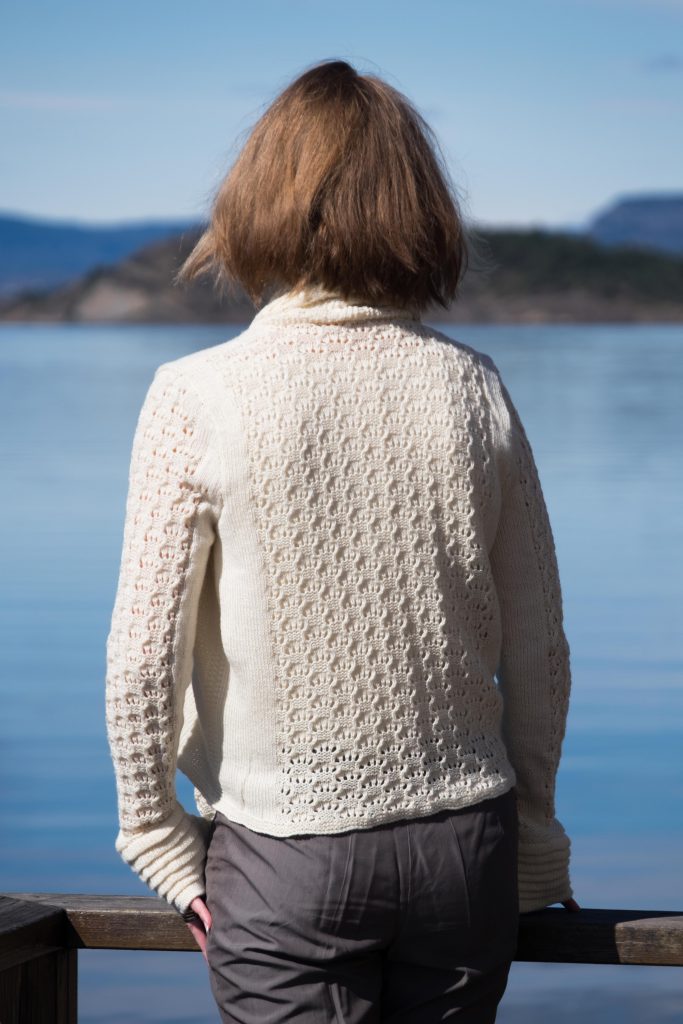 The sample is knitted in the third size, with a bust measurement of 104 cm/41″, worn with 12 cm/4.75″ of ease on me. So it came out looser than intended, the same with the sleeve length, that had to be pinned up during photography. The sleeve length has been adjusted in the pattern. The cardigan pattern is available in six sizes. Here is the Interweave introduction to the cardigan:  "This unusual cardigan will draw every eye with its striking features. The tucked stitch cuffs and long attached loop collar add sophistication to the already beautiful lacework that adorns the back and sleeves." Thank you so much, Interweave Knits team!