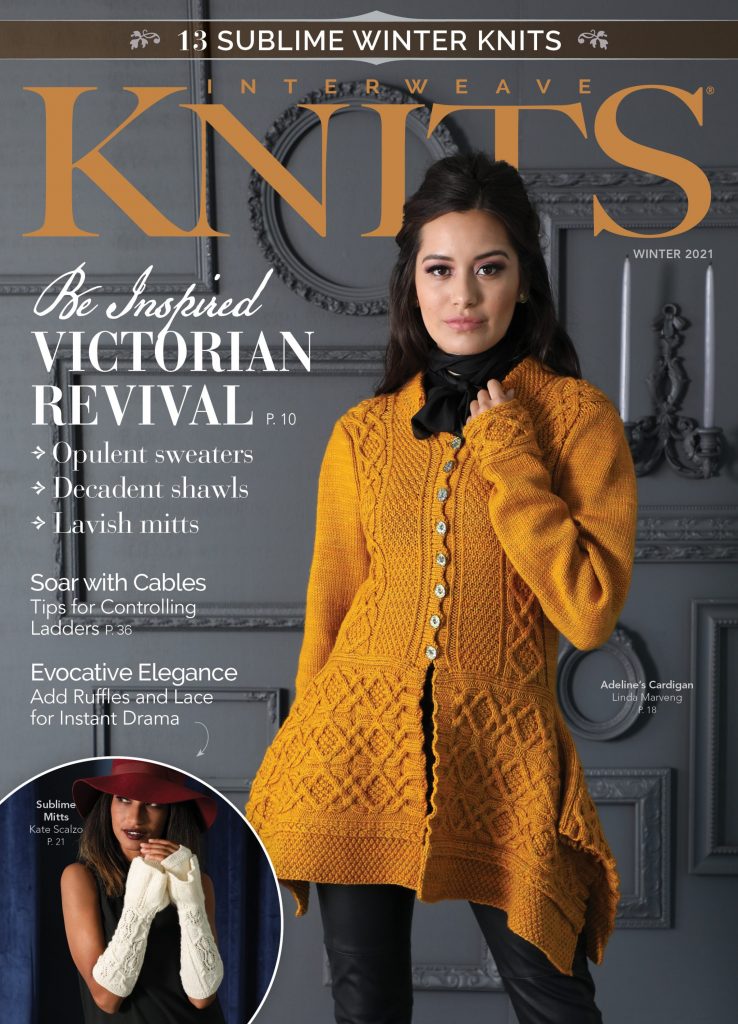 I am so honoured to have my design Adeline's Cardigan on the cover of the Interweave Knits Winter 2021 issue. It is knitted in the divine Manos del Uruguay Alegria Grande in the shade Turmeric using 4 mm/US 6 and 3.75 mm/US 5 needles with a 20 stitches and 29 rows gauge measuring 10 cm/4″ by me. These stunning photos are all taken by Molly Stevenson, while the clothes styling is done by Tina Gill, and fits the Gothic topic. The submission call stated that they were looking for designs inspired by Gothic literature and architecture. I chose Gothic inspired features such as the standing collar, fitted waist and grandiose peplum in two layers.
Adeline's Cardigan is a stunning feast for the eyes. The generous peplum is worked sideways in three pieces. Stitches are picked up from the top of the peplum, and the back and fronts are worked separately from the bottom up. Captivating cables abound in this piece for the adventurous knitter.
As usual, I designed this cardigan in pieces to be seamed together for the ultimate fit. The cabled peplum of this cardigan is worked sideways in pieces for the back and each front, then stitches are picked up on the wrong side for the moss-stitch peplum. Stitches are picked up along the opposite edge of the peplum for the back and each front, which are worked from the bottom up in pieces and seamed. The cabled cuff on the sleeve is worked sideways, then stitches are picked up along the cuff for the sleeve, which ends in pleats.
Adeline's Cardigan is graded in 8 sizes from a Small to 5XL with a bust measurement of 86.5 cm/34.5″ to 153 cm/60.25″. You might recognise the cables, as I have used them before in my Cian design. I discovered them in Norah Gaughan's inspiring Knitted Cable Sourcebook.
The Interweave Knits Winter 2021 issue is available in a digital edition or print edition. In Norway you can buy the print issue at larger Narvesen stores or order it at your local one. I will show you the photos Michael took of me wearing this design, but if you do not want to wait, you can have a look here: Adeline's Cardigan.