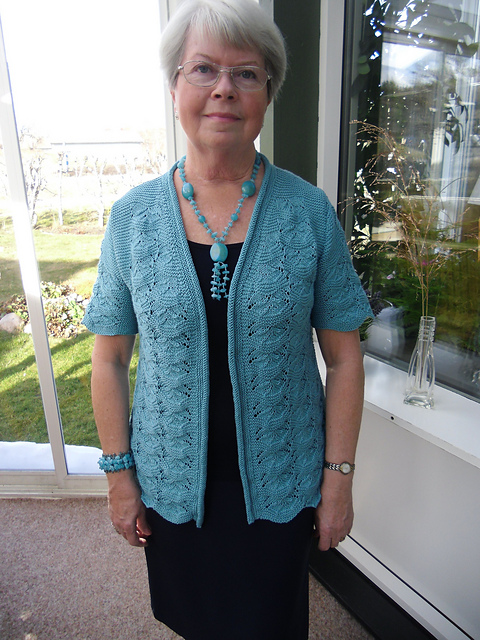 I am delighted to show you Britt Grandin's Mediterranean knitted from my pattern: Regal Purple Jacket. Here is Britt's story behind the choice of pattern, she begins by describing the grey dull weather in February in Sweden and a planned holiday to Italy on her project page on Ravelry where she is brittg; "So to console myself, and dream of Italy, I took out my summer dresses. Hmm. I need a little short sleeved cardi to match. So I have been looking at patterns; and there are indeed plenty of pretty little cardigans, but I couldn't make up my mind. Then yesterday evening I saw it. Perfect! Linda Marveng's Royal Purple Jacket. Bought the pattern this morning, and bye bye to all other projects. They shall have to wait!" Britt knitted her jacket in Schachenmayr nomotta Catania Solids – a pure cotton – in size Medium. I love the turquoise color she choose for it and how well it suits her!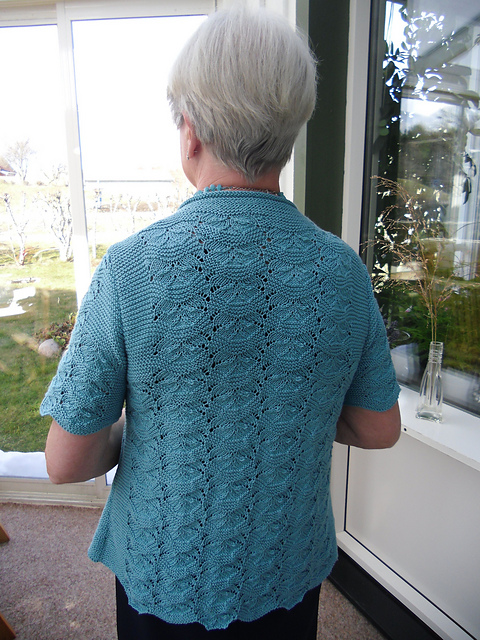 Britt is a very experienced knitter used to adjusting the patterns to fit her perfectly and also modify a design to become truly hers. Yes, she has started designing too! The modifications she did on this is on her project page: "It turned out my row gauge was a bit off, which means that my cardi is a little bit shorter than indicated in the pattern. I also needed a few more rows from the beginning of the armhole up to the shoulder, which forced me to do the v-neck shaping differently. Along the front edges I continued to do the three garter stitches and the lace pattern almost all the way up to the shoulder". I am also very pleased that she added the following: "The pattern is very clear and well written, and the lace pattern is simple and very easy to remember". Thank you so much, Britt!
Britt has knitted 11 of my designs, and have number 12 & 13 on her needles at the moment, incredibly enough! Regal Purple Jacket was first published in Norwegian in Familien Håndarbeid March 2014, and is now available in both Norwegian and English on Ravelry.