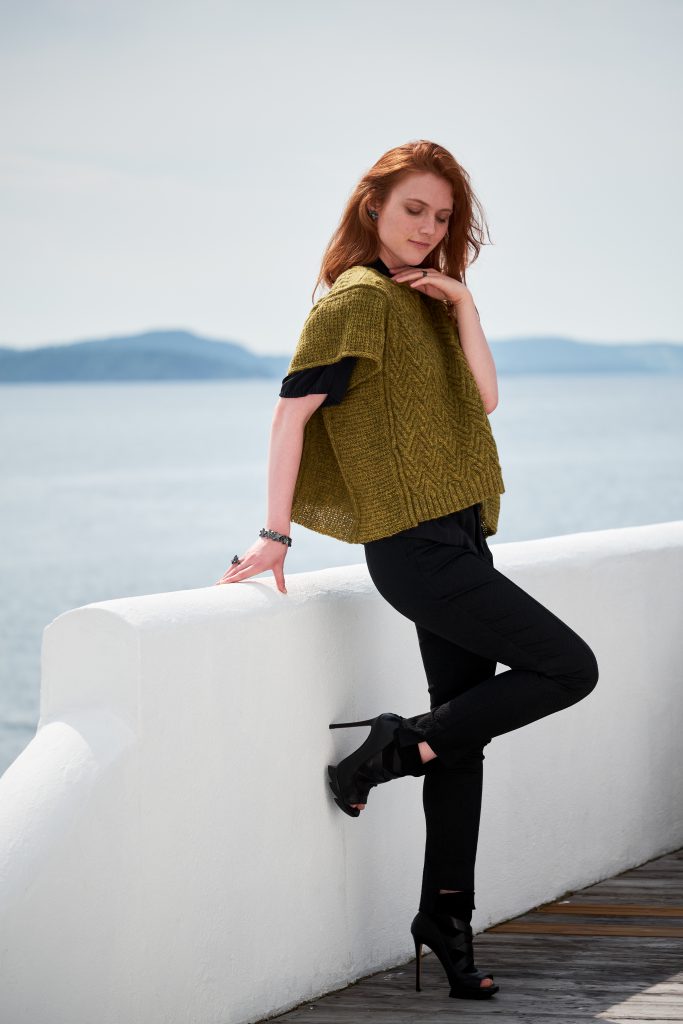 I have been looking forward to showing you the photos of the Hillesvåg Ullvarefabrikk designs taken at Villa Malla in late May. It look more like the Greek island of Santorini than Filtvet with the Oslo Fjord in the background due to the heat and the white wall that surrounds the upper terrace at the restaurant. I certainly get a holiday feel just being there and would have like to have the opportunity to stay for a few days. My plan for the day was to start photographing the warmest garment; the dress Sigyn, since it was bound to get even hotter during the day. Photographer Eivind Røhne agreed. Var was the next since it had to be photographed together with the Hillesvåg garments. While Sissel Fylling was doing Emma Ross' hair and makeup, Eivind and I decided to use the upper terrace as background for the second time around, like we did in June 2016. Just as last time, I borrowed jewellery from Kaja Gjedebo Design. The Norwegian pattern and yarn kit will be launched at Oslo Design Fair at the end of August, while the English pattern will be test knitted in my Ravelry group in September before its release.
Pine cables play on the center of this oversized vest, named Var, Norse for beloved. The side panels – giving the vest a dropped shoulder appearance – are knitted sideways in broken rib and is divided from the cable pattern with a tuck as well as a reverse stocking stitch band. Var ends in an I-cord bind off around the shallow neck. The vest is knitted in the luscious pelt wool yarn Tinde from Hillesvåg Ullvarefabrikk. Em is wearing size XS/S, but I have graded it to include M/L and XL/2XL too. The finished bust measurement with the side panels is 156 (172, 188) cm/61.5 (67.75, 74)" and the length is 55 (57, 59) cm/21.75 (22.5, 23.25)". The vestis knitted in two parts, then the stitches are picked up along the side. Size M/L has a wider side panel but the same center panel as size XS/S. Size XL/2XL has a wider center panel with one extra cable repeat.
The center panels are knitted by English knitter Jean Molloy, who also knitted a garment for my Norwegian knitting book back in 2011, using 3 mm/US 2.5 for the rib (and tuck) and 3.5 mm/US 4 for the cable pattern. The gauge is 21 stitches and 30 rows in stockinette stitch measures 10 cm/4″ square. I knitted the tuck, then the side panels after I had sewn the shoulders together. Var is styled with a black silk shirt and black pencil pants. Next in this series is the dress, Sigyn!
SaveSave
SaveSave
SaveSave
SaveSave
SaveSave
SaveSave
SaveSave
SaveSave
SaveSave