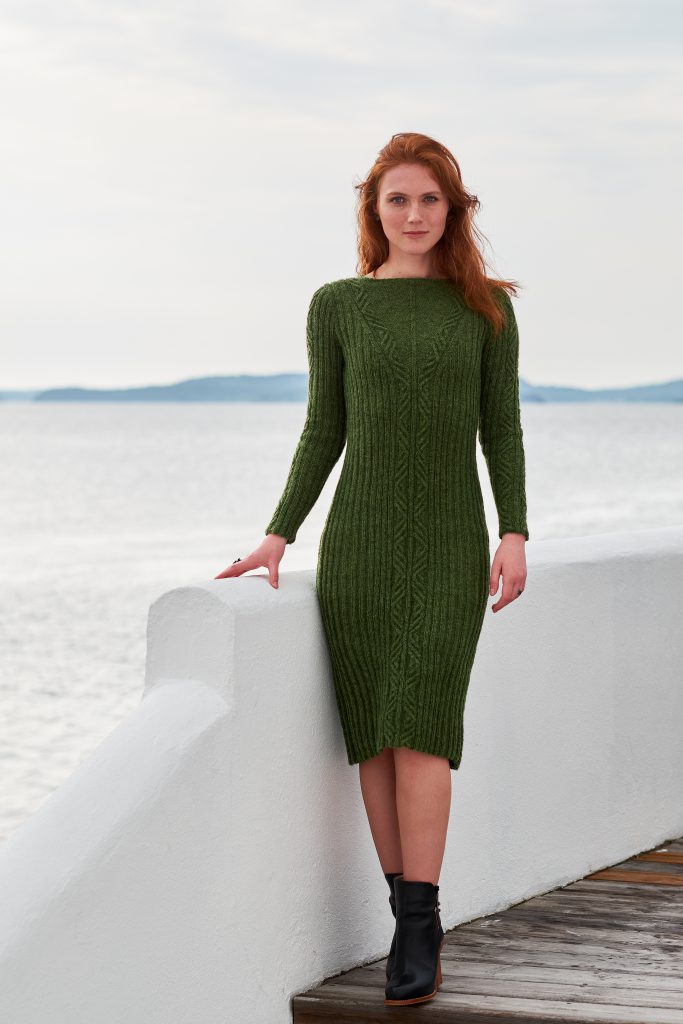 Model Emma Ross' favourite garment of the ten designs to be photographed at Villa Malla, was the dress, Sigyn made for Hillesvåg Ullvarefabrikk. It was cloudy when Em, Michael and I met up with photographer Eivind Røhne and makeup & hair artist Sissel Fylling in the morning at Filtvet by the Oslo Fjord in late May. I decided to style Sigyn with Evalina boots by Monica Stålvang and borrowed jewellery from Kaja Gjedebo Design. In addition I wanted to show the dress with a belt and also beneath the long jacket Irpa. The Norwegian pattern and kit will be launched at Oslo Design Fair at the end of August, while the English pattern will be test knitted in my Ravelry group beginning on the 10th of September before it is released.
Sigyn is Norse for victorious girl-friend and ideal for this a-line dress with a central swing cable, surrounded by ribbing to make it figure hugging. The cable is divided and moves towards the shoulder to make a v-neck at the front. Decreases are made in the purl sections to emphasize the silhouette of Sigyn. The dress is knitted in the bouncy Sølje from Hillesvåg Ullvarefabrikk.
The dress was perfectly knitted by Grete Jenssen, aka ma9 on Ravelry in the shade Grass Green using a 3 mm/US 2.5. Grete knitted size S with 28 stitches gauge due to the time pressure (instead of 24 stitches) hence the sample measures 88 cm/34.75″ across the bust instead of 94 cm/37″. I have graded the dress in sizes XS to 2XL, with bust circumference of 88 to 130 cm/34.75 to 51.25″.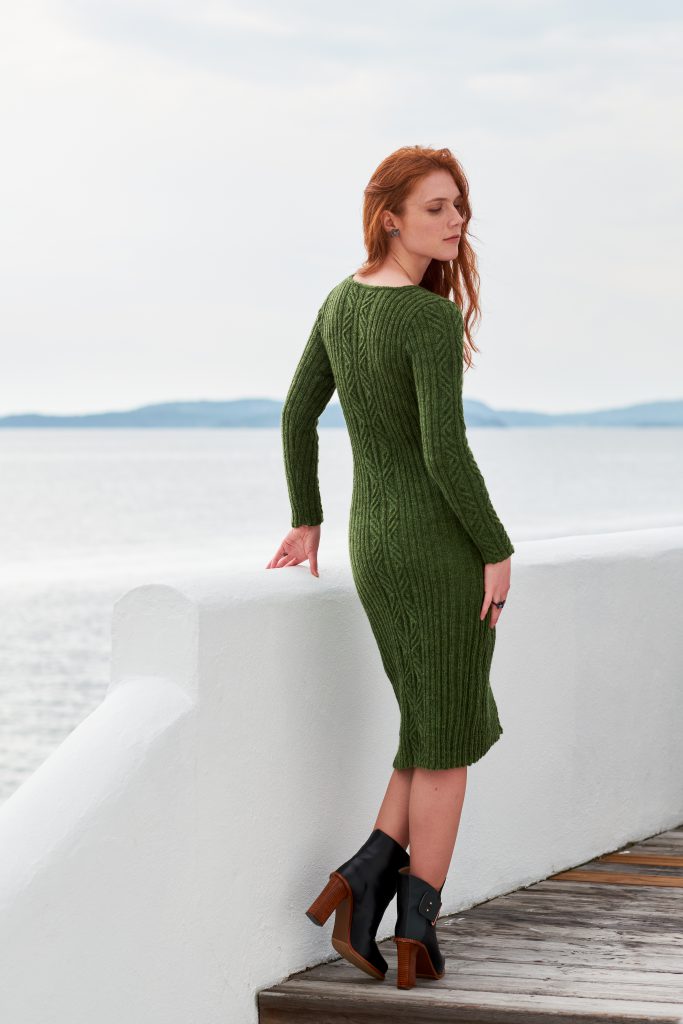 The dress is worked back and forth in pieces and seamed. The decreasing for a-line is done in the purl sections of the rib. The cables are moved towards the shoulder on the front, beginning 10 cm/4″ before the armhole and ending just before the neck shaping. The swing cable is the same I used on the sweater Vaga and found in Norah Gaughan's inspiring Knitted Cable Sourcebook.
You can easily adjust the length of the dress if you prefer, for instance by shortening (or lengthening) it with up to 7 cm/2.75″ before the a-line shaping begins. For a tunic, reduce the length with a further 17 cm/6.75″ by working 1 cm/0.5″ less between each of the decreases.
Here is the cool shot of the Irpa jacket worn on top of the Sigyn dress. More photos of the jacket is coming next in this series.
SaveSave
SaveSave
SaveSave
SaveSave
SaveSave
SaveSave
SaveSave
SaveSave
SaveSave
SaveSave
SaveSave
SaveSave
SaveSave
SaveSave
SaveSave