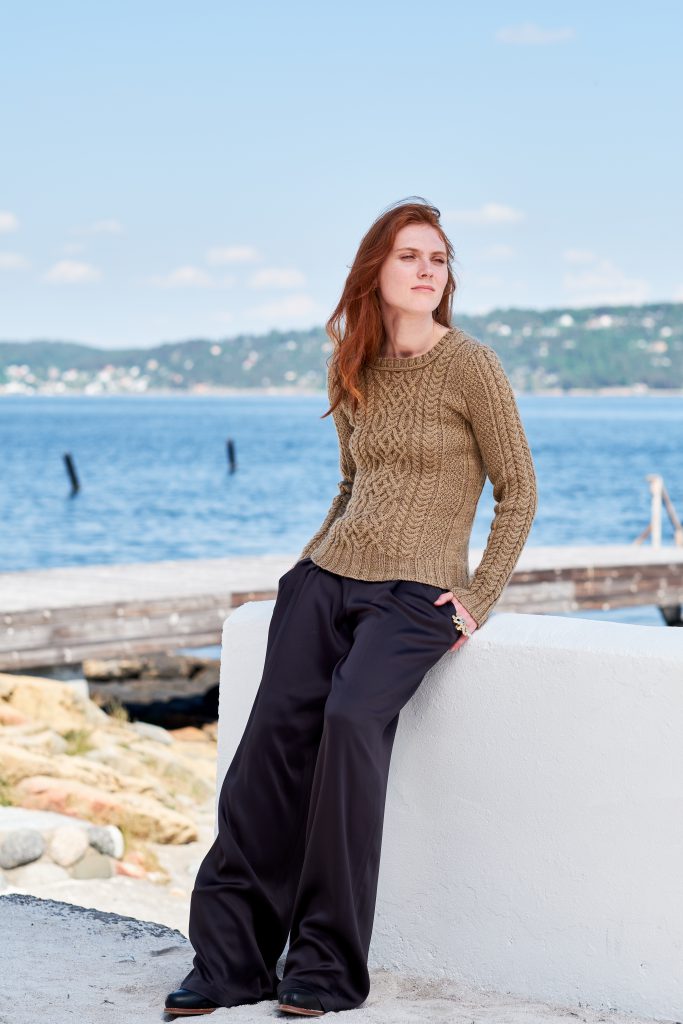 Sirona, was another pullover that looked magnificent on Emma Ross at Villa Malla in late May. Photographer Eivind Røhne made sure we did not have any women in bikinis' in the background and captured all these brilliant shots. Yes, I did struggle to minimise the number of chosen photographs. Sissel Fylling made sure Em's hair & makeup was up to scratch and suggested a number of poses to Em. The statement jewellery is by Kaja Gjedebo Design and the boots are by Monica Stålvang. Sirona is Celtic for Star Goddess, the name for this fitted pullover with an intricate central cable surrounded with smaller cables and seed stitch. The round neckline needed a crown and was given an I-cord bind off decoration. Sirona is knitted in pieces in the divine The Fibre Co. Cumbria.
I knitted this sample in the St. Bees Beach colourway of The Fibre Co. Cumbria using 3.5 mm/US 4 and 4 mm/US 6 needles with a gauge of 20 stitches and 28 rows in stockinette stitch measures 10 cm/4″ square. The yarn is made of 60% Merino wool, 30% Brown Masham wool, 10% Mohair, with 218 meters/238 yards on each 100 gram skein.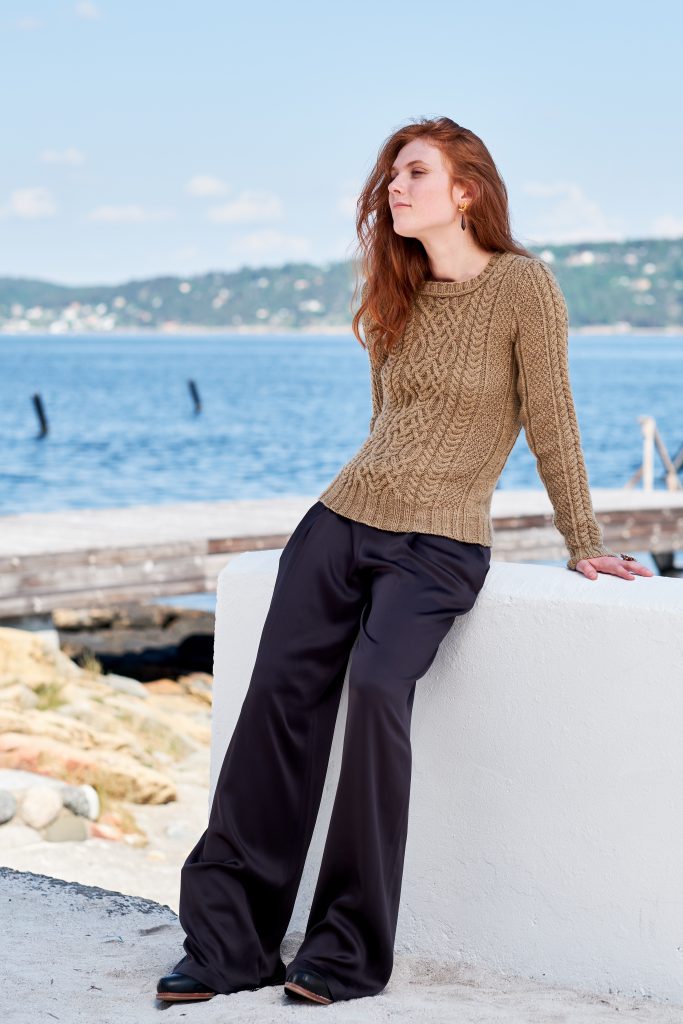 Yes, Cumbria has become one of my staple yarns. This is the third pullover I have designed in this yarn. Vaga was the previous one and the first one was Eira Pullover made for knit.wear Fall/Winter 2017. Eira Pullover has been returned from Interweave to me and will be photographed again in my next photoshoot.
Sirona is worked back and forth in pieces and seamed. The neckband is worked in the round. Stitches are picked up and knitted from the first round of the neckband for the I-cord bind off decoration. Em is wearing size S, but I have graded the pullover from sizes XS to 2XL with a bust & hip circumference of 86 to 126 cm/33.75 to 49.5″. Waist circumference from 76 to 116 cm/30 to 41.75″.
The Norwegian pattern will be published in a special magazine by Familien released in August, while the English pattern will be test knitted in my Ravelry group beginning 6th of August before its release.
I did wonder whether I should use the brown ski pants or the navy blue silk trousers together with Sirona, but opted for the silk trousers in the end since it is a fitted pullover. Next in this series from the photoshoot is the vest Var made for Hillesvåg Ullvarefabrikk.
SaveSave
SaveSave
SaveSave
SaveSave
SaveSave
SaveSave
SaveSave
SaveSave
SaveSave
SaveSave